Welcome to the Riviera Maya! Over the years, we've spent a lot of time in this corner of Mexico, from months spent in Playa del Carmen and Cancun, to week-long winter visits spent exploring Akumal, Tulum, and Cozumel.
This stretch of Mexico is a playground for the sun-seeking and adventure-loving traveler. It's where you can kick off your flip-flops and dive right into a sea of activities. From the chill vibes of Puerto Morelos to the ancient whispers of Tulum's ruins, there's a slice of paradise here for everyone.
Things to Do on the Riviera Maya in Mexico
Ready to explore coral reefs, dine on top-notch tacos, or zip-line through lush jungles? Let's get started and unwrap the best things to do on the Mayan Riviera and explore everything this coastal wonderland has to offer.
What is considered the Riviera Maya?
The Riviera Maya extends along Mexico's Yucatan Peninsula, covering a 75-mile coastline from Puerto Morelos to Punta Allen. This region includes popular destinations like Playa del Carmen, known for its beaches and shopping; Puerto Aventuras, with its marina; Akumal, famous for snorkeling with sea turtles; and Tulum, renowned for its Mayan ruins and white sand beaches. It's where you can take your Mexican passport on a joyride of experiences, from culinary to culture to art or enjoying yourself in nature.
Puerto Morelos: Relaxed Coastal Charm
Kick off your Riviera Maya adventure in Puerto Morelos, a stone's throw from Cancun and the gateway to this coastal paradise. It's a chill spot with a big heart, boasting an inviting beach and a sea brimming with life. Don your snorkel gear and meet the local marine residents around the vibrant coral reefs. For a splash of adventure, the cenotes nearby are perfect for a cliff-jump thrill.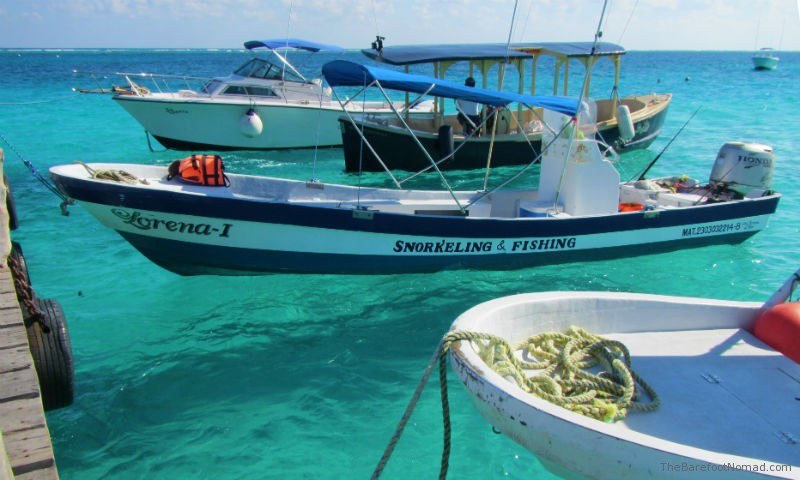 Playa del Carmen: Urban Beach Bliss
Next up, Playa del Carmen offers up its bustling streets and powdery sands. It's your ticket to exquisite eats and a hub for excursions to ancient Mayan sites and crystal-clear cenotes.
There's a lot to do in Playa del Carmen, but be sure to indulge in some retail therapy on the bustling 5th Avenue (Quinta Aveneda) in Playa del Carmen, a vibrant street lined with shops, restaurants, and bars all a stones throw from the beach.
If shopping isn't your thing, master the waves with a SUP rental where the chill vibe of surfing meets the balance challenge of standing up. Playa del Carmen's waters are perfect for beginners and pros alike to paddle out and enjoy the view from a different perspective.
There are enough fun things to do in Playa del Carmen to keep you busy for weeks, but if you're looking for a little art and culture, check out the vibrant Frida Kahlo Museum in Playa del Carmen. It's a wonderful break from the beach to celebrate the life and work of the iconic Mexican artist, Frida Kahlo.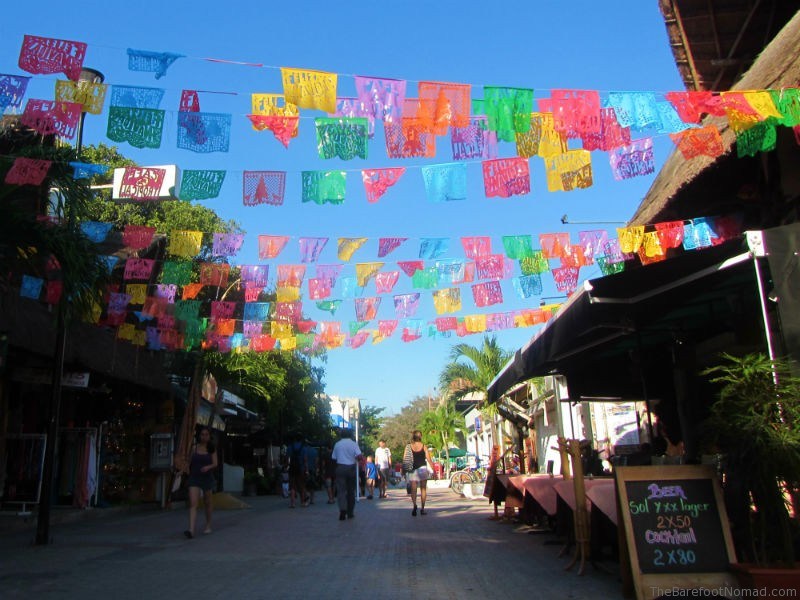 Chichen Itza: Echoes of the Ancient Maya
If you want to explore the mysteries of the Mayan people, don't miss Chichen Itza, a testament to the Maya's architectural genius, enveloped by the jungle yet standing proud and colorful, still echoing with ancient tales. It's a few hours inland from the Mayan Riviera proper but makes for a great day trip.
Akumal: Turtle Haven
In Akumal, tranquility reigns supreme on some of the Riviera Maya's finest sands. It's a snorkeler's haven where majestic turtles glide through the waters with grace.
Fun read: The DIY Guide to Snorkeling with Endangered Sea Turtles in Akumal Mexico
While you're there, kick back at La Buena Vida. This is a beachfront bar in Akumal where you can relax with a drink in hand and enjoy stunning sea views.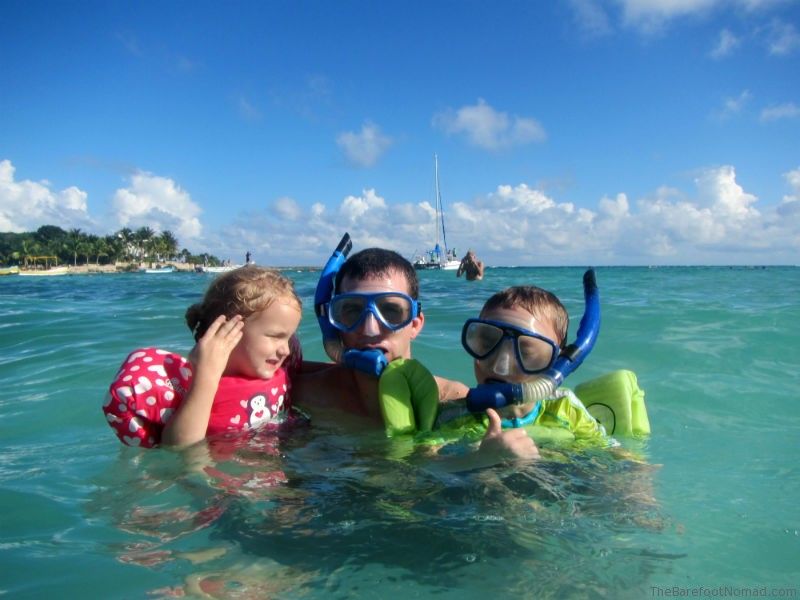 Tulum: Coastal Ruins and Culture
Then there's Tulum, where history perches on cliffs overlooking the sea, offering a glimpse into the Maya's coastal life.
While you're there, rent a bike and explore Tulum's bustling streets, beautiful beaches, and nearby cenotes at your own pace.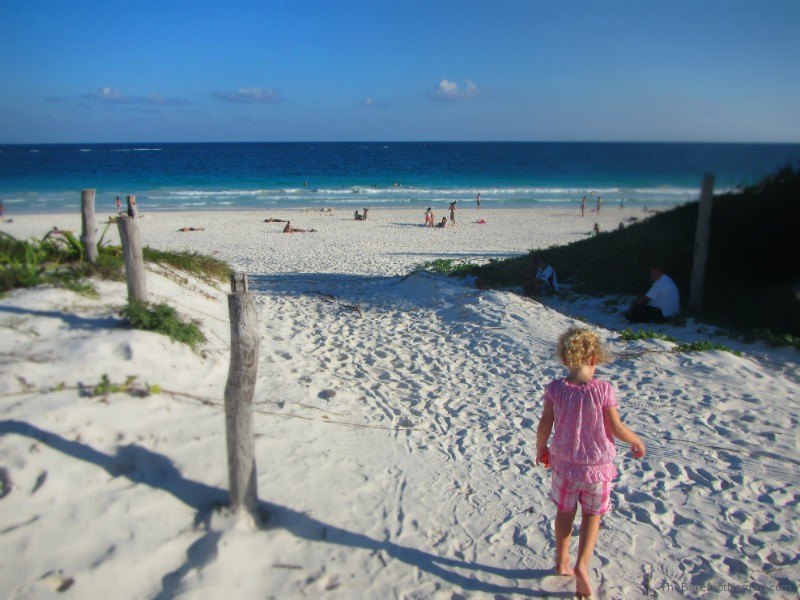 Exploring Cenotes: Nature's Subterranean Wonders
Discover the Riviera Maya's hidden gems: cenotes. These natural limestone pools are gateways to an underwater world of crystal-clear waters and stunning rock formations.
Dive into Cenote Cristalino, a favorite for its sparkling, refreshing waters ideal for swimming and snorkeling. Not far away, Cenote Dos Ojos beckons the more adventurous souls with its vast network of caves, perfect for diving deep into the Yucatan's subterranean mysteries. Whether you're looking for a serene swim or an underwater adventure, the cenotes are a must-visit and they literally dot the Riviera Maya for miles and miles.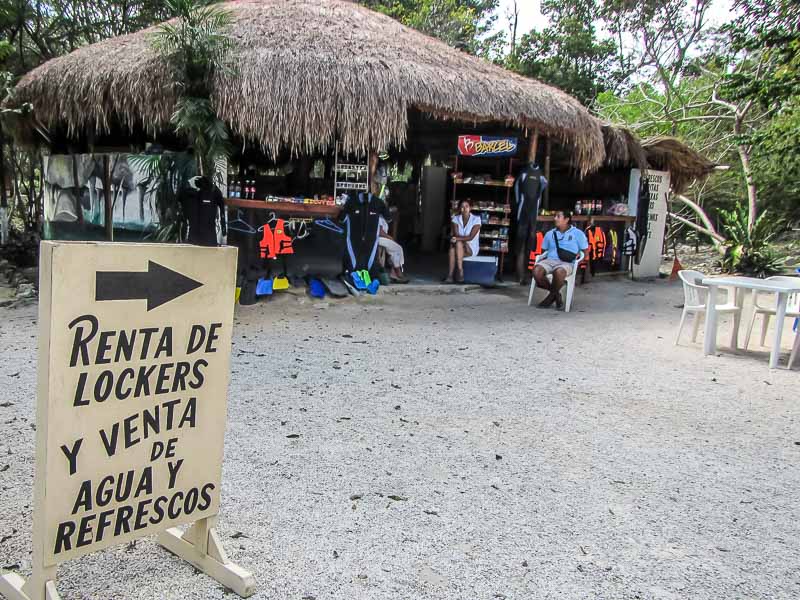 Cozumel: Island Adventures
Finally, we have Cozumel. An island gem wrapped in hues of blue. A paradise for underwater explorers and fishing enthusiasts alike, it offers some of the most stunning aquatic experiences around. Regarded as home to some of the best snorkeling in Mexico, Cozumel makes a great day trip from Playe Del Carmen or a fine place to bed down for a week or two. Being a cruise ship destination, it's also a thriving area to explore.
The Wonders of Xcaret
Step into Xcaret and be swept up in a cultural fiesta. This park is a kaleidoscope of Mexico's natural beauty and rich traditions, from the mystic underground rivers to the natural zoo to the vibrant dance performances that light up the night.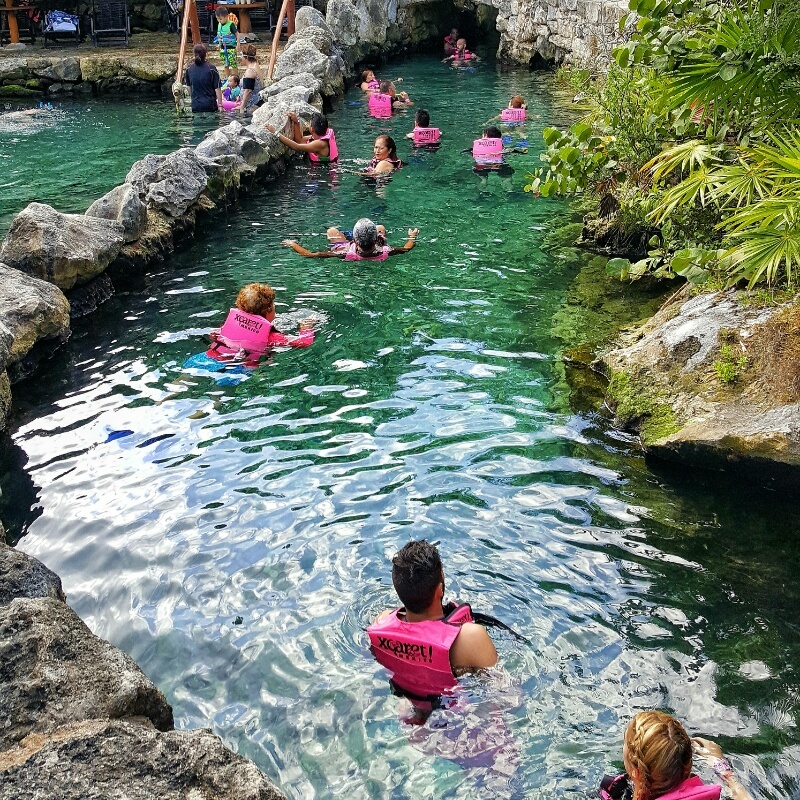 Serenity at Xpu-Ha Beach
Escape to Xpu-Ha Beach near Puerto Aventuras for some down time. Here, the beaches are quieter, the vibe is relaxed, and the coastline is just as stunning.
Adventure at Xplor Park
For the thrill-seekers, Xplor Park waits with open arms. Zip-line through the treetops, steer through jungles in amphibious vehicles, and swim in the cool embrace of ancient underground rivers.
Discover Sian Ka'an's Natural Wonders
A journey to Sian Ka'an, a UNESCO Biosphere Reserve site, is a journey into the wild heart of the Riviera Maya. Spot rare wildlife and explore landscapes that have remained unchanged for centuries.
While you're there, be sure to visit the Muyil archaeological site. Also known by its alternative name, Chunyaxche, Muyil stands as one of the oldest continuously occupied Maya sites along the eastern Yucatan Peninsula.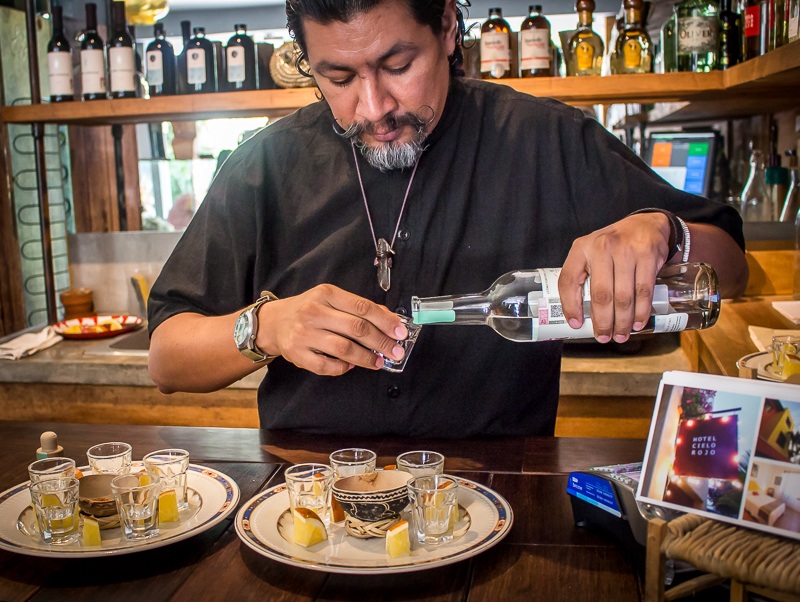 Taste the Flavor of the Riviera Maya
Dive into the local flavor with Riviera Maya's must-try dish: fish tacos. Fresh, zesty, and packed with flavor, they're the essence of coastal cuisine on a plate. While you can find foods from all around the world in the Riviera Maya, eating local is the best way to experience it. From street vendors to hidden treasures you can find some of the best Mexican food here and while we won't share our favorites, know that some of them will leave you wanting to eat there every night.
Swimming with Whale Sharks in Isla Holbox
For an encounter of a lifetime, swim with the whale sharks in Isla Holbox. These gentle giants offer a moment of awe and connection with the ocean's wonders that you won't easily forget. Tours for them can be booked from numerous locations around the Mayan Riviera.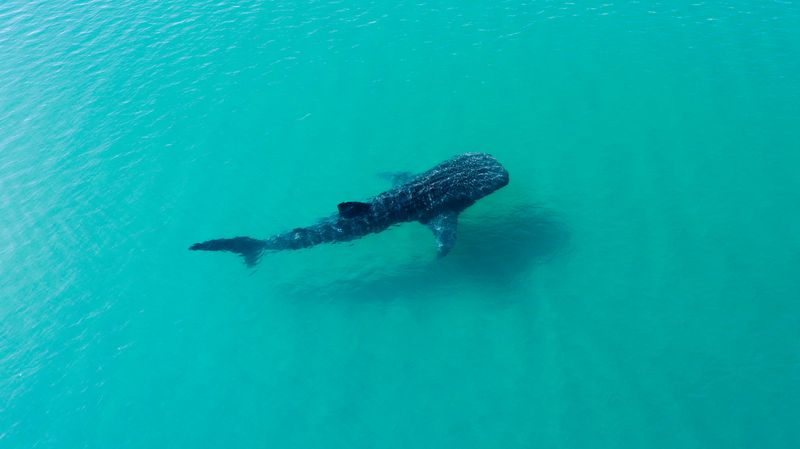 Mayan History at Chetumal's Museum
Immerse yourself in the deep roots of the region with a visit to the Museum of Mayan Culture in Chetumal. It's a treasure trove of artifacts and stories, opening a window to the ancient world of the Maya.
Xel-Há Park: Snorkeling in a Natural Aquarium
Dive into the clear waters of Xel-Há Park, a natural wonder that's often dubbed as one of the world's greatest aquariums. This spot is a snorkeling paradise, where you can swim alongside a kaleidoscope of tropical fish and explore a lush underwater world that will leave you in awe.
Coba Ruins: Echoes from the Past
Reach for the sky as you climb the ancient pyramids at Coba Ruins. Step back in time as you traverse the same stone causeways that the Maya did in this venerable city. The view from the top is as breathtaking as the history is deep, offering a panoramic vista of the surrounding jungle.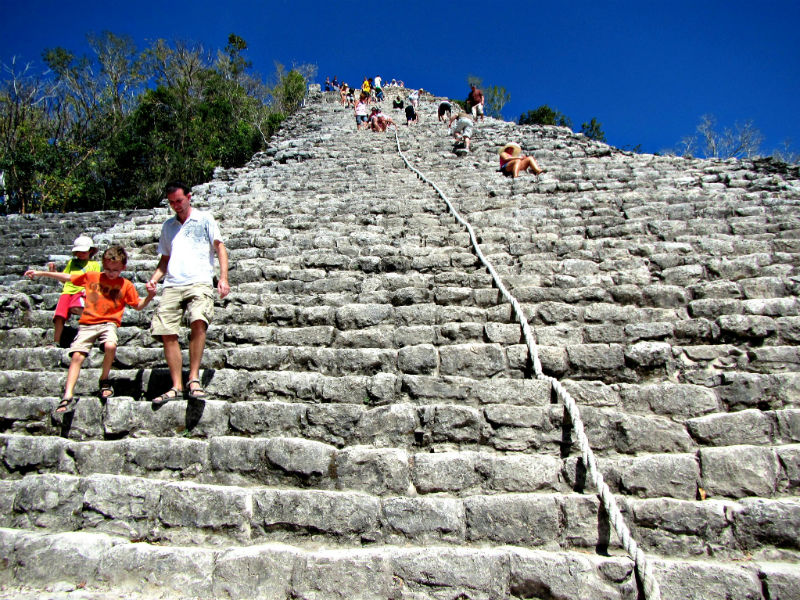 Rio Secreto: The Underground River's Mystique
Journey into the earth at Rio Secreto, where an underground river flows through a network of caves lined with dramatic stalactites and stalagmites. This hidden gem offers a surreal adventure, softly lit by the natural light filtering through, creating a serene atmosphere for exploration and reflection.
Fuente del Pescador: Chetumal's Tribute
Take a stroll along Chetumal's boardwalk to the Fuente del Pescador. This statue isn't just a nod to the local fishing traditions; it's a piece of art that tells the tale of the town's connection to the sea.
Free Things to Do in Riviera Maya
Looking to save some money, and enjoy the free attractions in the Riviera Maya?
The Riviera Maya isn't just a place for luxury resorts and exclusive tours; it's filled with countless treasures that don't cost a dime. Here's a guide to soaking up the sun, culture, and beauty of this tropical paradise, all for free.
Beach-Hopping Along the Coast
Embrace the Riviera Maya's best free offering: its beaches. From the vibrant shores of Playa del Carmen to the tranquil coves near Akumal, there's a stretch of sand for every type of beach lover.
Pack a picnic, grab a towel, and soak up the sun-drenched beauty without spending a peso.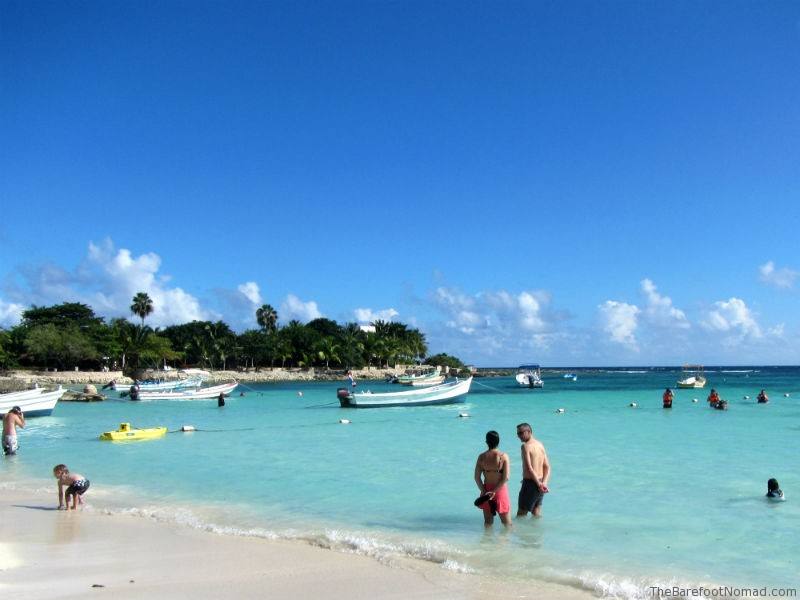 Strolling Through Tulum
The laid-back charm of Tulum is yours to enjoy at no cost. Wander the bohemian streets, soak in the atmosphere, and marvel at the mix of traditional and modern that makes Tulum unique. Don't miss the iconic murals that add a splash of color to the town's rustic façades.
5th Avenue Performances
Playa del Carmen's 5th Avenue is an open-air stage where performers bring their A-game every night. From fire dancers to mariachi bands, the street comes alive most nights with free entertainment that rivals any paid show.
Joining the Fiesta at Cultural Festivals
Riviera Maya is rich in culture and often hosts festivals celebrating everything from local cuisine to traditional dance. These gatherings are free and offer a window into the soul of the region.
Parks and Playgrounds for the Family
Families can enjoy the public parks and playgrounds dotting the Riviera Maya. They're perfect for an afternoon of fun with the kids, offering a chance to relax while the little ones play.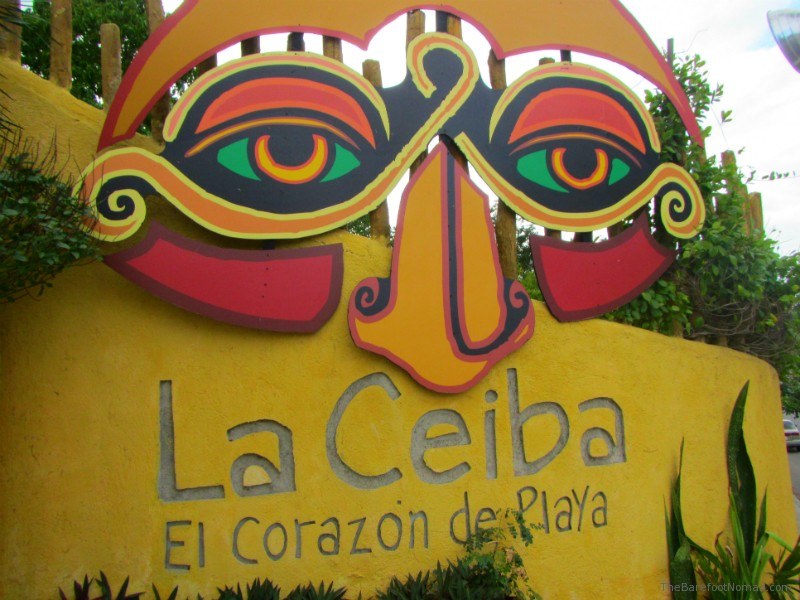 Artistic Explorations
Art is everywhere in the Riviera Maya, from the street art in Tulum to the galleries in Playa del Carmen, like the Gastón Charó Art Gallery. Take a self-guided tour and enjoy the creativity of local and international artists alike.
Window Shopping Extravaganza
The Riviera Maya's shopping areas, like Playa del Carmen's 5th Avenue, are a treat even if you're just browsing. The vibrant window displays and lively atmosphere provide a festive experience that's completely free.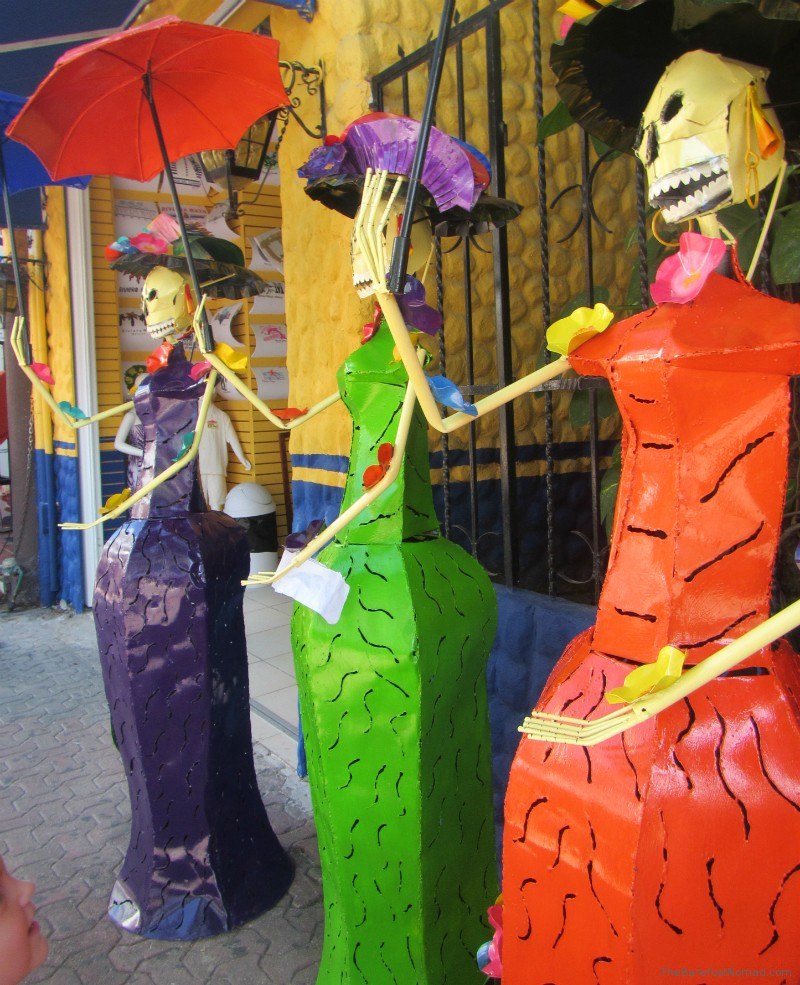 Hiking Nature's Pathways
The Yucatan's natural beauty isn't confined to the beaches. Hit the trails and explore diverse ecosystems, from coastal dunes to lush jungles, all for free.
Sunrise and Sunset Spectacles
Cap off your days with the stunning natural beauty of a Riviera Maya sunrise or sunset. Find a quiet spot on any beach and watch the sky perform its daily color dance, a magical moment that's absolutely free.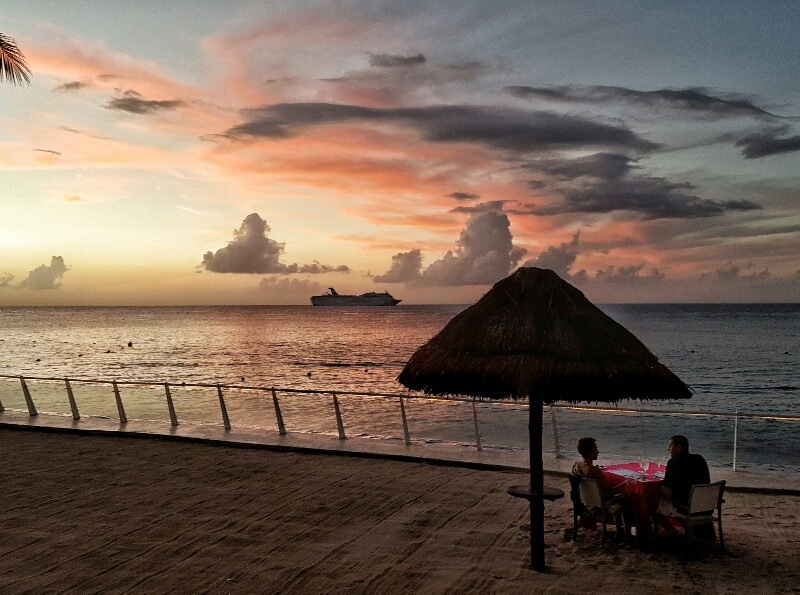 And there you have it – a whirlwind tour of the Riviera Maya's best spots and experiences. You've snorkeled with sea turtles, cycled past ruins, dove into lime pools and even tried your hand at stand-up paddle boarding.
Each day brought a new adventure, whether you were chilling on a pristine beach or exploring an eco-park. As you pack up your memories along with your souvenirs, remember that the Riviera Maya isn't just a place you visited; it's a collection of lively stories and experiences that'll keep the spirit of Mexico alive long after you've returned home. Safe travels, and until next time, keep the adventure going!