Are you looking for the best breakfast in Kelowna? Look no further, you've come to the right place!
Our family of four has made Kelowna, British Columbia, our home town for the past eight years. Giving us plenty of time to check out the local breakfast and brunch scene.
From farm-to-table spots to cozy cafes and trendy downtown diners, there is something for everyone in this vibrant city.
Imagine indulging in locally-sourced ingredients, expertly prepared and plated with care, all while enjoying breathtaking views of the Okanagan Valley. Whether you're in the mood for a hearty breakfast or a leisurely brunch, Kelowna has it all.
Of course, one person's list of the best breakfast places in Kelowna is going to be different than another person's.
For the most part, we focus on places to eat that are open early for breakfast, but we do have a section at the end of the article that goes into the best brunch in Kelowna. Generally, we think of brunch and breakfast as the same thing, but brunch usually starts later, at around 10 or so, and is often an little more fancy (though not always).
We'll go back and add to this list as we try new brunch and breakfast restaurants that open, and remove ones that close.
Best Breakfast in Kelowna
Breakfast is one of the many fun things to do in Kelowna with the family! Grab your friends, family, significant other, or enjoy a solo break, and head out to explore the many breakfast spots in Kelowna. From classic Canadian fare to international cuisine, you're sure to find your new favorite spot.
Best Breakfast Places in Kelowna
Do I need breakfast reservations in Kelowna? Yes, you'll sometimes need to make a reservation, depending on the restaurant, the time of year and whether it's a Saturday or Sunday (with weekends usually much busier than weekdays). Many of the more popular brunch and breakfast places are also quite busy during the summer tourist season, with July to August especially so.
I use OpenTable Kelowna to make my reservations, as it's the biggest restaurant reservation booking service in the city. I've tried it before to get reservations at busy Vancouver restaurants, and booking was smooth and easy in Kelowna as well.
Porter's Kelowna
Porter's is a fairly new, and welcome, addition to Kelowna's breakfast scene. It's located next to the Landmark District, in the old MTL building.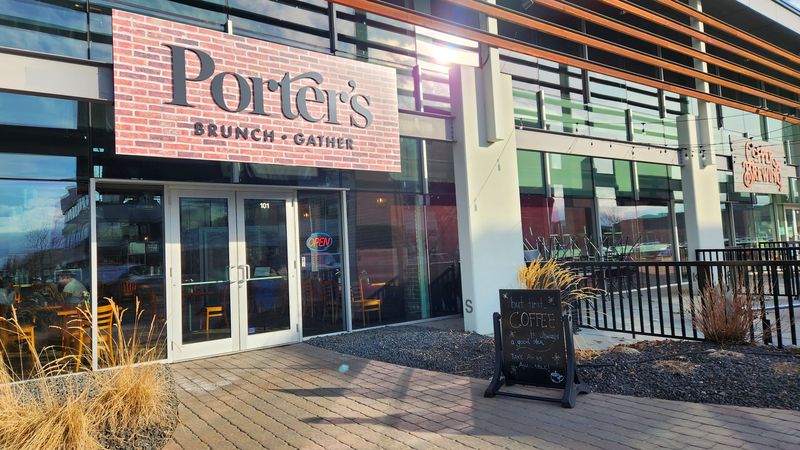 There's a solid breakfast and brunch menu here, packed with classics like fried chicken and waffles, eggs benny, and more. There are also some more adventurous items, like the Japanese style soufflé pancakes, and several vegetarian options.
Charles tried the soufflé pancakes. They're Japanese style soufflé pancakes, served with vanilla sweet cream, seasonal fruit compote, streusel, and your choice of maple, nut brown syrup or black currant sour syrup.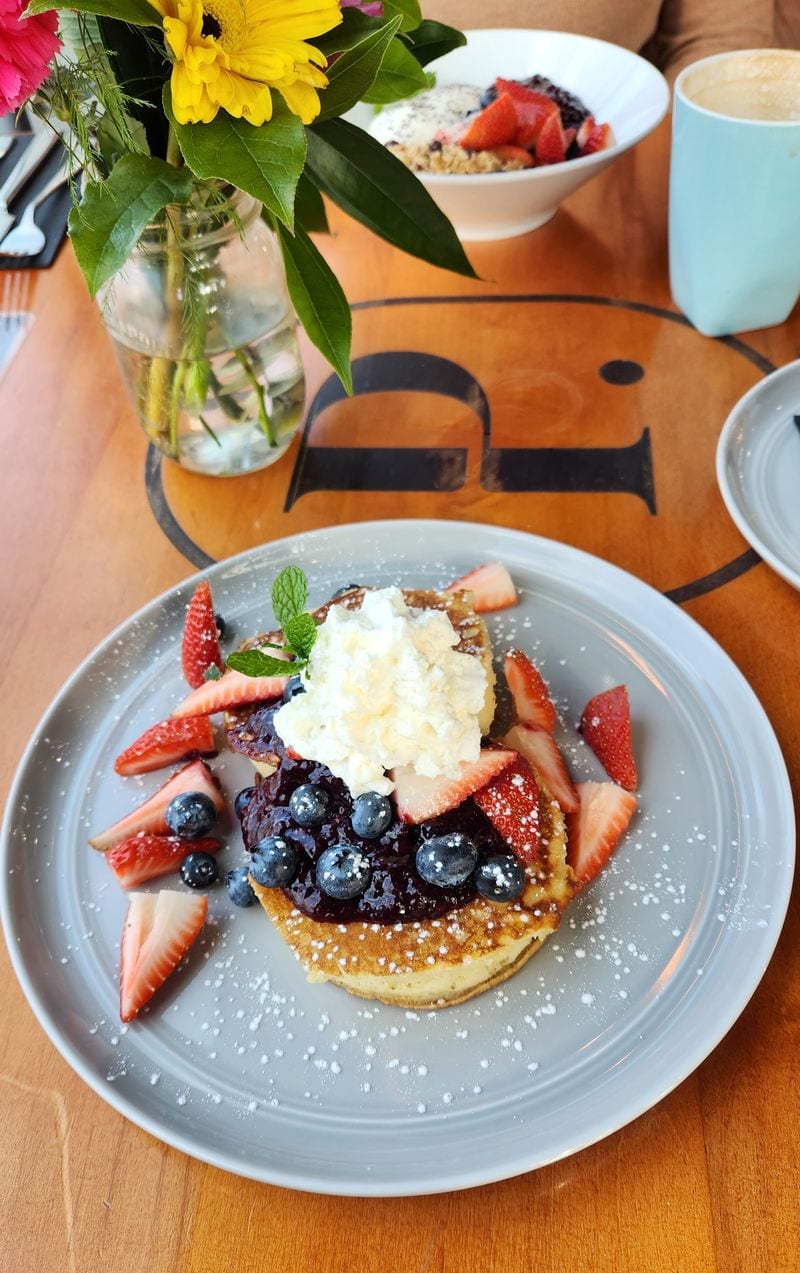 Charles couldn't quite decide, so our helpful server brought us four syrups to try which also included a salted maple syrup. Three of those syrups are made in house at the next door Copper Brewing Company however the Black Currant Sour syrup won out as his favorite in the end!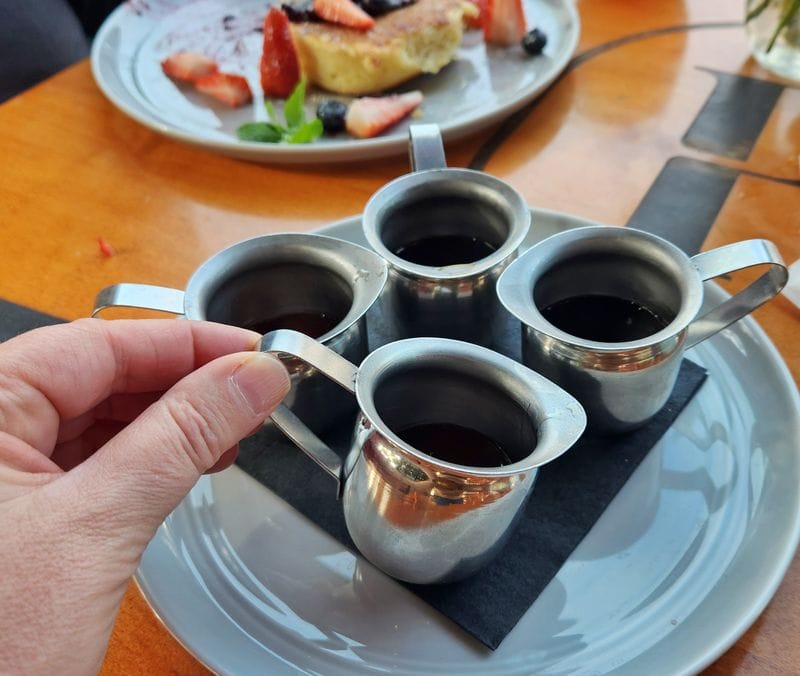 I tried the yogurt bowl, which was delicious with creamy Greek yogurt, house made granola, seeds, seasonal fruit compote (made in house as well), and fresh fruit.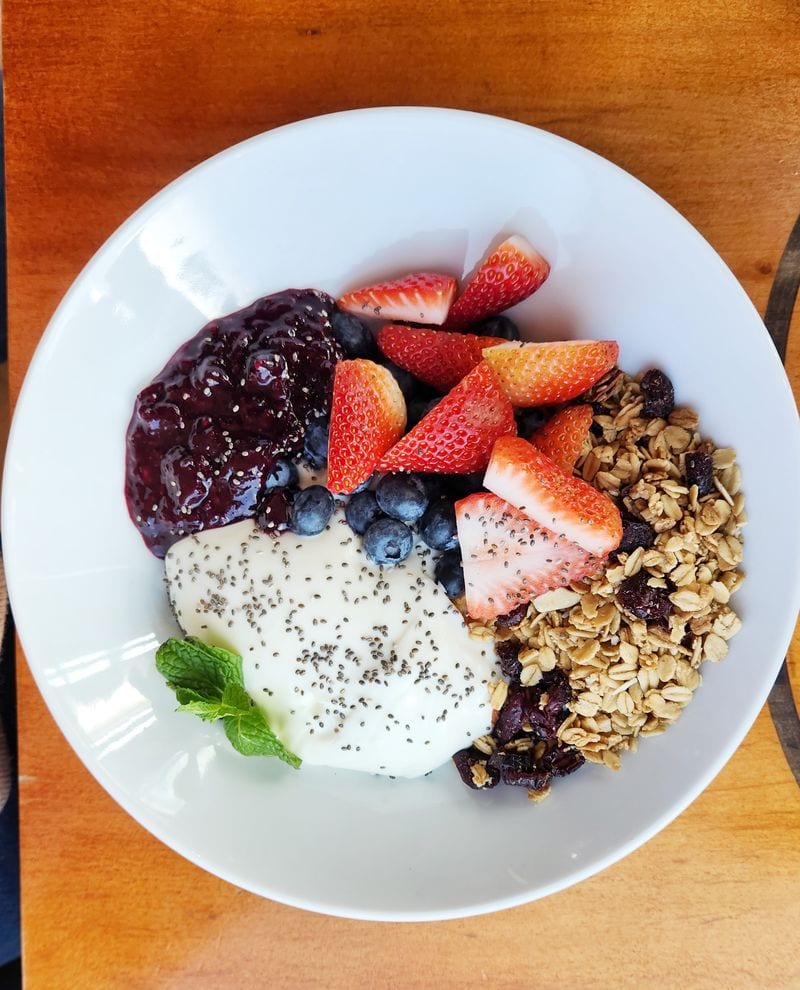 My latte was perfect, made from coffee beans from fair trade local roaster, Craft 42 Roasters.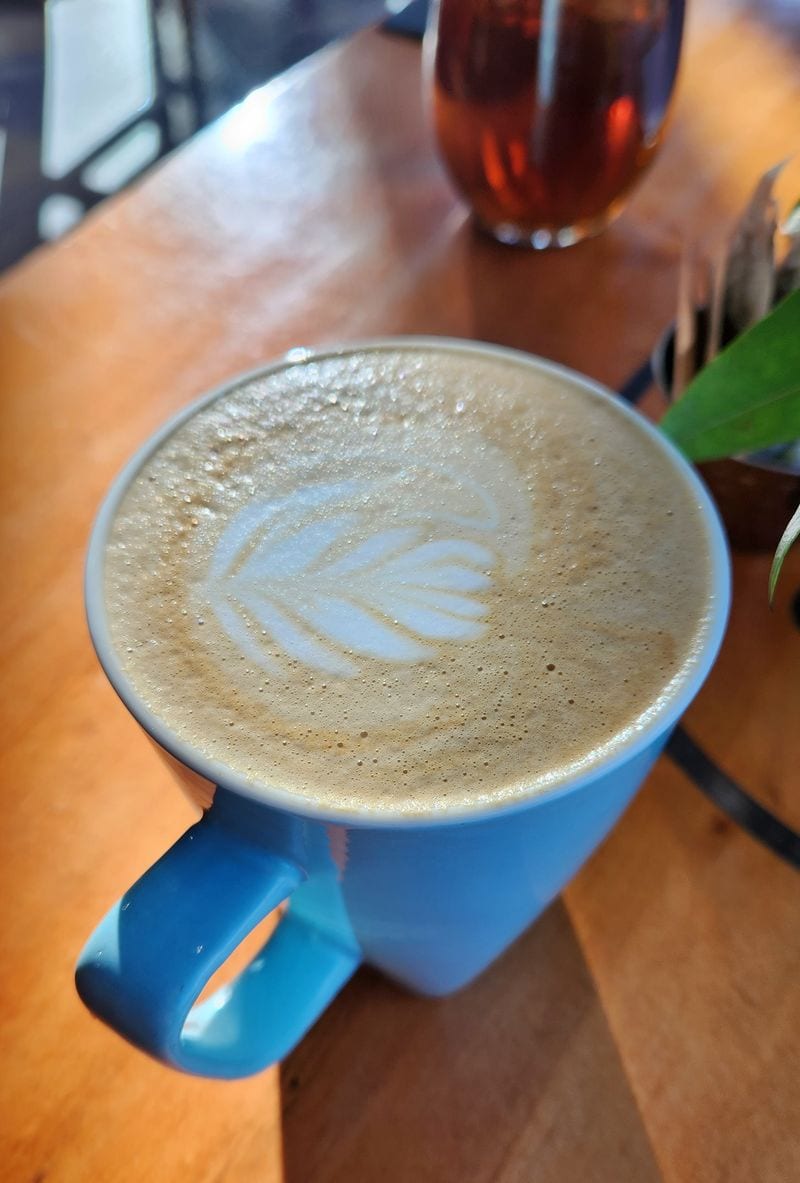 The Jammery Kelowna
The original The Jammery location was featured on The Food Network's You Gotta Eat Here! The original location is in Lake Country, and just over 20 minutes from Kelowna's downtown.
They've opened a new location in Kelowna proper. While the new Kelowna location (at 2463 Highway 97), has the same great food as the original, the atmosphere couldn't be more different.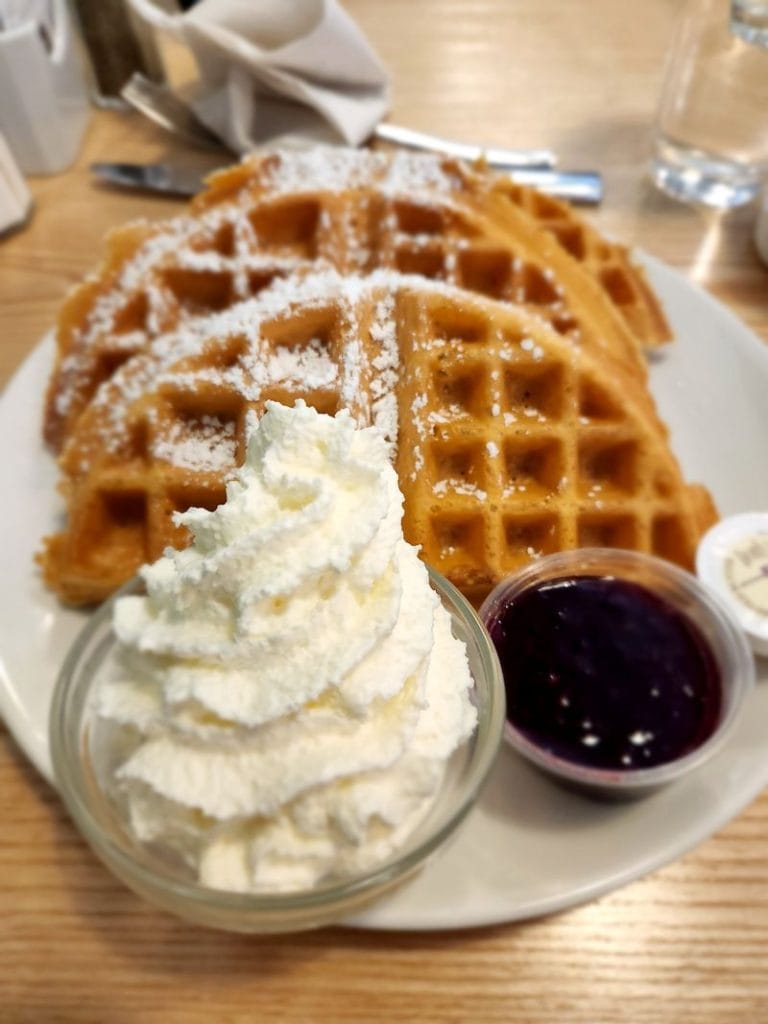 The rambling original Jammery location has a quaint, rustic farmhouse feel, with a large giftshop. The giftshop is overseen by a large, stuffed bear (which children adore!), and has an abundance of jams (made in house), and local foods and gifts.
The new location in Kelowna is modern, with a tiny gift area, so it just doesn't have that kitschy charm of the Lake Country location however the food's as good as the original Jammery. That said, for me, it's worth a few more minutes drive to get to the Lake Country location.
My favorite dish at the Jammery is the All You Can Eat waffles, with their house made topping made from Okanagan fruit. They have six kinds of eggs benedict on the menu, omelets, plus French toast, crepes, a breakfast paella, and traditional breakfasts. There's even a vegan breakfast hash.
Cora
While Cora is technically a Canada-wide franchise, it has enough personality and originality in the décor and menu that it feels a lot more like a local spot. Cora started in Quebec in 1987, and has since expanded to 125 franchises across Canada.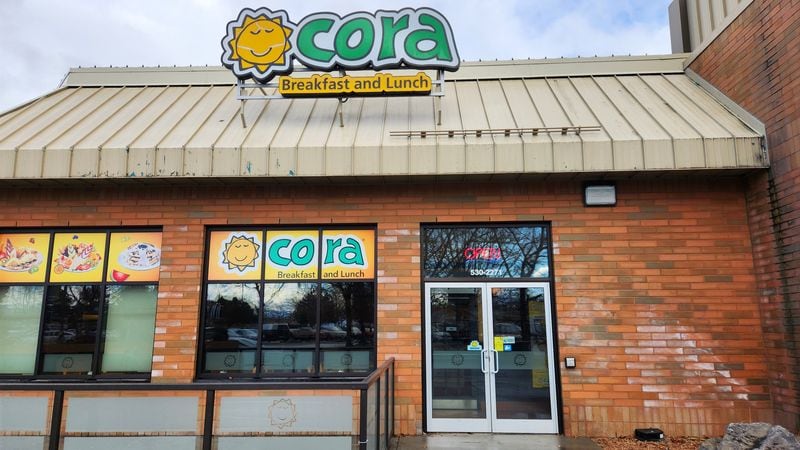 If you like fruit, Cora is your place.
While there are plenty of traditional omelets, skillets, and egg dishes, there are also crepes, pancakes, and French toast absolutely smothered in fresh fruit.
There's even a fresh fruit section of the menu (which I order from every time). The Samira wake up is a huge plate of beautifully cut fresh fruit, served with toast, and there's also a tasty kale-mango smoothie bowl, and a fruit yogurt harvest crunch.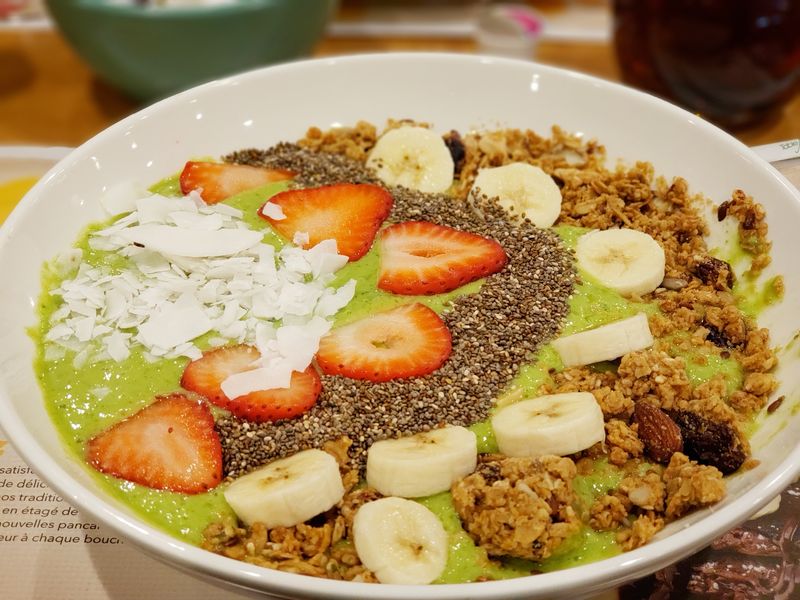 My favorite is The Ode to Oatmeal, with fresh fruit, harvest crunch granola, English cream, maple syrup, and fresh fruit.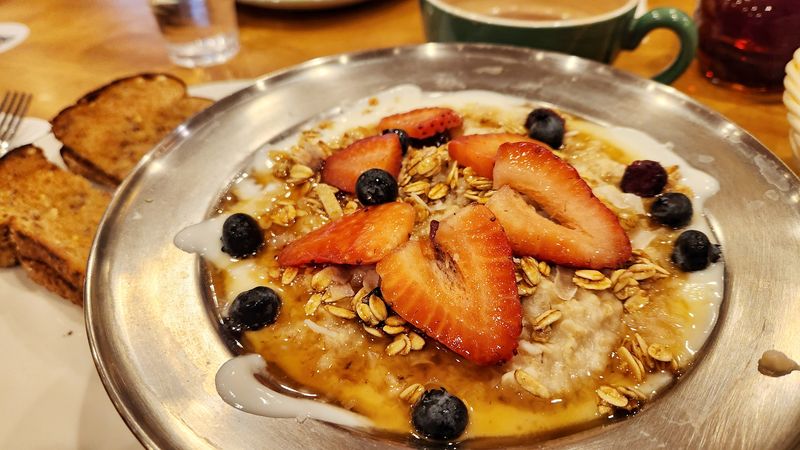 The kids always go with a fruit crepe, which is a single gigantic crepe stuffed with your choice for fruit, and either custard or a cocoa-hazelnut spread.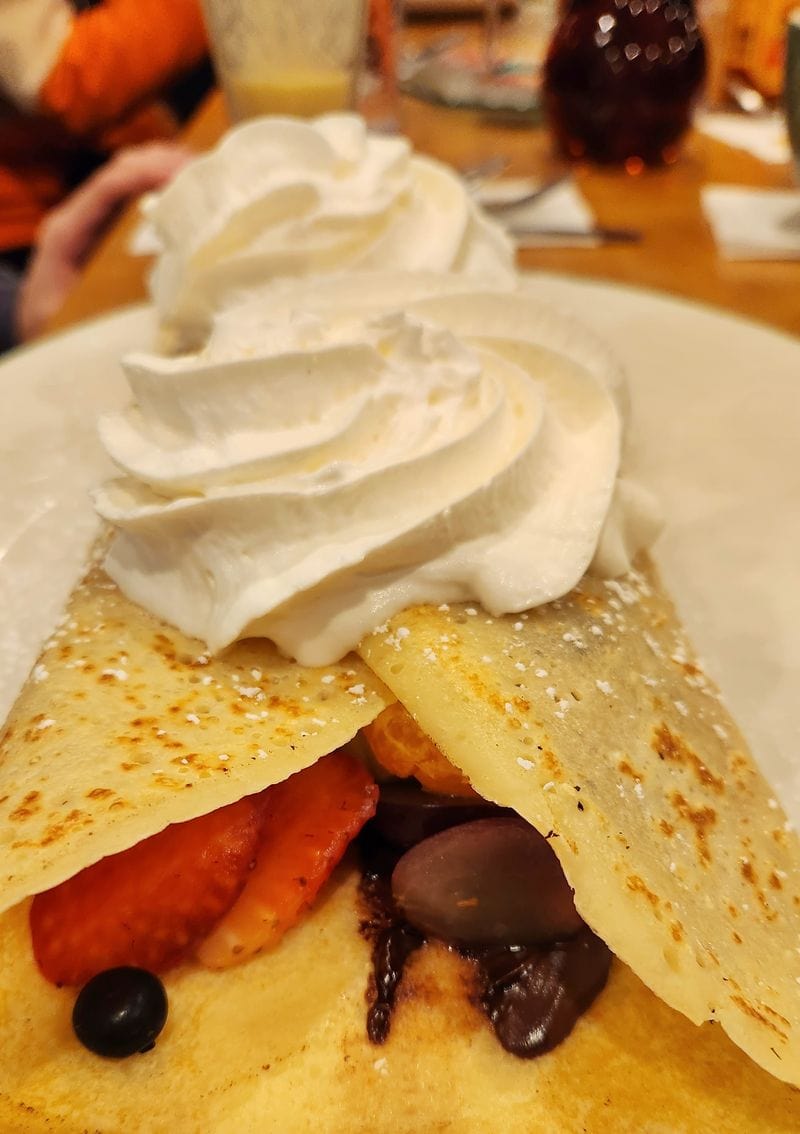 Charles goes for the classic French toast, which comes with your choice of bacon, sausages, turkey sausages, ham, or fresh fruit.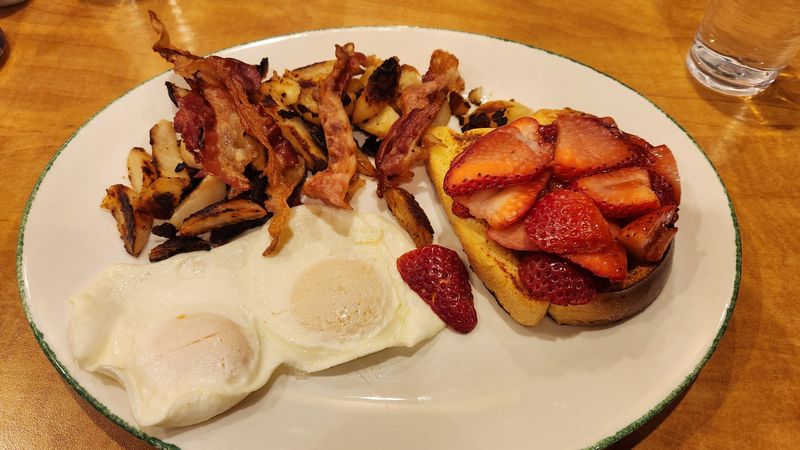 I've tried to get a photo of one of the kids' fruit smoothies on our last three visits to Cora, but it's inevitably half guzzled down before I can bring out my camera.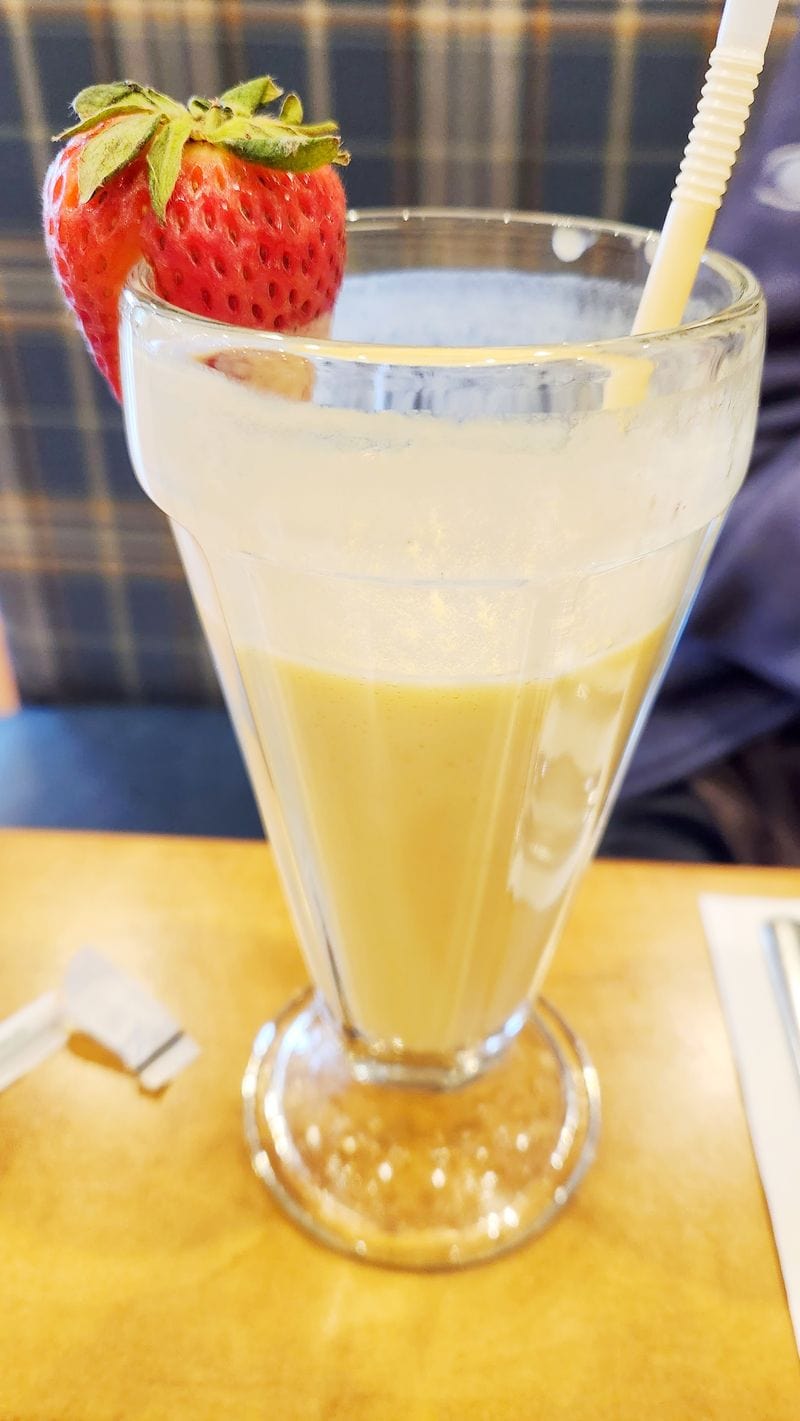 The Train Station Pub
Charles and I often end up at the Train Station Pub if we're looking for something that's just a little bit more upscale, with good food, but still casual and fun.
True to its name, the Train Station Pub is built inside a historic (now defunct) train station in Kelowna's Downtown.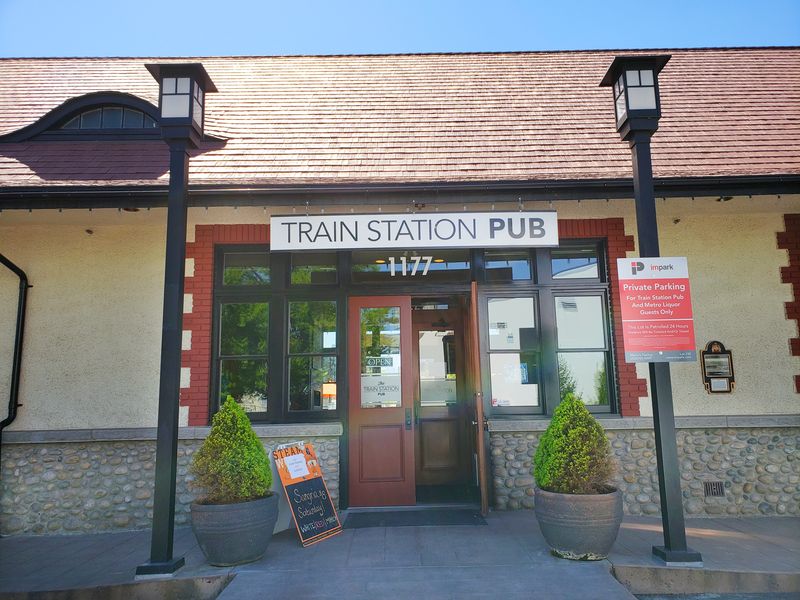 The brunch menu has everything from traditional chicken and waffles, breakfast sandwiches, and strawberry French toast, to more adventurous items like the Pakora benny (with curry spice), breakfast poutine, or Boom Toast (with avocado, pear, and butternut squash).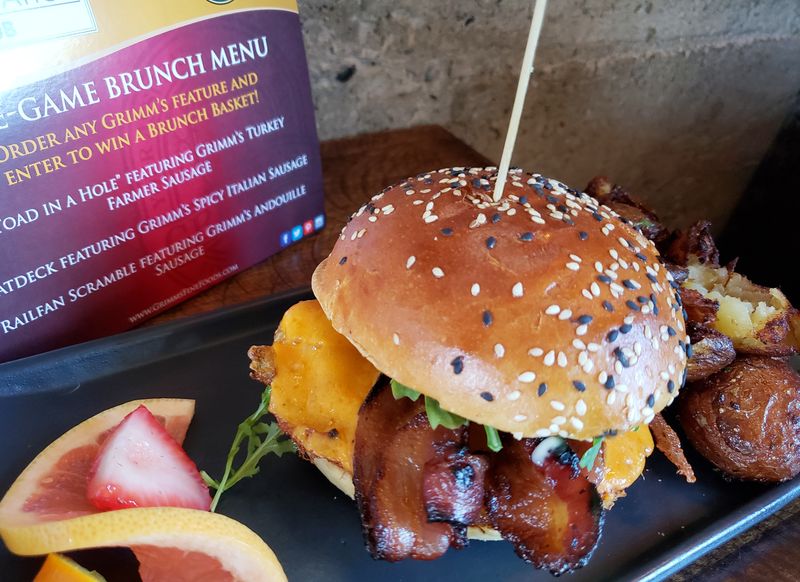 Brunch at the Train Station Pub is served until 2 pm every day.
My Neighbourhood Restaurant
We stop by My Neighbourhood Restaurant at least once a year. It's the kind of place that delivers solid portions, reasonable prices, and good food. It's not necessarily the most upscale place on our list, but it doesn't need to be. It's reliable and good.
Every time we've visited, service has been friendly, casual, quick, and helpful.
We come here when we're craving breakfast later in the day, since it's an all day breakfast place. There's a nice selection of benedicts, if that's your thing, including a crab cake benny, veggie delight benny, pulled pork benny, and a traditional benny, among others.
There's a tasty sounding banana stuffed French toast, an apple crisp stuffed French toast, as well as huevos rancheros, and a slow cooked pulled pork burrito.
Charles' to-go here is the French toast, which is dipped in a vanilla and egg batter and finished with icing sugar. Hash browns here are good, crispy and hot, but they're the cubed style that feels like a chopped up steak fry. Don't get me wrong, they're delicious, but both Charles and I prefer shredded or finely chopped hash browns.
They also serve lunch. I'm a huge fan of the portabello burger (no meat, only the portabello mushroom), which comes stacked to the ceiling with marinated and grilled portabello mushrooms, tomatoes, lettuce, pickles, and a tasty Dijon mustard.
OEB Kelowna
If Coras is the place for fruit lovers, then OEB is the place for those who love eggs. Like Coras, OEB is a franchise, with locations in Arizona, California, and a few Canadian cities.
As expected, the menu leans toward farm fresh eggs, omelets, and eggs benedict. There are also sweet treats, like banana cream pie French toast, Belgian waffles and crepes, as well as nine different breakfast poutines.
There are vegetarian and vegan options as well.
We haven't tried it (yet), but the mimosa flight (with four different mimosas) gets great reviews.
Gulfstream
We haven't had a chance to try this one personally yet, but Gulfstream (in the Four Points by Sheraton by the Kelowna Airport) gets pretty good reviews and was recommended by friends so it's made our to try soon list.
The breakfast menu is pretty solid and traditional, with classic eggs/bacon/hash brown/toast on offer, as well as omelets, traditional eggs benedict, a bacon hash and a pulled pork breakfast poutine. There's a vegan bowl with coconut yogurt, banana, and an Okanagan Greek yogurt bowl with Okanagan dried cherries and apricots.
Diner Deluxe – The Shore
We haven't tried Diner Deluxe – it's just a little too far of a drive for us, given all the great options that are closer. That said, it gets great buzz, so we've included it.
Diner Deluxe has three locations in Calgary, and the one location in Kelowna, on Lakeshore Boulevard. It's open 8am to 3pm.
The menu constantly changes, but it offers a big selection, with standards like avocado toast (with eggs), poached eggs and salmon, and a vegan faux egg wrap, as well as breakfast poutine and a big cinnamon bun.
There are also several eggs benedict variations on offer, breakfast bowls, omelets and frittatas, pancakes, French toast, and classic breakfast. There's also a lunch menu, and a kids lunch and breakfast menu.
There are plenty of vegan egg and vegan meat options as well.
Best Affordable Breakfast in Kelowna
Are you a foodie on a budget, looking for delicious and satisfying breakfast options in Kelowna that won't break the bank? Look no further!
Kelowna has many hidden gems that offer mouth-watering breakfast dishes at affordable prices.
Join us as we explore some of the best cheap eats for breakfast in Kelowna, and discover a whole new world of breakfast delights that are easy on the budget.
Specialty Bakery & Bistro
Specialty Bakery has a few locations in Kelowna, but most are bakery only, and don't offer breakfast.
To get your breakfast fix, make sure you go to the Specialty Bakery location on Finns Rd, in the industrial section of Kelowna.
We were introduced to Specialty Bakery by Charles' 80 year old uncle, so that tells you it's definitely a Kelowna fixture.
The food here is fresh, not fussy, and filling.
On offer are classic breakfasts of bacon and eggs, omelets and eggs benedict, or you can buy something from the attached bakery and eat it in the bistro.
I'm a big fan of the cinnamon buns, and black forest donut.
Don't come here expecting a cappuccino – the coffee bar has five blends of freshly brewed Van Houtte coffee. There are also soups, sandwiches, and burgers on offer for lunch.
I don't think there's anything on the menu that's specifically designed for vegans, but vegetarians should be able to sort something out.
The Kelowna Farmer's Market
Kelowna Farmers' and Crafters' Market is a great place to browse, and grab a simple, affordable breakfast.
The summer Market is open April to October, from 8 am to 1 pm on Saturdays and Wednesdays at the corner of Dilworth and Springfield.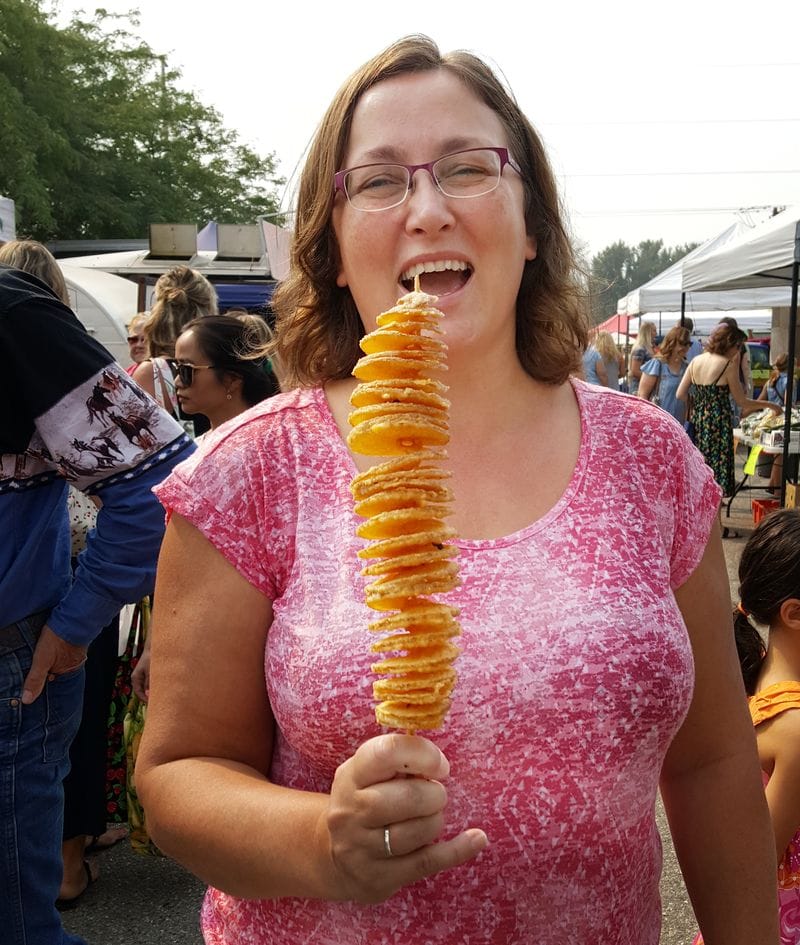 There's a winter market on Saturdays in the Parkinson Rec Center, but food options are a lot more limited.
One of my favorites at the summer Farmer's Market is the Crepe Bistro, which has a fantastic variety of delicious crepes, including the zesty lemon and sugar, and banana chocolate.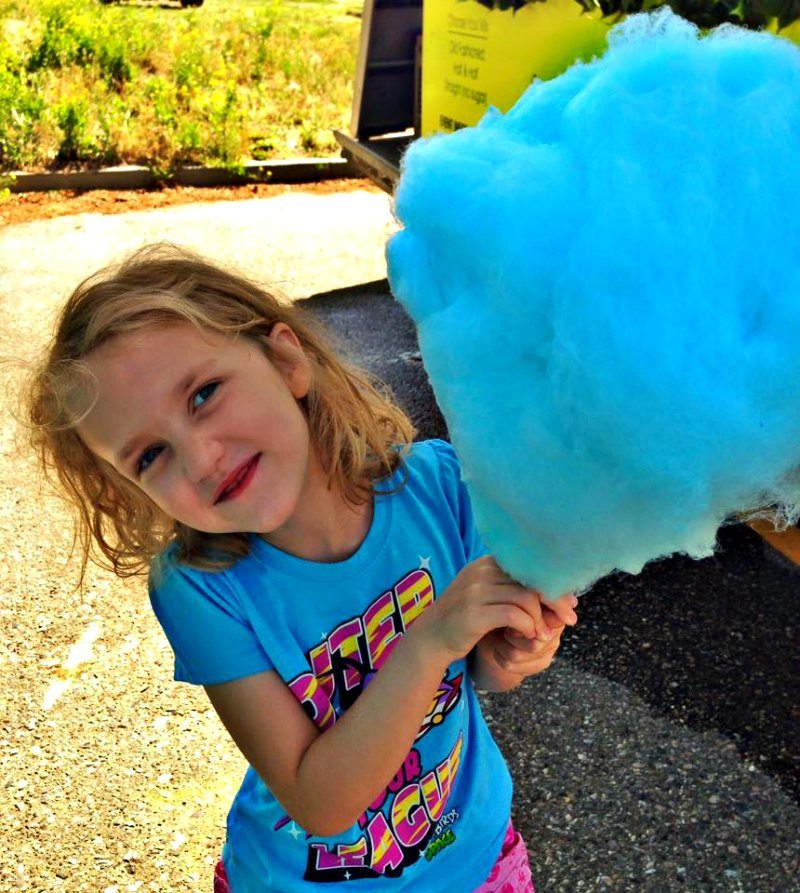 There are always several fresh squeezed lemonade stalls to wash down your crepe.
All four of us are huge fans of the spiral potatoes on a stick – a must try!
There are also several outstanding coffee places in the market, including Anarchy Coffee.
Beet n' Boos
Beet n' Boos is a great value. It's a comfortable place, with homestyle food that almost feels as if you're being served in someone's farmhouse kitchen.
There's a big breakfast menu, with breakfast wraps and burritos, egg sandwiches, French toast, and plenty of different eggs benny options. There's also oatmeal with berries, and breakfast bowls.
For lunch, you can get a sandwich panini, wraps, a good selection of salads, a burger, or even mac and cheese.
It's all homemade, fresh, and with good sized portions.
Somehow, we haven't been here for a couple of years, but I think it's time to go back!
Dosa Crepe Café
Dosa Crepe Café doesn't open until 11 am, but I've included it here in case you're running a bit late and looking for something really unusual.
They opened just before the pandemic started, but we're thrilled to say they're thriving, and have opened a second location downtown. We've only been to the original Rutland location, but the menu's similar at both locations, and the downtown location gets great feedback too.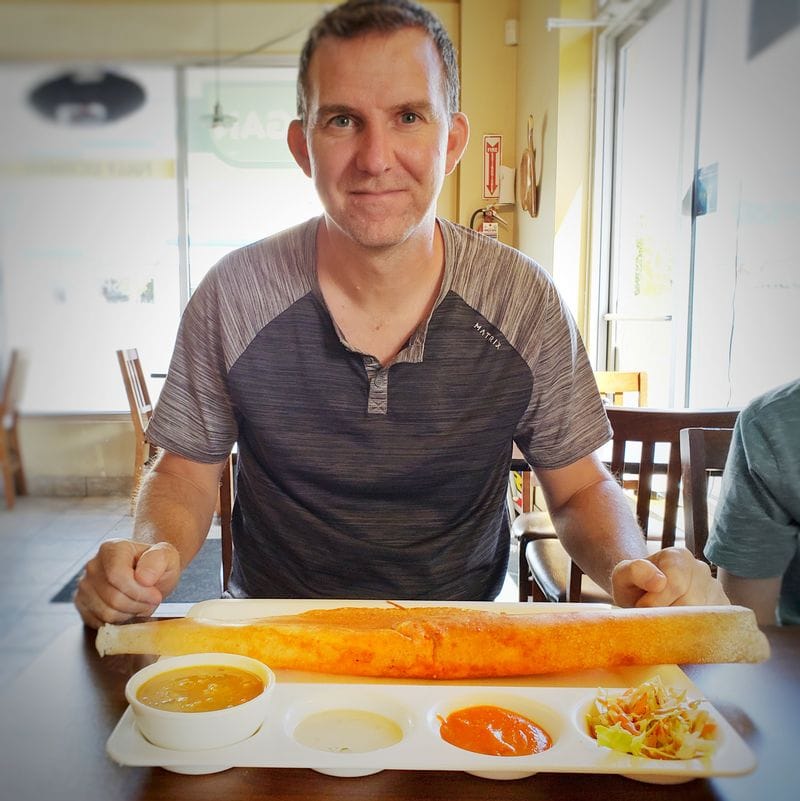 Dosa Crepe Café offers two kids of crepes: French crepes, or south Indian dosa. An Indian dosa is a thin pancake made of a fermented batter of rice and ground black lentils. The dosa itself is vegan.
The Indian dosas are tasty, with a slight savory tang, and a delicious crispy edges. It's served with your choice of curries, with vegetable, paneer, chicken or beef curries available.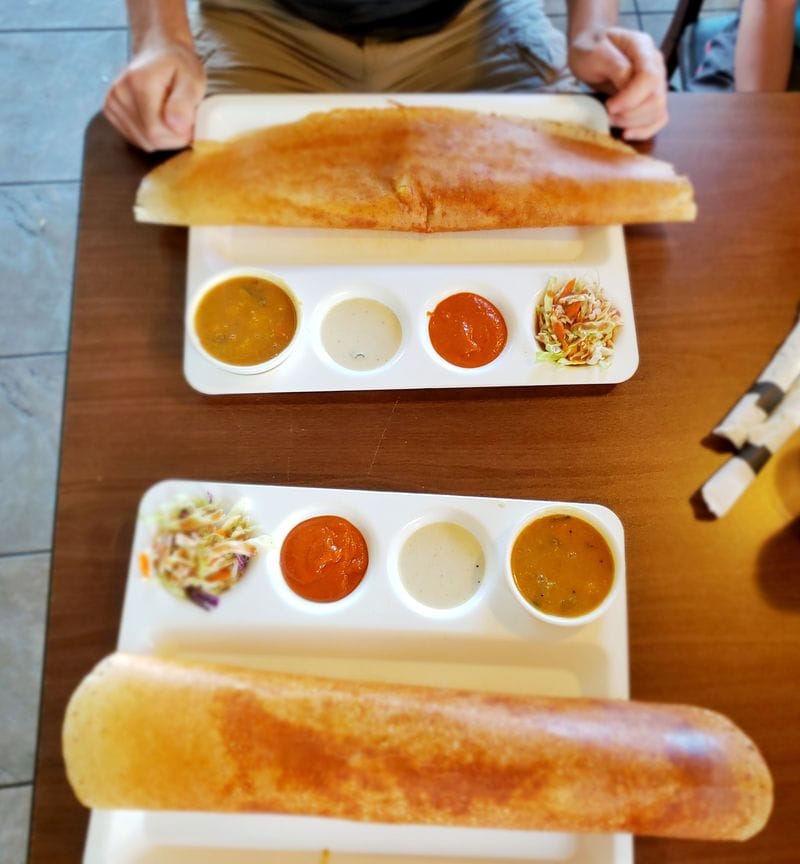 If their giant savory dosas aren't your thing, you can try their French crepes, served plain, or with banana chocolate, mixed berry, or mango maple, and topped with a scoop of ice cream.
Our kids always go for the sweet crepes, while Charles and I get a dosa. Both are fantastic – it's just a matter of choice. The kids also like to load up on a milkshake or lassi.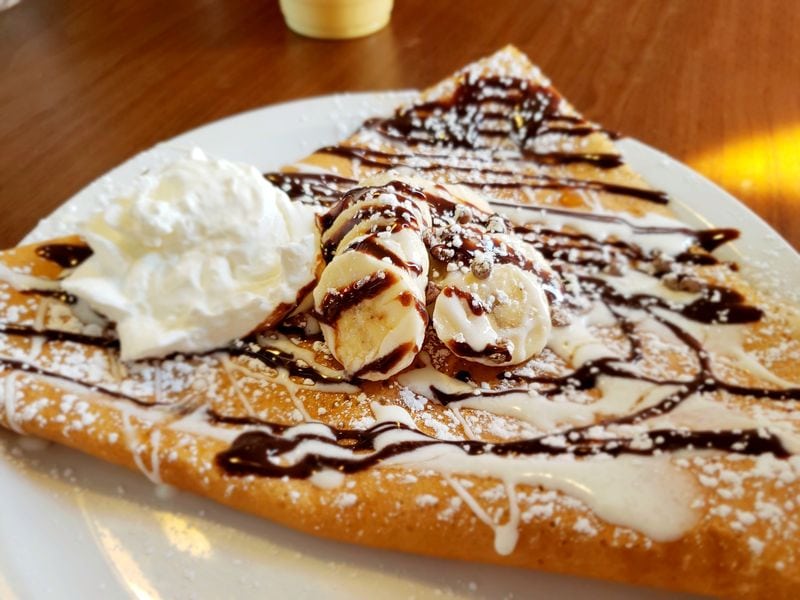 Dosa Crepe Cafe also offers biriyani (veg, chicken or beef), and kothu roti (veg, chicken or beef), appetizers, and a couple of soup options.
Bliss Bakery
There are plenty of great bakeries in Kelowna, but I included Bliss because 1) it's fantastic, and 2) it has seating so you can sit down and enjoy your breakfast.
Kelowna's Bliss Bakery has one location in Kelowna proper, on Ellis Street in the Downtown Arts and Culture District.
The bakery has a funky, industrial feel that somehow manages to be warm and inviting.
In addition to all of the delicious home baked goods, there's a small all day breakfast menu, with breakfast wraps, a spinach and feta quiche, a Bennywich, and a chipotle sausage biscuit. You can also get lunchtime sandwiches (including a vegan grilled cheese), soups, wraps, and salads.
Every baked item I've tried here has been fantastic. There's a reason that Bliss keeps winning the best bakery in Kelowna award with local publications. My current favorites are the almond croissants, and my son adores their individual-sized lemon merengue pies.
I'd come here just for the food, but it's an added bonus that their coffee is made from my very favorite organic locally roasted Cherry Hill coffee beans.
The Bread Company
The Bread Company has two downtown locations – one on Pandosy and one on Bernard. I've been to both, and I think I slightly favor the Bernard location, if just for the downtown vibe.
It's a busy place, with a lot of small tables, and I've always been able to find seating. They have plenty of pastries on offer, plus traditional breakfasts, frittatas, huevos rancheros, pancakes, plus sandwiches, salads, and soups for breakfast.
My daughter loves their chocolate filled croissant, and I'm a fan of the pesto spinach croissant.
Try the fresh squeezed orange juice!
Best Vegan Breakfast and Best Vegetarian Breakfast in Kelowna
Are you a vegetarian or vegan looking for a delicious and satisfying breakfast in Kelowna? Look no further!
Kelowna is home to a growing number of vegetarian and vegan-friendly breakfast spots, where you can enjoy a range of plant-based dishes. From hearty vegan breakfast burritos to gluten-free avocado toast, these restaurants have something for everyone.
Join us as we explore some of the best vegetarian and vegan breakfast restaurants in Kelowna, and get ready to start your day off on a healthy and tasty note!
Naked Café
The Naked Café is an unfussy place, with café style décor, and wooden benches for some seating.
It's an affordable vegan breakfast option located downtown on Lawrence Avenue.
There's a wide selection of vegan breakfasts here, with vegan versions of an English breakfast, a vegan bacon benny, a breakfast sandwich and a couple of vegan Just Egg hash options. The food is colorful, tasty, and comes in good portion sizes.
They're also open for lunch and early suppers, serving vegan bowls, sandwiches and burgers.
Frankie We Salute You
Well rated Frankie's offers both vegetarian and vegan options. Menu items are clearly marked as vegan, vegetarian, and gluten free.
I asked to go to Frankie's for my birthday dinner last year, and was impressed with the food.
This is a local restaurant, owned by Chef Brian Skinner and Christina Skinner, located in the Landmark District.
There's an industrial vibe here, but it still manages to feel comfortable and welcoming.
The menu is fun and inventive, and they have plenty of interesting cocktails and desserts. There's also a good kids menu, and we had several families, with well-behaved kids, sharing the restaurant.
Weekend brunch is on Saturday and Sunday from 11 to 3. It's pretty popular, so a reservation is a good idea. The brunch menu offers a fairly small selection, with items like a Florentine benny bowl, cinnamon toast waffles, and a plant based chorizo ranchera bowl. There are also fun brunch cocktails like a rum and fig leaf mimosa, or a Pimm's punch.
Chain Breakfast Places in Kelowna
I'm not going into too much detail for chain breakfast restaurants here, other than to list a few. For the most part, a Denny's in Kelowna is going to be the same as a Denny's anywhere else.
Here are a few serviceable chain options:
The White Spot
Of all the chain breakfast places in the city (Cora's not counting), The White Spot is probably our favorite. It's kid friendly, has a nice relaxed vibe and the food is consistently decent.
Best Brunch in Kelowna
Of course, you can visit any breakfast place from our list above for brunch however, if you're looking for a fancy, more upscale brunch, try one of these options below.
You'll need to make the drive over the bridge to visit our first two picks: Old Vines Restaurant and Terrace Restaurant.
Quails Gate Old Vines Sunday Brunch
Located in West Kelowna, Old Vines Restaurant is nestled on the edge of the Quails Gate Winery. The restaurant faces Okanagan Lake, with stunning views over a gently sloping vineyard to the water below.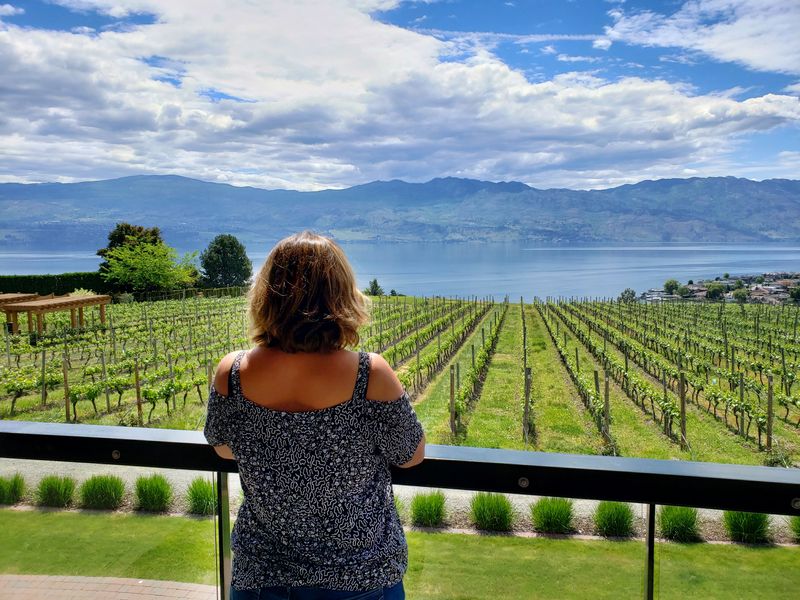 Quails Gate family owned winery is one of my personal favorites in Kelowna, and regarded as one of Kelowna's best wineries.
Given the view and the menu, Quails Gate's Old Vines brunch is fairly well priced. Sure, it's a pricier choice than many, with higher end appetizers like oysters on the half shell, and mains like croque Madame. Prices change regularly, but in early 2023, the eggs benny was $24, the brioche French toast was $18, and the artisan charcuterie ran $26. Not a fortune, but the bill can go up significantly with wine, as you may want to try the wine pairings suggested by your server.
Make reservations in advance, since it's a busy place, especially in summer, and brunch hours are short, running every Sunday 11 am to 2:30 pm.
Terrace Restaurant at Mission Hill Winery
Terrace Restaurant at Mission Hill has one of the best restaurant views in Kelowna. It's definitely a show stopper, and a fantastic place to bring someone you want to impress.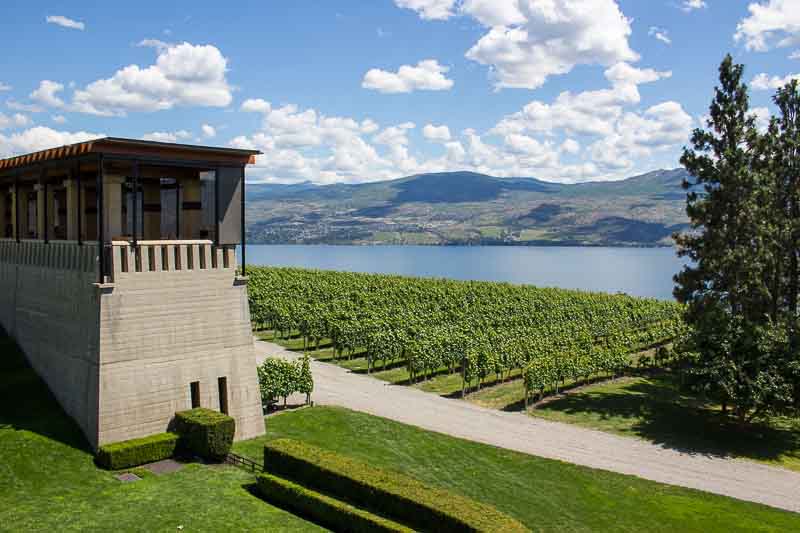 However, since it's an outdoor restaurant, it's only open seasonally from May to October.
This is a farm-to-table experience with produce grown in the estate garden, or locally sourced from farming partners.
Prices can be a bit steep, but this is one of Kelowna's best restaurants, with excellent service and panoramic views to boot.
We've only eaten here once, at lunch, and it was a fantastic experience, with wines paired perfectly to the food. Charles still raves over the duck fat fries three years later!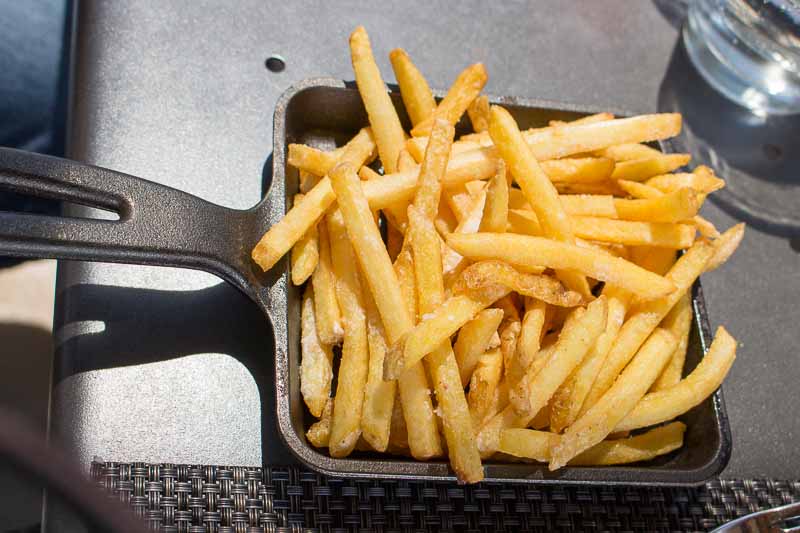 We've never had a issue, but we have heard from a few people that they found the atmosphere at Mission Hill to be a bit cold and exclusive. Our personal experience with everyone, including sommeliers, servers and gift shop personnel has been excellent – they've been friendly, knowledgeable and helpful.
Lakeside Dining Room at the el Dorado Hotel
The food is good here, and service is solid, but sometimes slow, however, the real draw is the location. Located directly on the waterfront, it offers a stunning view of the lake. If you go in the summer, try to get a patio seat for an even more amazing view.
The buffet brunch is only available on select Sundays. Breakfast is available Monday to Sunday, early.
The breakfast menu is fairly small, with favorites like a traditional breakfast, fruit salad, eggs benny, avocado toast, waffles, omelets, and oatmeal.
Krafty Kitchen + Bar
I hesitate to call anything hip or cool (my teenagers would immediately cringe and reflexively mock me), but there's no getting around it: Krafty Kitchen + Bar is a pretty hip place.
I mean, they have a Hip Hop Brunch every Friday to Sunday, with items like benedicts named Tupac, Baller Mushroom, and Easy-E. They also offer a Notorious BLT, and a Drop it Like it's Hotcake.
This is a local place, run by Chef Chris Shaften. It's a fun, funky, casual farm-to-table restaurant located beside the historic firehall in Downtown Kelowna.
Brunch is only on Saturday and Sunday 9 to 2, but regular hours are Monday to Friday noon to late.
There's also a Fondue Sunday.
The Curious Café and Bar Norcino
The Curious Café is another cool downtown eatery, but with limited hours.
If you're looking for brunch, it's closed Sundays and statutory holidays however it's open Friday and Saturday at 11 am.
The brunch menu includes vegan field mushrooms on toast, chick and waffles, a breakfast sandwich, eggs benny, French toast, and a veggie power bowl.
There's also a brunch party that serves four, with classic eggs benny, French toast, bacon, fruit, and coffee.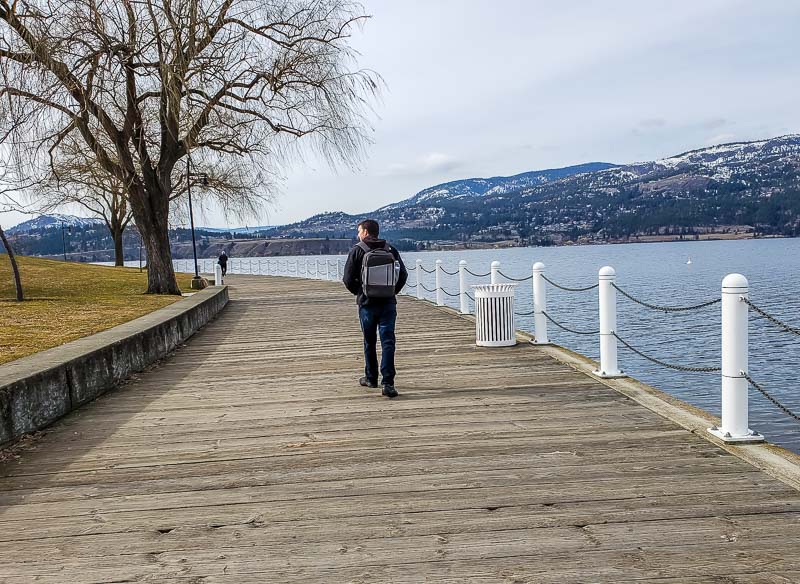 As someone who loves a good breakfast, I can honestly say that Kelowna does not disappoint when it comes to morning dining. Whether you're in the mood for classic Canadian breakfast fare or something more innovative and international, Kelowna has plenty of options to load up before hitting one of the best hikes in Kelowna or taking off on one of the best road trips in British Columbia.
Do you have a breakfast spot in Kelowna that we missed? Let us know in the comments!