Looking to hit the road for the best road trips in British Columbia?
We've lived in BC for over a decade now, and while we haven't driven every highway in the province, we've definitely taken our share of drives around our beautiful province.
British Columbia is Canada's most western province. It borders Alberta, and is known for its vast size and natural beauty. Sandwiched between the Pacific Ocean and the Rocky Mountains, BC is world famous for its mountain ranges, lakes and glaciers, as well as rocky beaches, ski resorts and natural beauty.
There are numerous highways and scenic drives in British Columbia that make for some genuinely spectacular road excursions no matter the season, with thousands of valley lakes, mountains, and a largely unknown north.
The best road trips in British Columbia will not only take you through some of the most scenic areas in the province but also in Canada. You can visit the Okanagan Valley and see world class vineyards or drive along the west coast and hang out on beautiful beaches.
If you're quickly looking for snow-capped mountains, head north from cosmopolitan Vancouver up to Whistler where you can ski or snowboard during winter months or go downhill biking in the summer.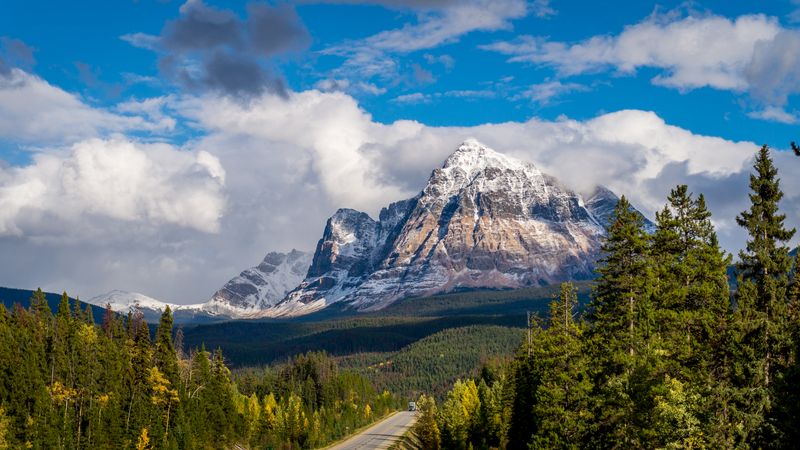 Want to see salmon spawning or visit the Rocky Mountains in its rawest form? British Columbia has both.
Dreaming of warm mountain lakes in summer, natural hot pools year round and great hiking? BC has that in droves.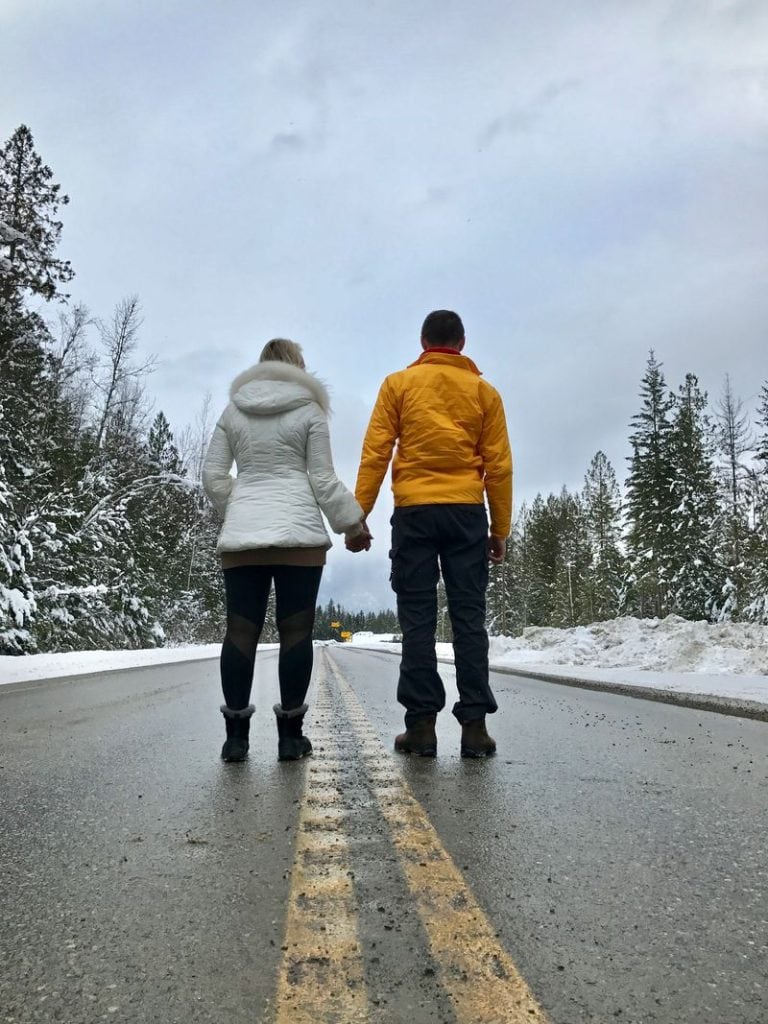 Whether you're looking for the perfect place to take your family on a road trip, or you just want to explore some beautiful sights with your friends, there's something in BC for everyone.
So whether you're a local wanting to broaden your range, on vacation traveling with family or friends, or just want to get away from it all, here are some of our favourite drives in BC that will take you off the beaten path and into nature's playground.
The best road trips in British Columbia, Canada
Whether you have your own car or are looking to rent a vehicle, these are the best road trips in British Columbia to take in the beautiful scenery of this Canadian province.
If you're in the mood for a guided tour, BC has plenty of bus tours available and if you want to see the province unfettered, traveling the province by motorcycle is an amazing experience. Whether you're looking for the best motorcycle insurance or want to check out the best things to see and do from Vancouver to Banff, this post has you covered.
The Sunshine Coast – Sunshine Coast Highway
Vancouver to Powell River - 170km (105mi) - 4h 20m (2 Ferry crossings)
The Sunshine Coast Trail is one of the most popular hikes in BC, and for good reason. It's located just north of Vancouver on the coast, and offers a variety of different options for hiking. This includes a section that goes right along the water with stunning views of mountains and ocean alike.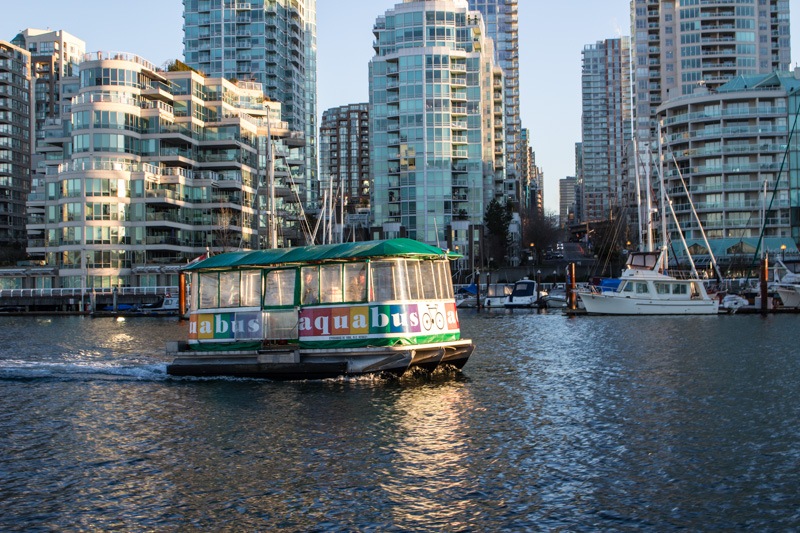 What does this have to do with road trips? Well, not only can you stop and hike the trail, but getting there is also a beautiful drive with tons of great coastal views and mountainous backdrops along the way.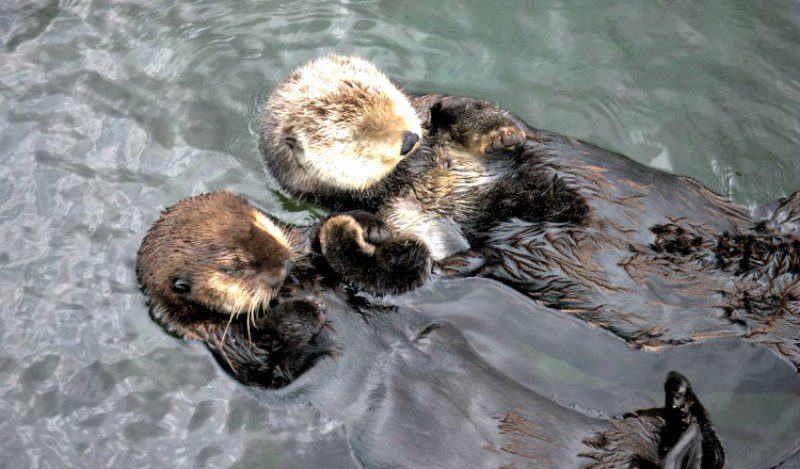 A few highlights along this route include the 2 ferry crossings (the first at Horseshoe Bay and the second at Earl's Cove) with possibilities to see everything from whales to dolphins and even killer whales right from your vehicle. The majority of the drive is 2 paved lanes and large animal sightings are common so keep your eyes open for any fauna in the area including moose, deer, bears, mountain goats and cougars.
If you want to continue your drive once you reach Powell Bay, you can take a ferry over to Vancouver Island where you'll start your island adventure near Comox.
The Okanagan Valley – Highway 97
Vernon to Osoyoos - 173km (107mi) - 2h 25m
The Okanagan Valley is home to some amazing wineries and fruit orchards that have been around before BC was even a province!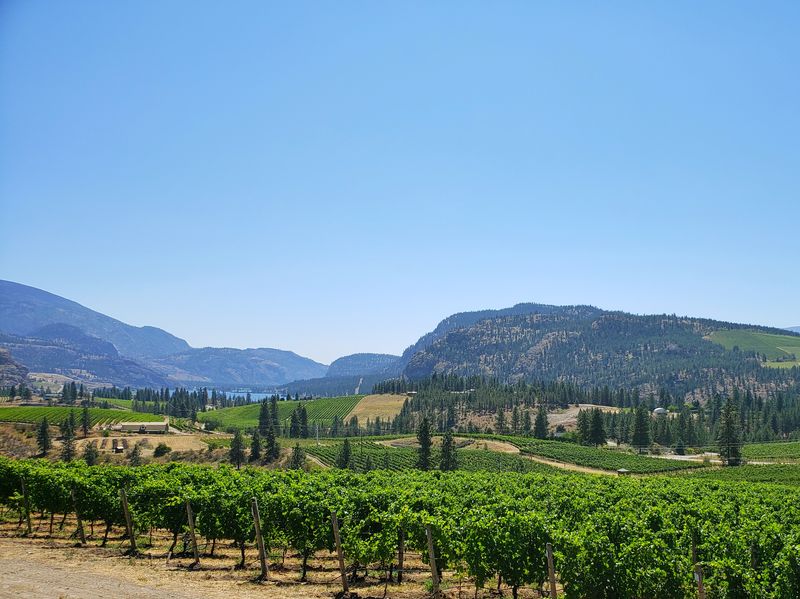 Starting up around Vernon and continuing south down to Osoyoos you'll see some of BC's prettiest lakes starting with Kalamalka Lake that, depending on the season, can range from cyan to indigo.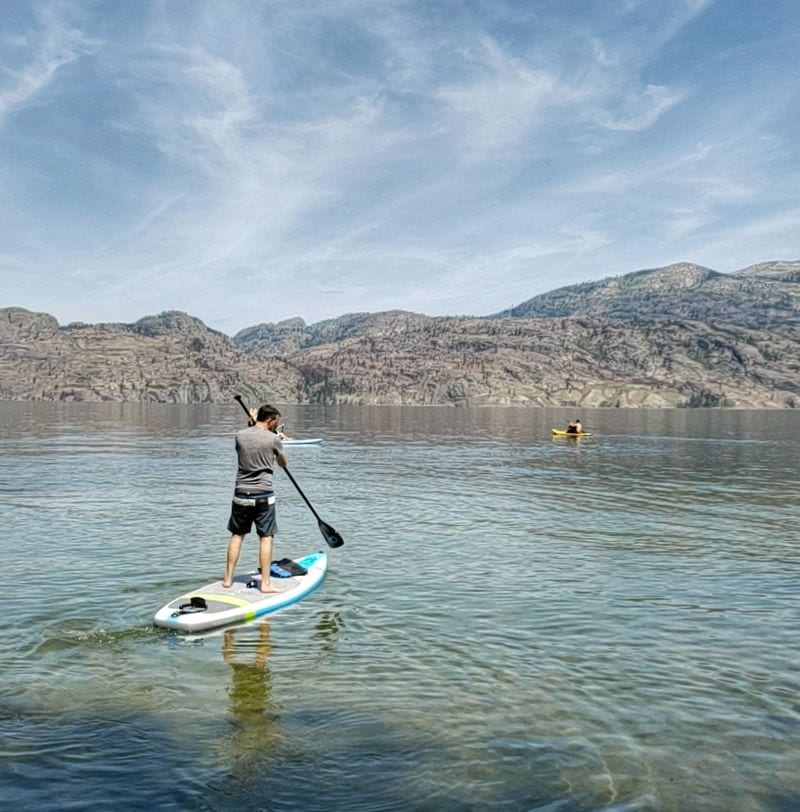 As you drive south from Vernon on Highway 97 through Lake Country and get into Kelowna, the heart of BC's interior, there's tons of things to do with the family including hanging out along the boardwalk of the 135 km (84 mi) long Okanagan Lake (one of the few lakes in Canada to never freeze in the winter) and grab an ice cream before heading to the beach.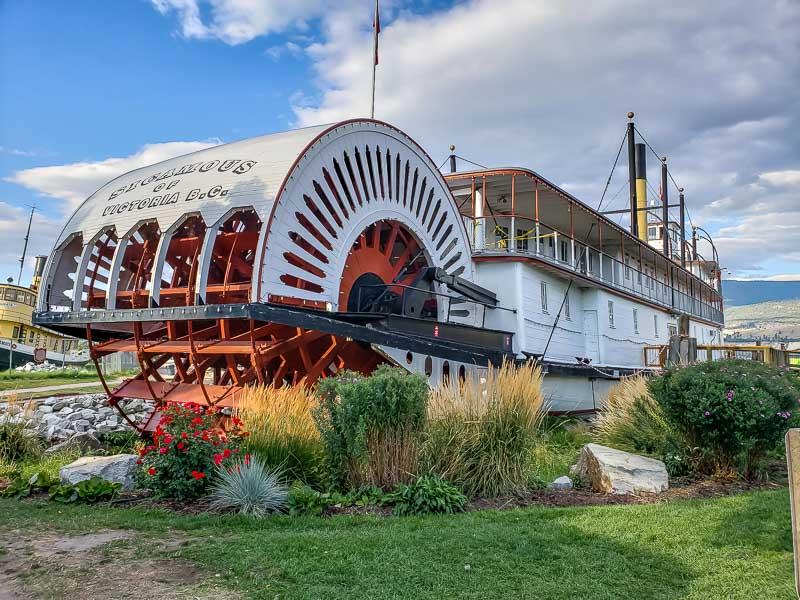 As you continue through West Kelowna (home to great vineyards like Mission Hill and Quails Gate) you'll soon find yourself driving through towns named Peachland and Summerland (great names right!) before arriving in Penticton. Make sure to walk the boardwalk in town before continuing your drive south down to Osoyoos, the warmest city in Canada!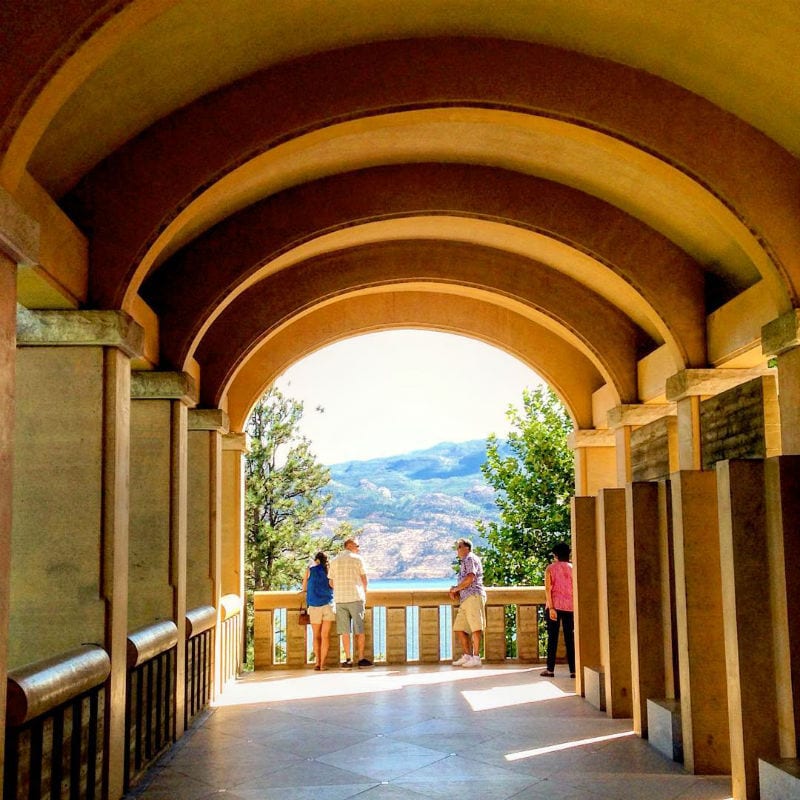 If you love vineyards and cideries, there are literally hundreds in the Okanagan Valley with many just off the highway so pick up a winery guide available nearly everywhere in the valley before you start your Okanagan BC roadtrip.
The Coquihalla Highway – Highway 5N
Hope to Kamloops - 203km (126mi) - 2h 15m
The stretch of highway from Hope to Kamloops has 2 things in abundance, beautiful scenery and infamous notoriety. The Coquihalla features gorgeous mountain rivers and some beautiful mountain vistas however it's also the star in a show called Highway Thru Hell, depicting the sometimes hazardous conditions that can occur during the winter months. Since it is a high mountain highway through some unforgiving terrain, there is some merit to the legends but if in doubt, check out the Drive BC website and just pay attention to the weather.
That said, the Coq was originally built as a connector to speed up the route that the Trans Canada highway originally took as it made its way west. While the drive is indeed faster via the Coquihalla, the beauty of the drive is also unmistakable.
If you're feeling the urge for a hot soak, veer off the highway near Bridal Falls to check out Harrison Hot Springs.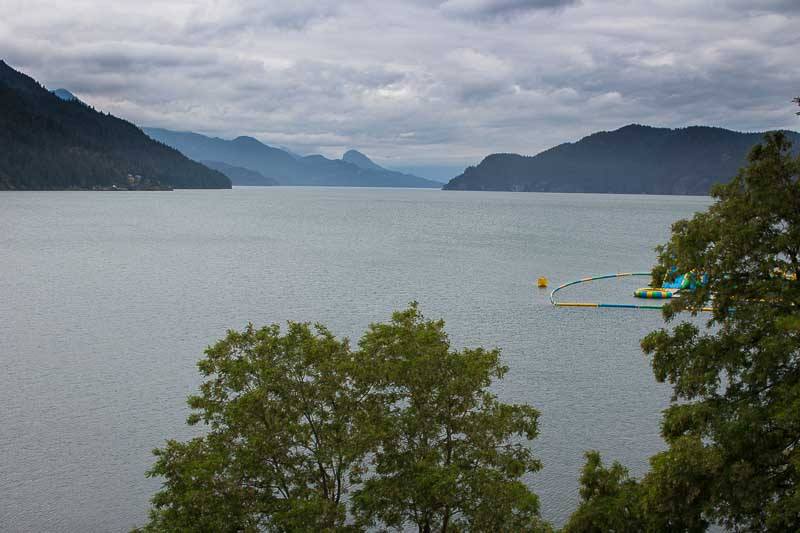 As you leave Hope via Highway 3 East (make sure your tank is full since the next gas station in Merritt is 120km or just over an hour away), you'll quickly jump onto Highway 5 heading to Merritt and Kamloops. If you want to get out and stretch your legs, the Othello Tunnels just past Hope are worth a hike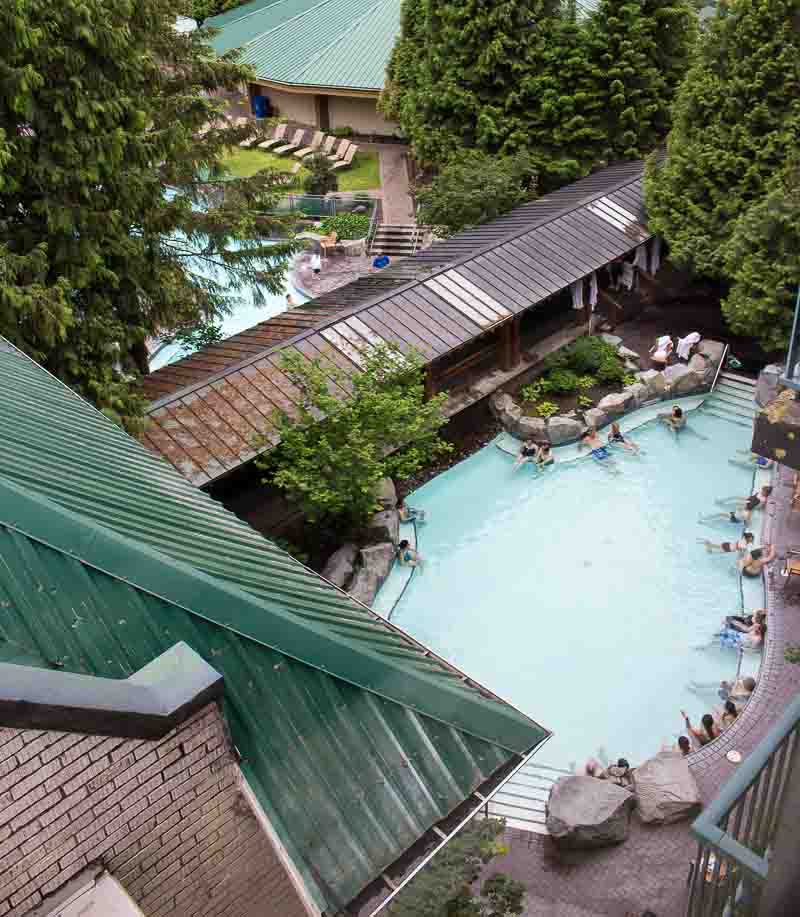 As you pull into Merritt itself (most of the town is to the north of the highway), you can now choose to continue northeast on Highway 5 to Kamloops or head southeast down Highway 97C to Kelowna and the Okanagan valley.
If you're planning to drive right through either cities as you continue east, the drive south toward Kelowna will add half an hour to your journey however it is a prettier drive by far and takes you through several small towns and cities.
The Island Drive – Highway 1 and Highway 19
Victoria to Qualicum Beach (Vancouver Island)- 158km (98mi) - 2h 25mins
Though not officially called The Island Drive, navigating this section of Vancouver Island definitely fits the bill. As you leave Victoria, the Victorian architecture filled capital of British Columbia, and head north on Highway 1, you'll pass quaint villages, pretty murals and get the occasional sweeping views of the ocean and the Gulf Islands.
There are hundreds of places to stop along the way to grab a bite to eat, hike or shop however there are a few wineries and cideries around Cobble Hill that are worth checking out. If you want a quick hike, it's also worth checking the Kinsol Trestle just before Cobble Hill. It's one of the tallest free-standing timber rail trestle structures in the world and is amazing to see. It's part of the Cowichan Valley Trail and is a popular hiking area.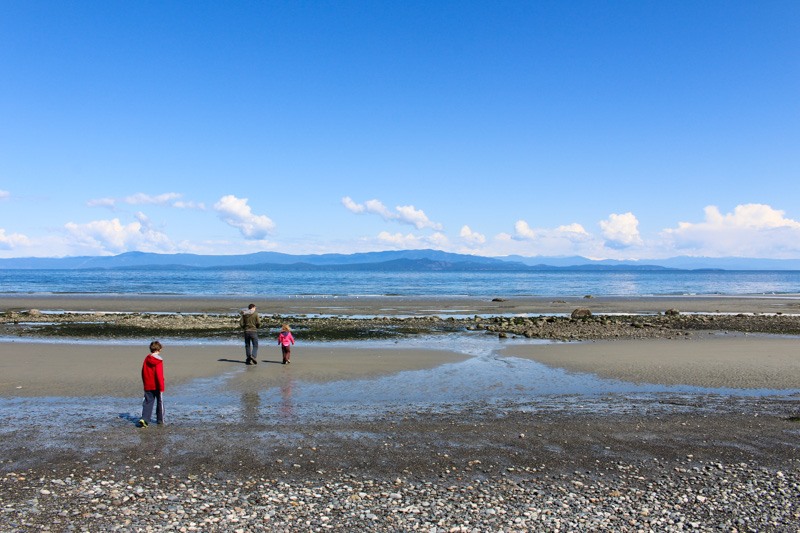 Nanaimo is the next major city on the way north. It's not a bad place to stock up supplies for your Qualicum Beach stay (if you're planning a short vacay) and is also the other major ferry terminal if you want to hitch a ferry back to the mainland.
As you continue north you'll eventually reach picturesque Nanoose Bay and then Parksville, another major waterside destination in its own right though the long sandy beaches along Qualicum Beach are usually what attract the crowds.
While in the region, make sure to check out the Goats on the Roof (literally) at the Old Country Market as well as the North Island Wildlife Recovery Centre. Both are great places to take the kids and hang out for a few hours.
The Sea-to-Sky Highway – Highway 99
Vancouver to Whistler - 121km (75mi) - 1h 25mins
Not many people who visit Vancouver, often ranked as one of the best cities on earth, don't take a day or two to make their way up to Whistler, BC's premiere ski destination. The hour and a half roadtrip north up Highway 99 is filled with gorgeous ocean and mountain views and passes through Squamish, an outdoor lovers playground.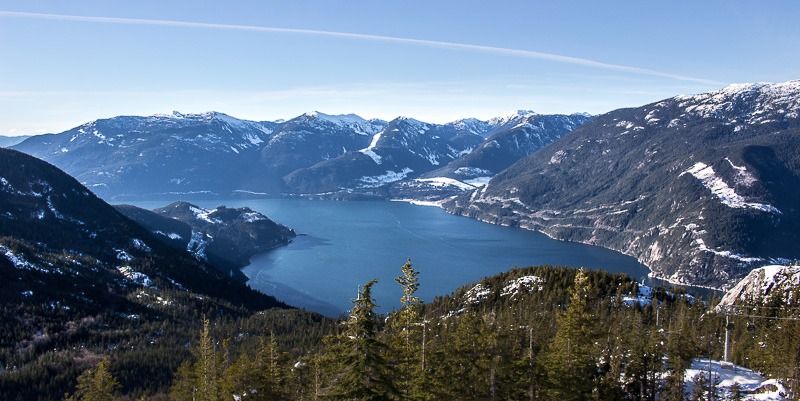 With everything from rock climbing to Bald Eagle viewing tours in the winter (it held the largest eagle viewing count in the world at 3769 with around 1300 spotted most given years), if you like the outdoors then likely Squamish has something for you. Squamish is also home to the wonderful Sea to Sky Gondola, a year round engineering marvel that zips you to the top in comfort with plenty of trails on either landings.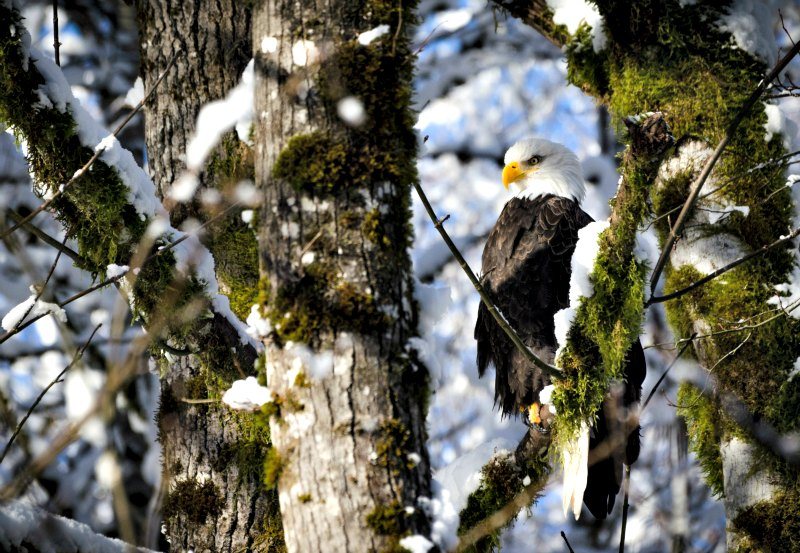 As you drive into Whistler, it's quickly evident why it's touted as an adventurers destination with a myriad of activities for the outdoor enthusiasts. After hitting the slopes, make sure to check out the town centre (known as The Village) with great shopping, restaurants and pubs open year round. Though we often think of Whistler as a winter destination, there are plenty of activities there happening year round.
Visiting in the summer? Check out Porteau Cove Provincial Park, a popular scuba diving destination with artificial shipwrecks and reefs supporting a huge variety of marine life, such as octopus, lingcod and starfish just minutes north of Horseshoe Bay. Don't know how to dive? Take a course or explore the rocky beaches and go swimming in the ocean for a nice break from your road trip.
The Glacier Drive – Highway 5 and Highway 16
Kamloops to Jasper - 441km (274mi) - 4h 45mins
While Jasper isn't technically in BC (it's 20km from the BC/Alberta border), the vast majority of this drive is in British Columbia and it's a beautiful road trip through valleys and mountains, with a few great sites along the way.
As you head up Highway 5 north from Kamloops, a great little city fronting the beautiful Thompson River and home to the BC Wildlife Park, you'll pass wide open valleys that soon turns into winding mountain passes. The nicest part about this Kamloops to Jasper road trip is that the highway follows along the North Thompson River for a sizable portion of the drive, which makes for a great backdrop and gorgeous views.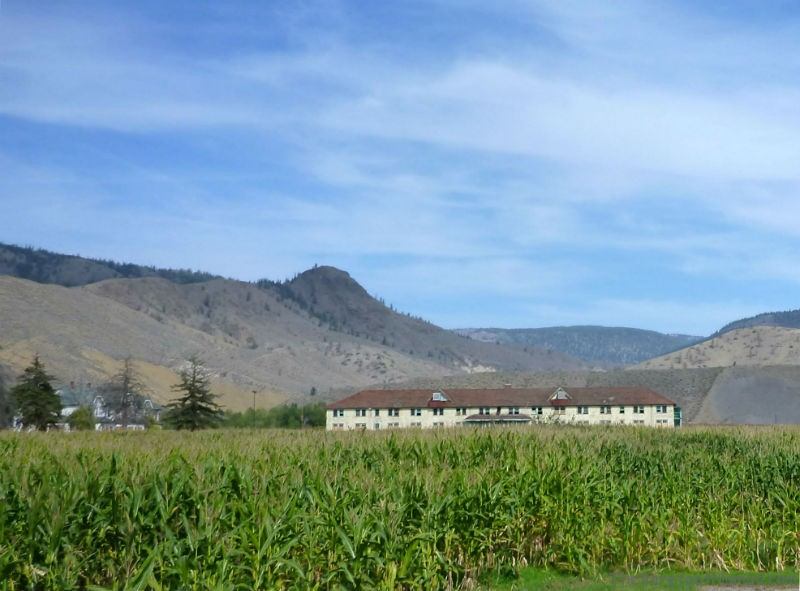 Along the way, you can check out some amazing waterfalls or go whitewater rafting around Clearwater. If you don't have time to check them out but want to stretch your legs, check out either North Thompson River Provincial Park right before Clearwater or the Blue River Provincial Park. Both are right along the highway and are easy to pull off into.
As you turn right (North) onto Highway 16 (known as the Yellowhead Highway) you'll have another few places to stop with Rearguard Falls Provincial Park just on the right and then the Mount Robson visitor centre with Mt. Robson (the tallest mountain in the Rockies) as a nice backdrop. If you're an avid hiker, the Berg Lake Trail (23km) is often considered one of the top 5 best hikes in Canada with plenty of gorgeous scenery and wildlife spotting.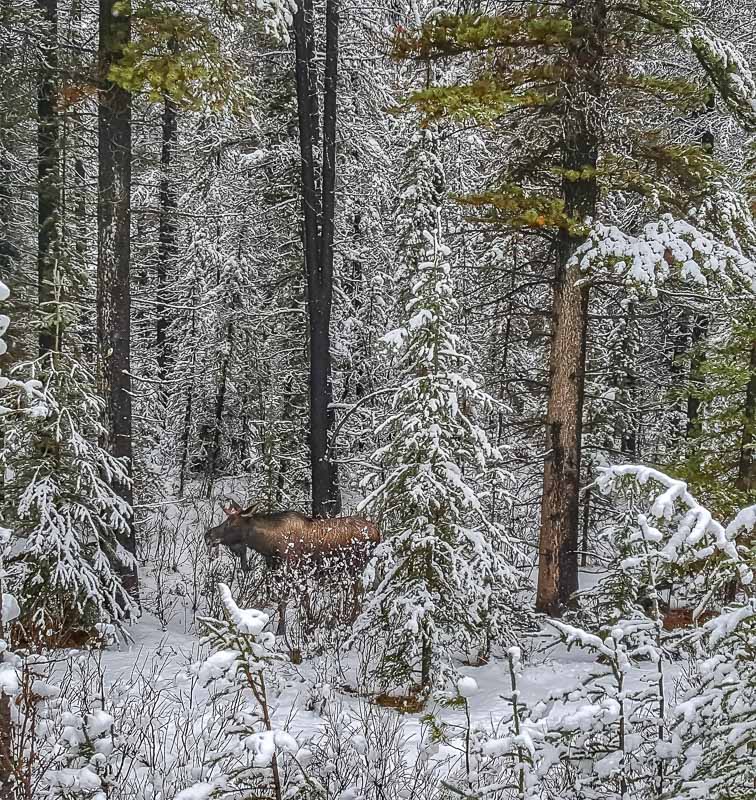 Pulling into Jasper, it's easy to see why it's touted as one of the best destinations in Canada. From the stunning water colors of the Athabasca River and surrounding lakes, to its proximity to glaciers and icefields to the Sky Tram and Marmot Basin ski resort it has plenty to see and do including Canada's best Dark Sky festival.
If you have the time, there are some of the most beautiful waterfalls in Canada less than an hour from Clearwater. Helmcken Falls, the 4th largest waterfall in Canada, in gorgeous Wells Gray Park is just one of them. You can also check out both Spahats Falls and Dawson Falls while on the way. Total time to Helmcken Falls is around 45 minutes (44km) one way.
The Cathedral Drive – Highway 4
Parksville to Port Alberni (Vancouver Island) – 50km (31mi) – 44mins
We only discovered this route a few years ago when visiting Port Alberni for the first time but it's a quick, gorgeous drive through old growth forests and one of the prettiest walkways you'll find on Vancouver Island.
Just as you pass picturesque Cameron Lake, past the halfway point of your journey, lies Cathedral Grove in MacMillan Provincial Park. This trail leads to the most accessible giant Douglas fir tree stands on Vancouver Island. You can walk the short number of trails under the shadow of giant Douglas-fir trees with some more than 800 years old.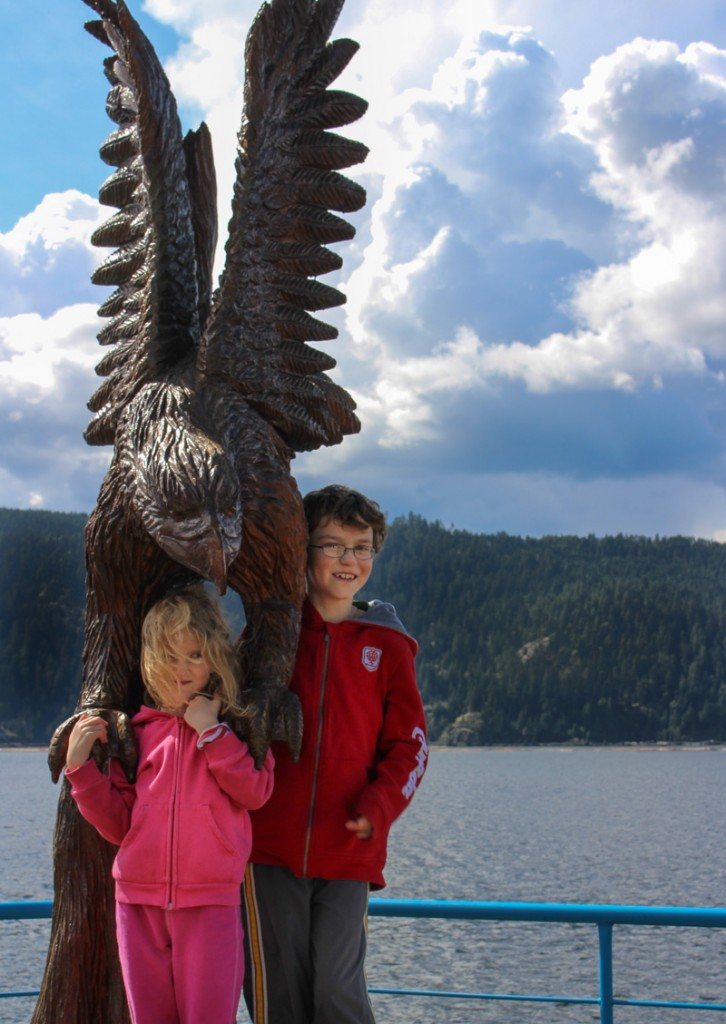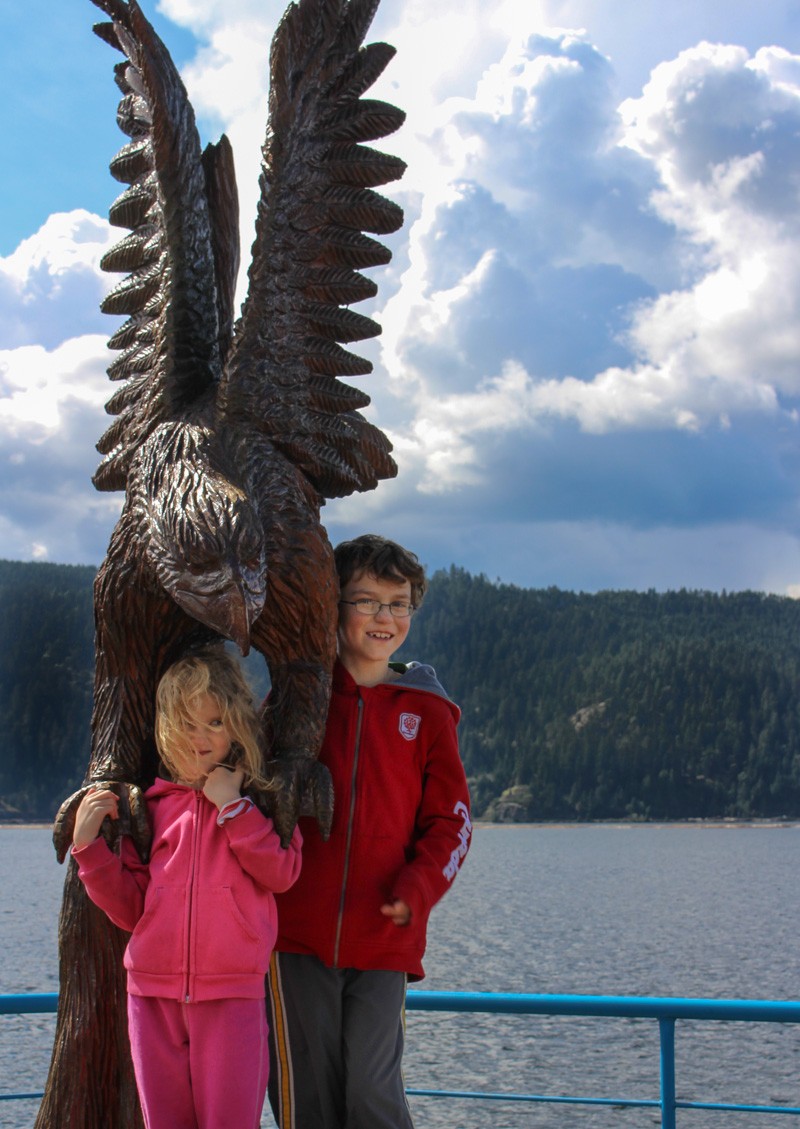 Due to some severe windstorms over the years, some of the ancient trees have fallen and the park and trails are continually being monitored and repaired. Make sure you check to make sure it's open if you decide to make the trip out there.
The Rocky Mountain Pass – Highway 1
Revelstoke to Lake Louise - 227km (141mi) - 3hours
The Rocky Mountains are a some of the most mountainous terrain in the world however the drive through them is often a very pleasant experience. Similar to Jasper, Lake Louise is only 10km from the BC/Alberta border so the majority of this road trip takes place in British Columbia.
Along the way, you'll drive over Canada's highest mountain pass, see a few hot pools, look up at the second tallest waterfall in Canada, traverse the premiere whitewater rafting river in the country plus witness some of the best scenery Canada has to offer.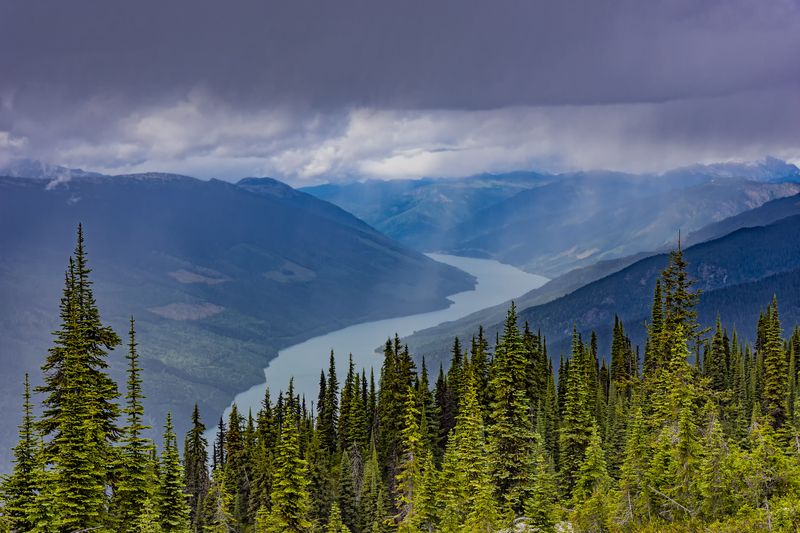 Leaving east down Highway 1 from Revelstoke, a former train station hub and home to the great Revelstoke Mountain resort and Pipe Mountain Coaster, a 1.4km all downhill rollercoaster that barrels your way down a mountain, you'll soon hit a series of boardwalks and trails. The one you don't want to miss is Giant Cedars Boardwalk, a quick 20 minute walk through some extremely large cedar trees.
Right after that you have Canyon Hot Springs resort with a nice set of hot pools and soon after that you'll be climbing through Roger's Pass, the highest point along Canada's 8000+km TransCanada highway.
As you arrive into Golden, Canada's whitewater rafting capital, there are a myriad of adventures you can partake in like whitewater rafting or checking out the Golden SkyBridge, Canada's highest suspension bridge and zipline site. After Golden you have Field, a cute mountain town with nearby access to Takakkaw Falls, Canada's 2nd highest waterfall and around 10 minutes off the highway.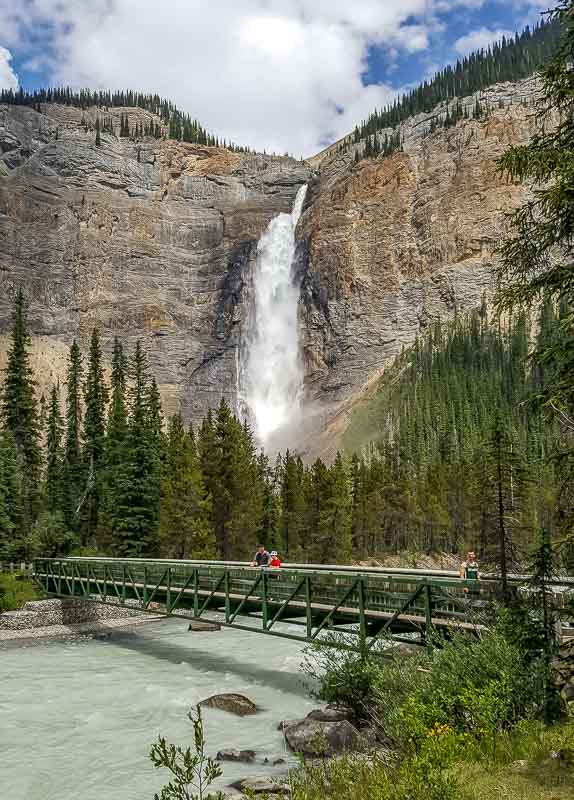 Once you arrive in Lake Louise, you'll want to check out the gorgeous turquoise lake the town is famous next to stunning Chateau Lake Louise. There are some great hikes around the area and if you happen to be there in winter, Lake Louise Resort is considered one of the best ski resorts in Alberta.
If you want to read about more things to do along British Columbia's TransCanada Highway, check out our ultimate Vancouver to Banff road trip guide.
The Pacific Rim – Highway 4
Port Alberni to Tofino (Vancouver Island) - 126km (78mi) - 1h 50mins
Traveling on Highway 4 west from Port Alberni to the coastal side of Vancouver Island is a leisurely affair with some beautiful coastal roads, some old growth forests and plenty of sights along the way.
As you leave Port Alberni, a small city on the Alberni Inlet, Vancouver Island's longest ocean inlet, you'll quickly pass Sproat Lake, a 4 season area with lakeside cabins and camping sites popular with fishermen and boaters alike. Next, you have Wally Creek. Right beside the highway with parking spaces, this is a perfect spot to jump in and cool off in the cristal clear blue water.
Continuing on you finally arrive at the coast. If you want to explore some of the natural beauty of the Pacific Rim National Park, now's a great time to stop and grab a pass at the Pacific Rim Visitor centre. If you want a small detour, feel free to head south down to Ucluelet while first stopping off for a short walk around the Ancient Cedars Loop Trail.
To the north and towards our final destination of Tofino, another great walk is the Rainforest Trail that is a wood boardwalk & gravel trail through a veritable forest of cedar & hemlock trees covered in moss.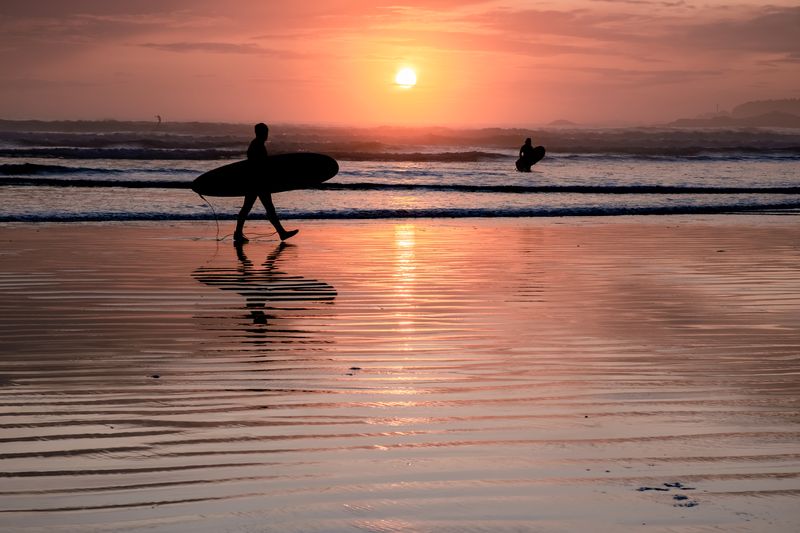 Next you have the Pacific Rim National Park Reserve with a tiny tourist town (Long Beach) on the edge of a nature lovers coastal retreat. Near endless stretches of beach attract surfers year-round however most visit simply to watch the waves and walk the miles of sand.
Soon you'll be at the end of your road trip and driving into Tofino proper. This cozy town on the edge of the world is popular with surfers, nature lovers, whale watchers and hikers. In summer the population swells but it's also a popular area year round with some great chefs and restaurants calling the town home.
Another popular surfing and beach spot in the area is Chesterman Beach on the southern outskirts of Tofino. There are plenty of inns and hotels in the area if you plan to stay for a few days.
The Kootenays – Highway 6, 31A, 31 and 3A
Nakusp to Creston via Balfour - 218km (135mi) - 3h 15mins (1 Ferry crossing)
Unfettered nature is the best way to describe this road trip through British Columbia's fabled Kootenays. Gorgeous lakes, relaxing hot springs, swaths of forests and a ferry ride are all highlights of this drive.
We first start in Nakusp, a nice beach village on the edge of the rather long Upper Arrow Lake. The Nakusp region is always busy in summer and has a gorgeous beach with clear water. As you head southeast out of town on Highway 6, you'll soon be driving parallel to picturesque Slocan Lake. As you arrive into New Denver, a quaint village along the lake bank, you'll soon be heading due east on Highway 31A.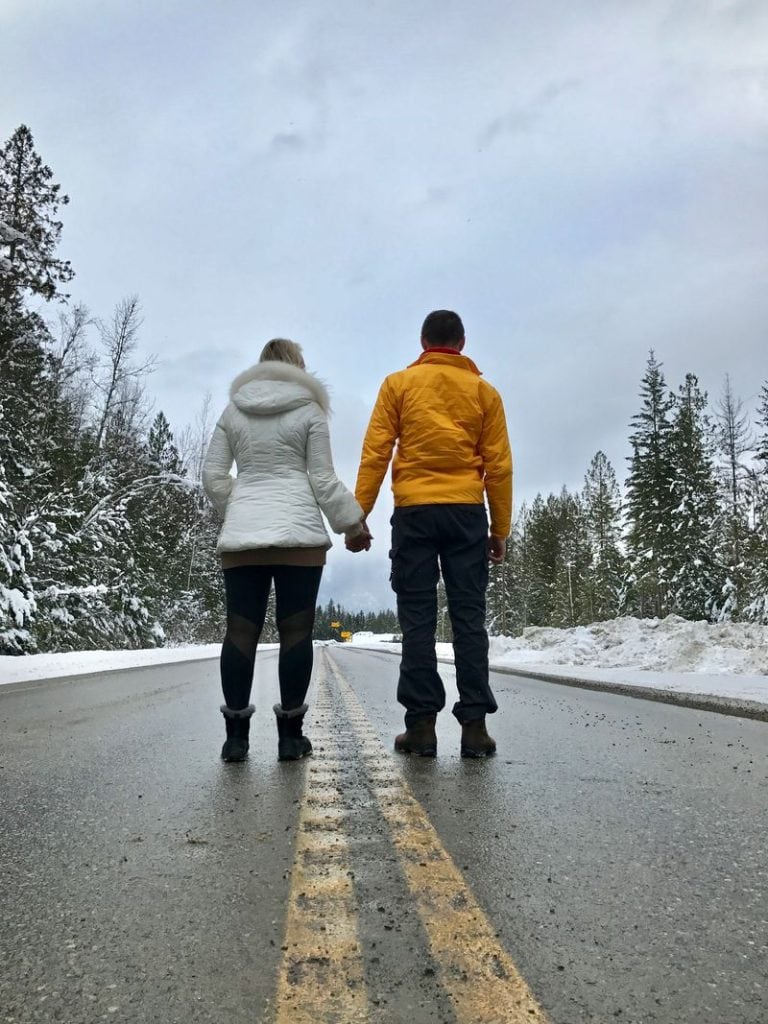 As you drive over the Kokanee Glacier ranges, you'll eventually reach Kaslo, a village on the west shore of Kootenay Lake in the West Kootenay region. If you want to stretch your legs, a quick walk along the Kaslo River Trail in town is a nice diversion and there's a few good restaurants here as well. Further south of Kaslo, Fletcher Falls makes a great short pit stop with some nice little falls just off the highway.
Next we have Ainsworth Hot Springs, a favorite place of ours with some really nice hot springs and a heated hot springs cave. There's also a delicious restaurant on site as well and if you stay in the hotel, the hot springs are included. Otherwise, they offer day passes for visitors.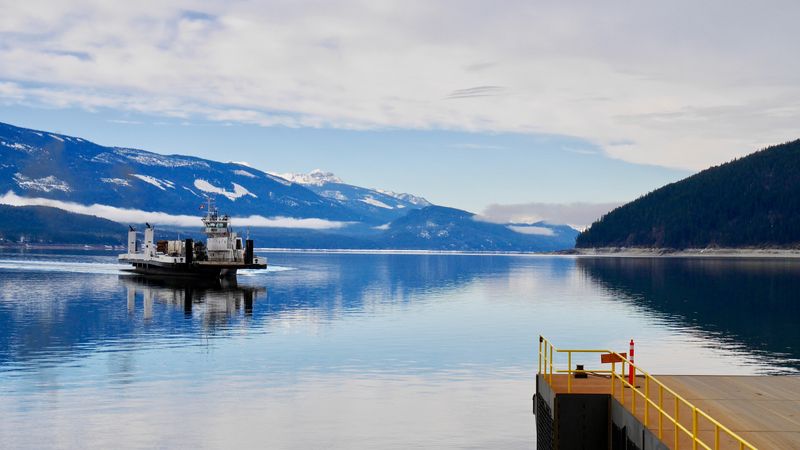 After a lovely drive south along along Kootenay Lake we arrive in Belfour where it's time to jump on a ferry over to Kootenay Bay as we continue down Highway 3A. The highway itself follows Kootenay Lake all the way towards Creston so don't worry about getting lost now. Creston itself is a valley town with a variety of amenities, hotels and restaurants plus a few wineries and the Columbia Brewery (home of Kokanee beer) that gives brewery tours. If you're there in summer, make sure to check out the wetlands at the Kootenay-Columbia Discovery Centre.
To get to Nakusp, you can either head due south from Revelstoke on Highway 23 or head east from Vernon on highway 6. Either roads are great however the additional cable ferry ride from Needle to Fauquier is a great bonus when driving in from Vernon and there are some great views and awesome lakes, namely Mable Lake, Sugar Lake and Echo Lake just off Highway 6 that are worth checking out as well if you have time.
Bonus Road Trip – The Island Highway – Highway 19N
Comox to Port Hardy (Vancouver Island) - 290km (180mi) - 3 hours (1 Ferry crossing)
Since no list is ever complete, we've decided to throw this last BC road trip in as a bonus. It starts in picturesque Comox.
In Comox you can check out the fisherman's wharf or one of the numerous beaches such as Goose Spit Park. Kite surfing is a popular pastime here as well you'll likely see some kites flashing by as you walk the many beaches.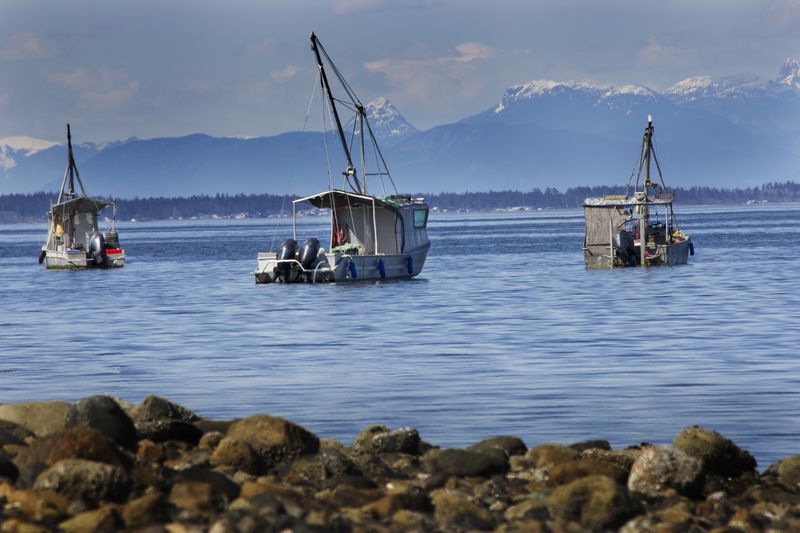 Heading north up Highway 19, you'll soon be arriving in Campbell River. The city is a very popular whale watching center as well as famously hosting grizzly bear tours. Either tour can be booked well in advance with several companies and some even guarantee a sighting or your next tour is on them. Another popular activity here is heading to Elk Falls Suspension Bridge with it's large suspension bridge and waterfall as well as checking out the Quinsam Salmon Hatchery, one of the largest salmon hatcheries in Canada.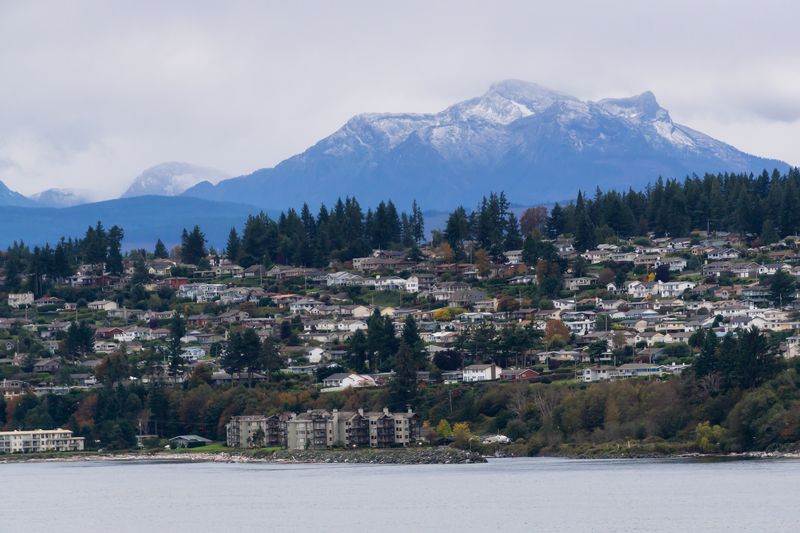 Continuing past Campbell River (make sure you fill up before leaving) you have a lot of land to cover that includes a few rivers plus a lake before getting back to the coast. Soon you'll be pulling in to Port Hardy and able to check out the many beaches and marinas plus a plethora of day trips to places like God's Pocket Marine Preserve to view sea lions. Taking a guided kayak tour is a definite must if the weather is nice.
You can get to Comox from the mainland via a BC ferry from Powell River so if you've done the road trip there then this route is a natural progression of it. You can also take a ferry from Port Hardy to Prince Rupert. If you plan to do this 16 hour ferry, renting a room on board is a great way to relax and see everything along the way.
Final notes on the best road trips in BC
After having our home base in BC for over a decade, we've had the opportunity to see a large portion of it and can never get enough of the beautiful scenery, the friendly people and the wild beauty. While this list isn't exhaustive, we hope it gives you a few ideas of some of the best road trips in British Columbia and inspires you to visit and see the province for yourself.
Think we missed a hidden gem? We'd love to hear about it below. Safe travels.