"Let's go out for Danish food" isn't something you often hear, but Denmark is actually a foodie destination. The food in Copenhagen is steeped in tradition and history, but for the last decade, it's been undergoing a revolution.
Innovative chefs create modern dishes with ancient ingredients and fuse cuisines across cultures while embracing sustainability. Copenhagen has the most Michelin Stars of any city in Scandinavia but maintains a vibrant street food scene. Even some top restaurateurs have opened food trucks.
I've lived in Denmark since 2017 and although I'm not Danish, I've learned a lot about the food in Copenhagen. I've been to countless restaurants both old and new, sampled street food, and have even been invited to traditional picnics and Christmas dinners by my Danish friends.
Denmark Food Culture and History
Geography is destiny, and the food in Copenhagen truly reflects this.
Denmark is a small, flat country in Northern Europe with no point more than 50 km from the sea. The Danish realm, now and historically, stretches north to the Arctic — further shaping its food.
Denmark is a country of fascinating contradictions. It's a progressive country with deep traditions.It's a collectivist society, but people maintain few, yet deep relationships. It's a homogeneous culture comprised of people who are natural explorers. 
All of which is reflected in the food.
Traditional Danish Cuisine
Historically, Denmark was a country of small farms and fishing villages. Danes salted and cured food to survive the long winters. Fish was the main protein, especially from the Baltic or North seas.
Dietary staples included root vegetables and hearty grains that can thrive in a short growing season. Today, traditional Danish foods like pickled herring, cured beetroot, and rye bread come from the climate and geography of Denmark.
In the 19th century, three major changes came that had major impacts on the food of Denmark.
First, population growth required more food and additional farms. Farmers reclaimed hilly land that could not support grains and now planted potatoes, which thrived in the rocky soil.
Second, increases in global grain production made small Danish farms unable to compete. Because of this, farmers shifted to raising livestock like dairy cows and pigs.
Third, the industrialization of agriculture forced small farms to develop cooperatives, leading to the construction of dairies and slaughterhouses.
The Danish national dish of stegt flæsk, fried pork belly, represents all three elements of these changes.
Modern brands like Arla Foods, Lurpak butter, and Danish Crown bacon all have their origins in this period. In Copenhagen, many of the former slaughterhouses are now high-end restaurants in the city's popular Meat Packing neighborhood.
The food in Copenhagen brilliantly reflects Denmark's geography and its history with an eye on innovation and the future.
Modern Danish Food in Copenhagen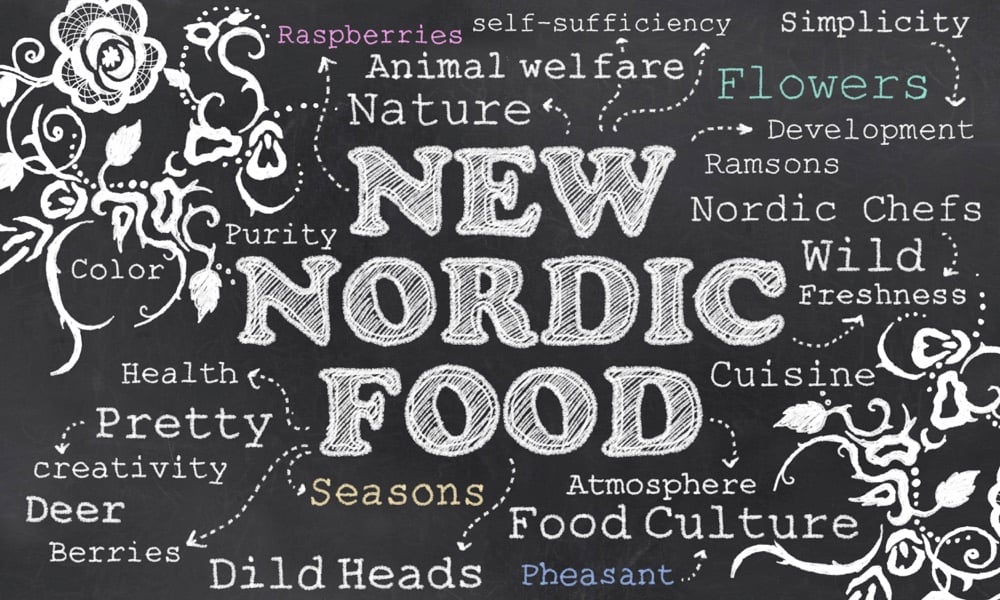 In 2004, Danish chefs led a movement to fuse the historic and traditional foods with modern culinary techniques. They developed the New Nordic Cuisine.
New Nordic focuses on local and seasonal foods from natural and sustainable agriculture. The defining experience of a New Nordic meal is the flavour of core ingredients with a simple, yet beautiful presentation.
The most famous example of this movement is the restaurant Noma, five times named the "best restaurant in the world". Many consider Noma as the vanguard of the New Nordic movement.
Noma is priced out of reach for most visitors to Copenhagen, and unfortunately is slated to close for good in 2024, but there are dozens of Michelin star and rated New Nordic restaurants in Copenhagen.
Each one offers incredible examples of this modern Danish cuisine.
10 Tasty Foods to Eat in Copenhagen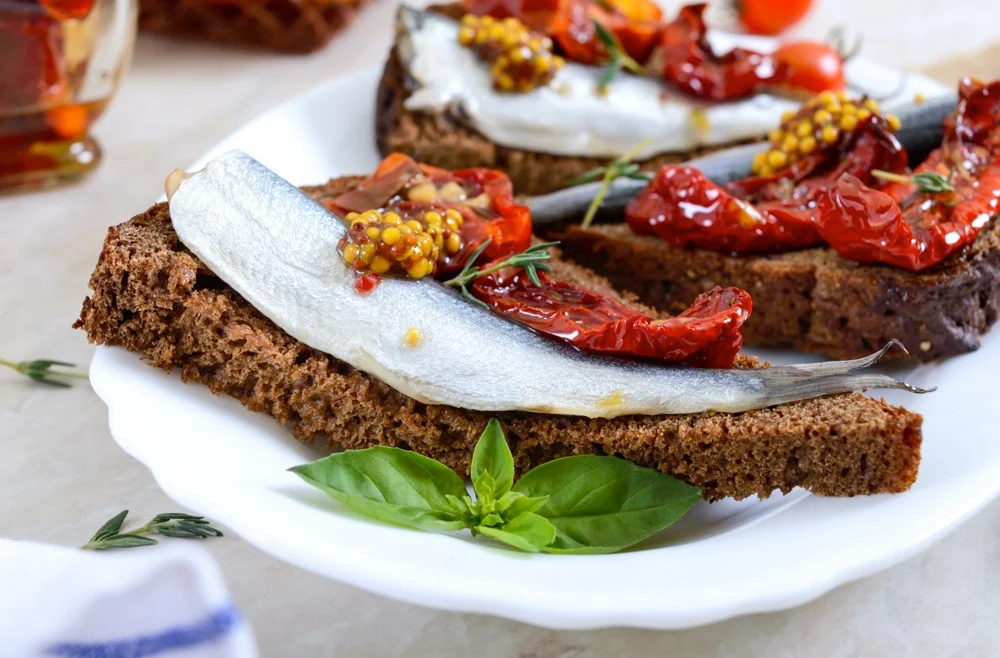 While there are many amazing meals to try on your trip to Copenhagen, these are the 10 best! Read on for my list of delicious food to try in Copenhagen, based on my experience living (and eating, and drinking) in Denmark since 2017.
In Denmark, you'll see how tradition and innovation come together to create an amazing culinary adventure. Enjoy my recommendations on things to eat in Copenhagen!
1. Experience an Affordable New Nordic Meal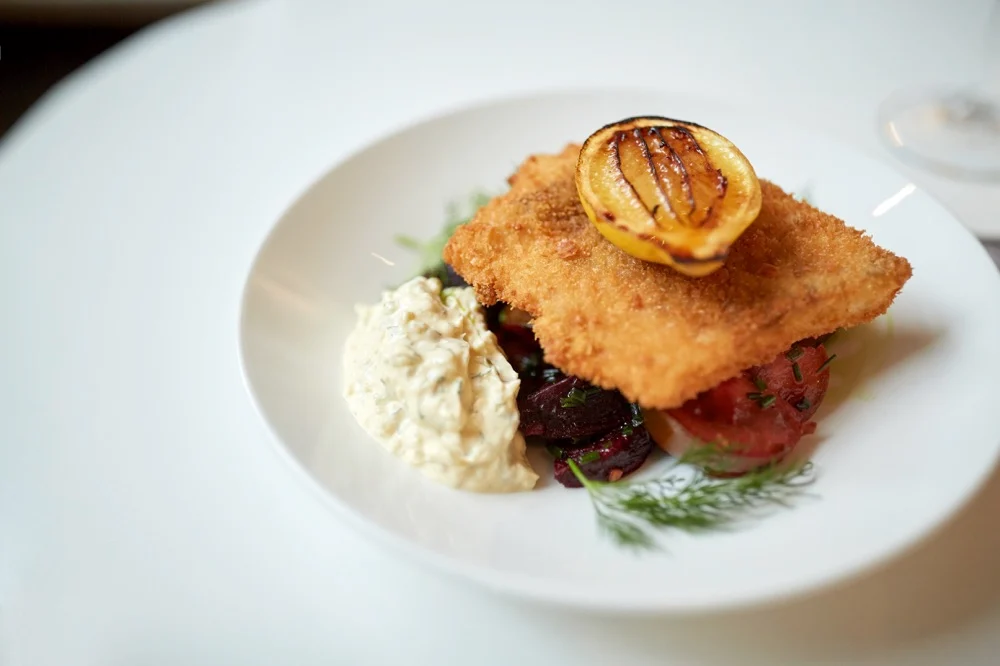 Out of all the things to eat in Copenhagen, you absolutely need the experience of a New Nordic meal.
The cuisine originated at Noma, but they are booked months in advance and the meal can cost over $1,000 per couple. Luckily, there are budget-friendly alternatives for a New Nordic dinner.
New Nordic restaurants will have a fixed or set menu, and you cannot customize or alter the dishes.
Your only real choice is if you would like an appetizer, usually called chef's snacks, and what to drink. It's common for each course to have an accompanying wine selection.
Many of the dishes will contain unfamiliar herbs, vegetables, and seeds. You may have dishes with celeriac juice, dill, smoked cream cheese, ramsons, or lingonberry — just go with it. I've had many that were somewhat strange, but nothing even approaching bad.
These local ingredients create the flavours that define New Nordic cuisine, even if they stretch your pallet.
To sample New Nordic food in Copenhagen, try Restaurant Meille. They have a phenomenal operation headed by former Noma chef, Mads Magnusson.
Restaurant Meille serves affordable luxury — you can have a 5-course meal at $60, and you won't forget the experience.
2. Julefrokost, the Danish Christmas Meal
Autumn in Europe means changing leaves but also changes in the menu items. Starting in the fall, Restaurant Puk serves Julefrokost, the traditional Danish Christmas meal.
Come hungry!
The Julefrokost consists of a curried herring with egg, onion and capers, or pickled herring with dill sour cream. Next you try smoked salmon with apple and horseradish, shrimp with egg, and deep-fried plaice with remoulade.
Then you'll dine on a Danish pate, roasted duck with gravy, roasted pork with red cabbage and the Christmas sausage.
Dessert is a Danish rice pudding with cherry sauce and a shot of Akvavit, a traditional Danish liqueur.
Restaurant Puk is housed in a historic building, the former Royal Brewhouse, which dates back to 1539. Several Danish kings have been regulars at the site, and you can be too. This is where I like to bring friends from abroad who visit me in Copenhagen.
Restaurant Puk has an a la carte menu and a fixed menu for lunch and dinner. Click here to find it on the map.
Copenhagen has a wide selection of restaurants claiming to be traditional Danish cuisine, but many are tourist traps. A red and white checkered table cloth with an antique candle holder does not mean it's authentic.
3. Danish-Fusion Food in Copenhagen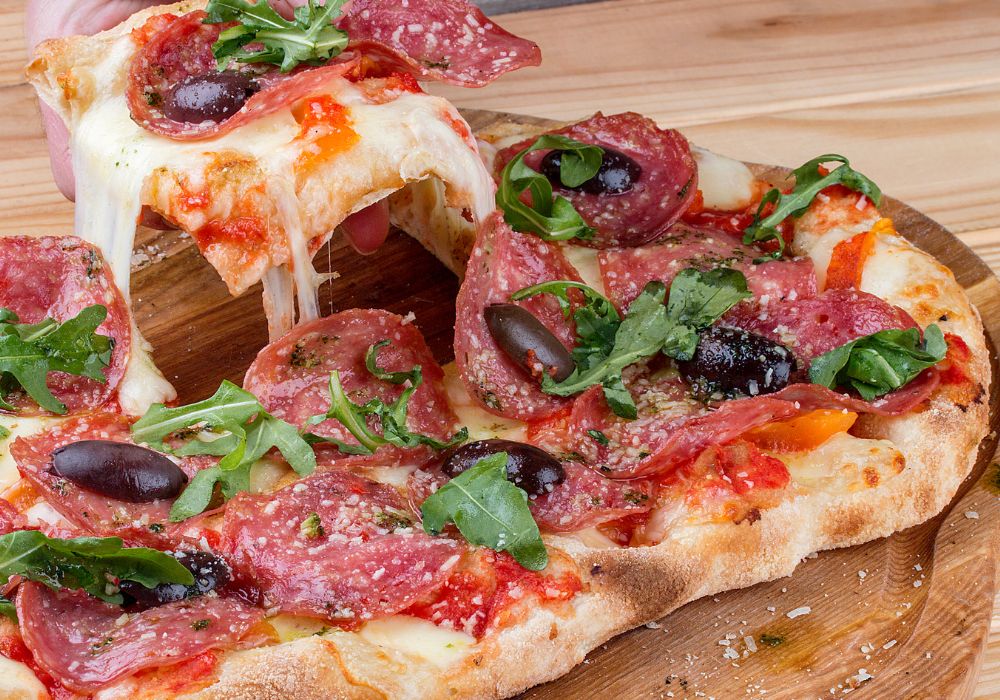 The Danish food scene is all about freshness and the quality of local ingredients.
This poses a problem if you prepare cuisine using ingredients that originate in other parts of the world. Freshness is paramount, so recipes in Copenhagen are duplicated using local Danish ingredients and New Nordic cooking techniques.
One example of this hybrid or fusion concept is BÆST, an organic Italian inspired pizzeria.
They serve pizza with a Danish-style sourdough crust and locally sourced cheese, tomatoes, herbs, and other ingredients. By using the herb ramson instead of garlic, you get a familiar dish with Scandinavian flavour.
Another place to test this concept is Kiin Kiin, a Michelin star Thai fusion restaurant. It's one of my favorite restaurants in Copenhagen for non-traditional food.
They serve a New Nordic take on Thai cuisine, so Denmark meets Thailand in the kitchen. The result is culinary fusion like a green curry dish with cod and a spicy Asian salad with flounder.
At both BÆST and Kiin Kiin, you'll taste foreign cuisine with a Danish influence and New Nordic presentation. If you keep an open mind, you will love the result of these food cultures mixing.
4. Try Danish Picnic Food in Copenhagen
You may think a picnic is the same in any city, but Copenhagen takes them to the next level.
Picnics are ingrained in the food culture of Denmark, because people love being outside and need the extra space.
Public spaces are sometimes the only option for gathering a group of friends larger than 3 people. Copenhagen apartments don't leave much room for entertaining so people picnic most of the year.
You can expect people to dine outside in parks, gardens, and along the waterfronts of the harbour and canal system.
Picnics are such an important part of Danish culture that some Copenhagen food spots only offer takeaway meals.
Even high-end eateries, like Garden Restaurant, offer gourmet picnic baskets for $50-60. They're located across from the King's Garden and they pack tapas, charcuterie, and even wine to enjoy your own picnic.
In summer, sunset is well past 9:00 pm, so a picnic dinner is the perfect way to enjoy the extra daylight. Over my more than five years in Copenhagen, I've had some of my best times with local people during picnics.
5. Visit a Pølsevogn, the Danish Hot Dog Stand
It may surprise you, but the humble hot dog is one of the most traditional Danish street foods in Copenhagen. Crowds around the pølsevogen, or hot dog wagon, are a common sight in the city.
The classic Danish hot dog is called røde pølser or red sausage, but there are several varieties to try.
They originated in the early 1900s as meat vendors discovered they could salvage old sausages with red dye. Today the meat is fresh (don't worry!) and makes a perfect snack or late-night bite.
The best place to try this perfect street food in Copenhagen is the DØP wagon. They sell organic røde pølser for $5-6 with all the toppings: remoulade, pickles, ketchup, mustard, and fried onions.
You can find their wagon just outside of Copenhagen's Round Tower every day. Click here for directions. 
6. Flæskesteg: Denmark's National Dish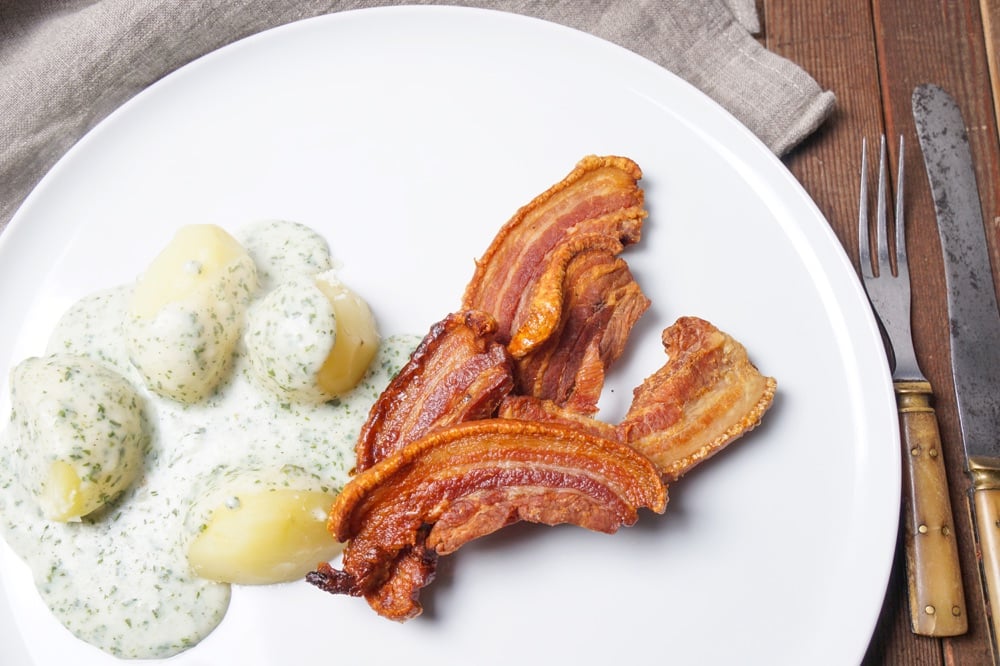 Flæskesteg is the national dish of Denmark, and something you must try when you visit Copenhagen. The meal is roasted pork, prepared using traditional Danish culinary methods.
Flæskesteg is a cut of pork broiled with the skin. While preparing the pork, cuts made in the skin are filled with a dry rub of salt, pepper, and sometimes cloves.
The skin cooks along with meat resulting in a tasty crackling crust around each slice of pork. To complete the meal, it's served with boiled or butter-sauteed potatoes and a white sauce.
Once again, traditional food in Copenhagen is simple and delicious.
Find out for yourself at one of the best authentic Danish kitchens, Frk. Barnes Kælder, in the Vesterbro neighbourhood. Most main dishes, like flæskesteg, will cost $10-12 but it's difficult to get a table without a reservation. Click here for directions to Frk. Barnes Kælder.
7. Street Food in Copenhagen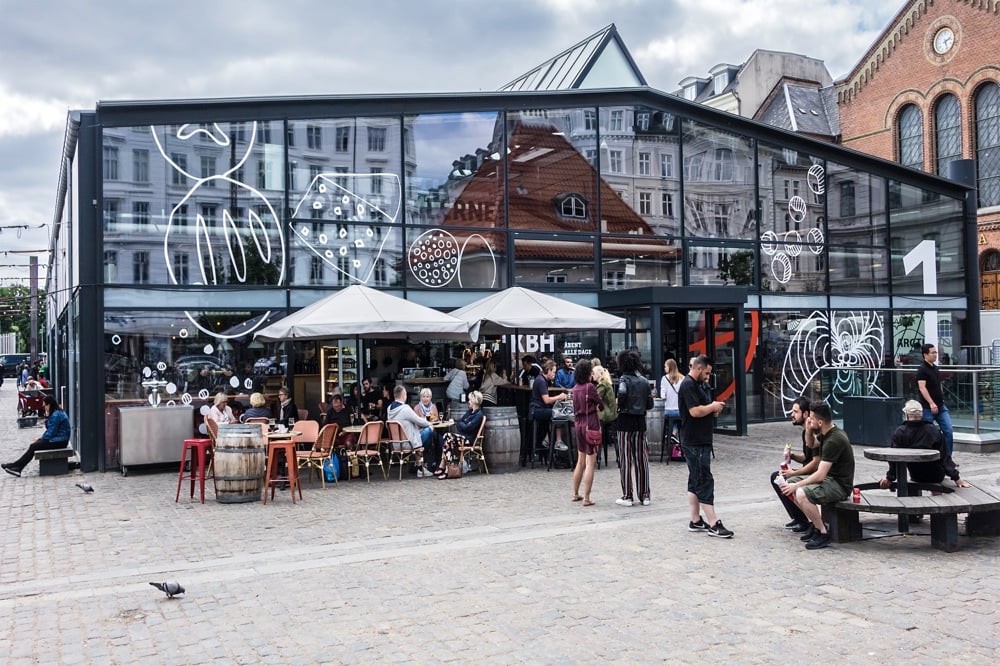 Like any food city, the Danish capital has developed a vibrant food truck and street kitchen culture. It just wouldn't be right to visit the city and not try the street food in Copenhagen.
The best place to try street food in Copenhagen varies based on the seasons.
From April through October, the best place is Reffen. It's a Copenhagen institution of organic street food vendors located on scenic Copenhagen Harbour. Reffen has seating for 2,500 visitors and hosts over 40 food stalls and bars.
In the winter months, the street food moves indoors to food halls.
One of the best food halls in the city is Torvehallerne, two buildings of food stands and shops with an organic farmers market in between. It's one of my regular stops for a cup of coffee, a pint of Danish beer, or a full meal.
8. Flæskesvær, a Tasty Appetizer
If you see flæskesvær on a menu, order it! It's served as an appetizer and is a delicious, unique, and truly Danish food.
Flæskesvær originated in the 19th century when Danes were looking for a way to preserve and eat every part of the pork in their diet.
They devised a way for the inedible skin to be cooked down, fried, and consumed as a snack. The flæskesvær recipe hasn't changed since.
Restaurant Kronborg may be more famous for Smørrebrød (see #10 below), but you can also get a good flæskesvær there. I also like its relaxed and traditional atmosphere.
9. Danish Pastries & Bakery Food in Copenhagen
Nothing beats a Danish bakery.
Even simple items, like bread and rolls, are re-imagined and served in a way I have never experienced. Each item has a time and occasion in Danish life and bakeries are a cornerstone of Danish food culture.
For Danes, rye bread or rugbrød is king. Expect dense loaves of rye bread that are sometimes baked with malt syrup, pumpkin seeds, or whole rye berries.
Sourdough breads are also popular and sourdough rolls with cheese are popular for breakfast. Sourdough loaves for dinner are usually prepared with herbs like rosemary, dill, or thyme.
Danish sweet breads and pastries are loved around the world, but did you know they actually come from Austria?
Danes even call them wienerbrød, or Vienna bread.
In 1850, there was a labor strike among the bakery workers of Denmark. This caused the bakery owners to hire foreign labor, including Austrian bakers who had new recipes and techniques.
The new pastries remained and are permanently woven into Danish bakery culture.
Whether you want to try the sweet or the savoury side of Danish baked goods, try Skt. Peders Bageri. For a full sit-down experience, you can try the cakes and pastries of La Glace.
Both establishments have been baking in Copenhagen for generations. I find myself in one or the other at least once a week.
10. Get a Smørrebrød
Denmark has a traditional open-faced sandwich called smørrebrød.
It's one slice of buttered rye bread topped with meats, fish, hard-boiled egg, or other toppings. Additional toppings, like lettuce, raw onions, and remoulade sauce are added to taste.
Smørrebrød is served cold and eaten with a knife and fork. A good smørrebrød restaurant will have a full menu of different varieties and knowledgeable staff to help you choose.
Among the best places to try smørrebrød is Restaurant Palægade in the Kongens Nytorv area of Copenhagen. They have a menu of over 40 types of smørrebrød that range from traditional herring to tenderloin and mushroom. Even after all my time in Copenhagen, I still end up finding new varieties to try.
Best Food Tours in Copenhagen
One of the best ways to learn about the cuisine of Denmark is to join a food tour when you're in the capital.
4-Hour Evening Tour with Wine Tastings and Snacks
Copenhagen in the evening is a wonderful experience. The old buildings and winding streets seem to glow in the twilight, and the harbor is alive as people race to catch the final sunlight of the day.
This 4-hour tour costs about $145 per person and includes several drinks and snacks. You will go through the heart of the city center, including iconic Nyhavn and the waterfront along the harbor.
The highlight is enjoying a drink from the tower above Copenhagen's oldest harbour bridge. This is something even locals rarely get to do, and it's an incredible vantage point to soak in the views and vibes of Copenhagen. Click here for more information about this tour.
Copenhagen Culinary Bike Tour
There is no better way to see Copenhagen than by bike. First, it allows you to mingle with locals on the massive network of bike lanes around the city. Additionally, it maximizes your time, letting you quickly move between neighborhoods.
The 3-hour tour costs about $100 per person. It includes a number of different foods to sample, including smørrebrød, hot dogs, fish meatballs, and sample beer from Mikkeller.
The tour travels from the city center, along the waterfront, and into the trendy Meatpacking area in Vesterbro. It's a great way to see much of the city and sample many of our recommended foods. Click here to learn more about this tour.
Vesterbro Walking Food Tour
For food and fun, the most interesting neighborhood in Copenhagen is Vesterbro.
This was the old red-light district but has undergone a renaissance in the last 20 years. It still has some dodgy local dives, and is also home to trendy restaurants and cocktail bars.
This 3-hour tour costs $146 per person, and includes stops in several bars around the neighborhood. You will also learn the history of the neighbourhood, as it moved from working-class to red-light to hip in the span of 50 years.
The tour is perfect for people who want a deeper experience in a real neighbourhood. It's also a chance to learn about other great bars and restaurants to try in Copenhagen. Click here to join this fun tour.
Drinks in Copenhagen
You'll need something to wash down all of the tasty food. Here are some of the drinks to try in Copenhagen you won't want to miss.
1. The Quintessential Danish Beer: Carlsberg
In general, Denmark is a beer and shot drinking culture. The Danish beer brand Carlsberg is on tap at every bar and restaurant in Copenhagen. The history of Copenhagen is intertwined with the history of the Jacobsen family, the founders of Carlsberg.
The family were patrons of the arts, founded the Ny Carlsberg Glyptotek Museum, and funded renovations of Frederiksberg Castle. In Copenhagen, you can tour the former brewery with a tasting.
You'll also learn how the founder developed brewers yeast and shared it with the world instead of seeking a patent.
Anywhere in Copenhagen you can pay them homage by enjoying a cold Carlsberg Pilsner or Jacobsen Lager.
2. World-Class Craft Beer: Mikkeller
While Carlsberg was a patron of the arts and sciences, Denmark's (and maybe the world's) best craft beer came from a high school physics teacher.
Mikkeller is a Danish brewer that actually has no brewery!
Mikkeller brews a wide range of craft beers, from sours to stouts, often partnering with existing breweries all over the world. In just 15 years of operation, they developed over 1000 recipes.
You can find Mikkeller beers all over town, including dedicated bars in Vesterbro and their Baghaven location on the harbour near Reffen. They are also available in bottle shops and grocery stores around town.
The best way to enjoy Mikkeller is at two of their partnerships. Warpigs in Meatpacking offers American-style barbecue, while Ramen to Biiru has four locations around the city serving delicious ramen.
3. Snaps, Snaps, Snaps!
Knowing that Denmark is a beer and shot culture, you need some liquor as well!
Snaps is a strong liquor distilled from grain or potatoes and flavored with native herbs like dill and anise.
Snaps is served ice-cold and always with food. It is sipped and is always present at major holidays like Easter and Christmas. You can try snaps as part of a traditional Danish lunch, as it pairs very nicely with pickled herring smørrebrød.
My favorite brand of snaps is from Snaps Bornholm. I've enjoyed it during holiday celebrations as much as I have after a simple lunch.
It's a little less traditional, as they mix flavors like chili and honey or fig to make delicious snaps with a little less edge for us foreigners. You can find Snaps Bornholm in liquor stores or nicer restaurants around Copenhagen.
FAQs About What to Eat in Copenhagen
Wondering where to eat in Copenhagen? Here are answers to some frequently asked questions about Copenhagen food.
What food is Copenhagen famous for?
There's a wide variety of food to try in Copenhagen. Some famous dishes include the national dish flæskesteg (sliced pork) and open-faced sandwiches called smørrebrød. Another popular Copenhagen food is New Nordic Cuisine.
What is a common food in Denmark?
The open-faced sandwiches smørrebrød are found on many restaurant menus in Denmark, and it may be the most common food. Common ingredients for all kinds of dishes in the country include fish, pork, and potatoes.
Where to go for food in Copenhagen?
Although it will close in 2024, Noma is one of the most famous restaurants in Copenhagen, and even the world. Two other restaurants with good food to try in Copenhagen are Restaurant Meille and Restaurant Puk.
Is Copenhagen a foodie city?
Absolutely Copenhagen is a foodie city. The Danish capital has top bakeries, Michelin-rated restaurants, world-class street food, and everything in between. It's not hard for foodies to find where to eat in Copenhagen.
What is a typical Danish breakfast?
A typical Danish breakfast is usually a bread (often rye) with cheese or jam, possibly a meat such as sausage, and coffee or tea.
What is a typical Danish lunch?
For lunch, Danes often eat a cold meal of the open-faced sandwich smørrebrød, which may contain pork, fish, or eggs. Many people claim that smørrebrød is the top food to try in Copenhagen.
Now You Know What to Eat in Copenhagen
Danish culture truly resonates through its cuisine. The foods retell the story of a people who adapted to thrive in a difficult climate. It's the result of a nation that depends on innovation and creativity to stand out in the modern world.
Copenhagen is best experienced by tapping into the local culture, like its food. There is no better way to do that than through its restaurants, bars, and grocers.
From a simple hot dog wagon to an exquisite multi-course New Nordic menu, the food in Copenhagen will satisfy your hunger for excitement!
Images in this article are courtesy of Shutterstock.com. Check them out for royalty-free videos and images. 
Like This Article? Pin It!