There are so many exciting things to do in Athens, it can be hard to decide what to do. Athens is an iconic destination, steeped in ancient history and filled with delicious food options. Yet, despite all this, many people only spend a day or two in Athens before heading to one of the Greek Islands.
This list will help you decide what to do in Athens during your time there — no matter how long your visit is. I've been to Athens multiple times and love the city, this is definitely one of the best places to visit in Greece.
Here are the 32
best things to do in Athens, Greece.
1. Climb to the Acropolis
Dedicated to the goddess Athena, the 5th-century Acropolis is the most popular thing to do in Athens.
Of course, this means that everyone wants to go there, including visitors from cruise ships. My advice is to get there early. The archaeological site itself opens at 8 am and the cruise ship passengers arrive around 10 am.
Most people visit the Acropolis to see the Parthenon but there are several other things to see on the hill, including the Erechtheion, the Arrhephorion, and the Temple of Athena Nike.
From the Acropolis, you can see much of Athens and can see all the way to the sea. The entrance fee is €20 ($23.25).
To learn about all of important sites and the incredible history, join a private walking tour. The tour will also take you to the museum (below). There are a few different types of tours you can take, click here to learn more about a highly-rated, skip-the-line tour.
2. Visit the Acropolis Museum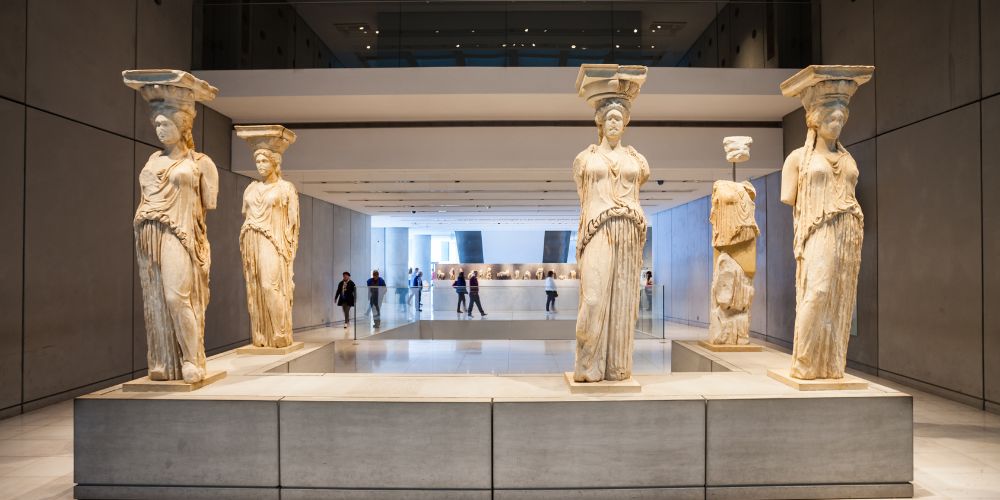 The Acropolis Museum is one of the most beautiful museums I have ever been to. I loved my experience here! It's filled with natural light, which highlights the artifacts well.
There are other works that highlight Greek Mythology.
Here you can get a close look at the Parthenon frieze replicas on display, and much more ancient Greek art. The cafe balcony also offers great views of ancient ruins in Athens. You can learn more about the Acropolis on my blog.
Either before or after you visit the Acropolis, you must visit the Acropolis Museum. It's not far from the entrance of the Acropolis and the entrance fee is €5 ($5.80) in the winter and €10 ($10.50) in the two summer months.
Line-ups here can be huge, to skip the line, purchase your ticket ahead of time here. Alternatively, you can buy an all-inclusive ticket for both the museum and the Acropolis here.
3. See Hadrian's Library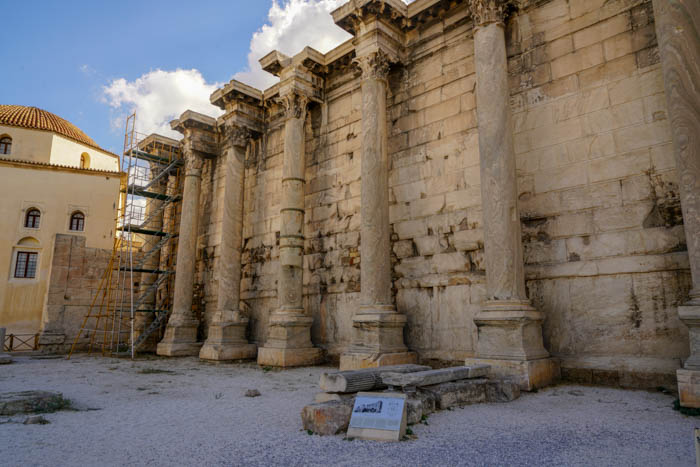 This library is not a library in the sense we know it today, it was a place of study, not a place where books were lent.
In Greek Antiquity, Hadrian's Library was constructed around 132 AD for housing documents and reading rooms. There's not much left but you can clearly see the layout of the library and there is excellent signage.
The entrance fee is €4 ($4.70). Hadrian's Library is a small museum located in the Monastiraki neighborhood not far from the Acropolis and the Monastiraki flea market, and is part of many Greek Mythology Tours.
4. Go to Edem Beach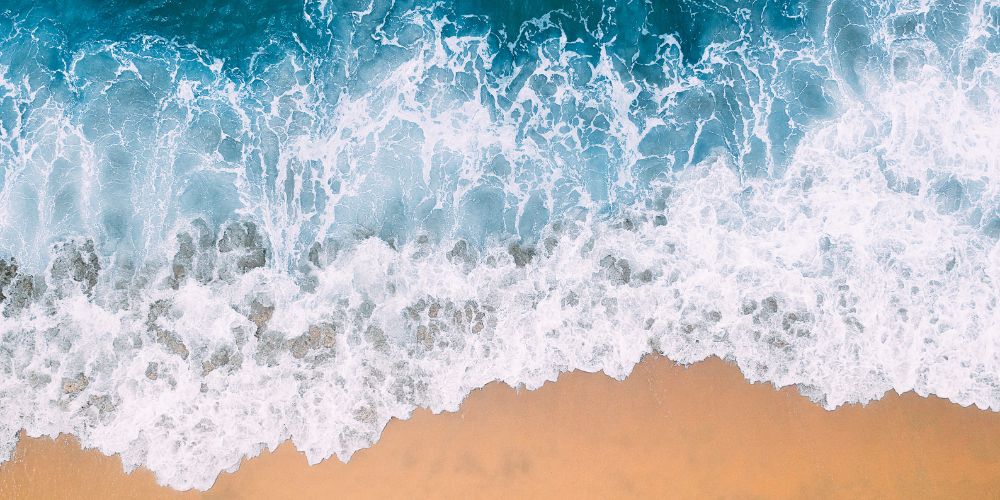 Going to the beach is one of the lesser-known things to do in Athens as most people think you have to go to the islands to enjoy some beach time. Although it's not one of the best beaches in Greece, it's still a great place to relax and enjoy the sea and see what modern Greece is all about.
Take your own towel and umbrella if you want one, as there are none available there. You can get a great meal at the Edem Taverna located on the beach.
To get to Edem Beach, take the Green Line tram at Syntagma Square and take it in the direction of Askllipiio Voulas, and get off at the Edem stop. The 24-hour tram ticket is €4.50 and there is no fee for the beach.
☞ SEE ALSO: Best Places to Visit in January
5. See The Decorations at Little KooK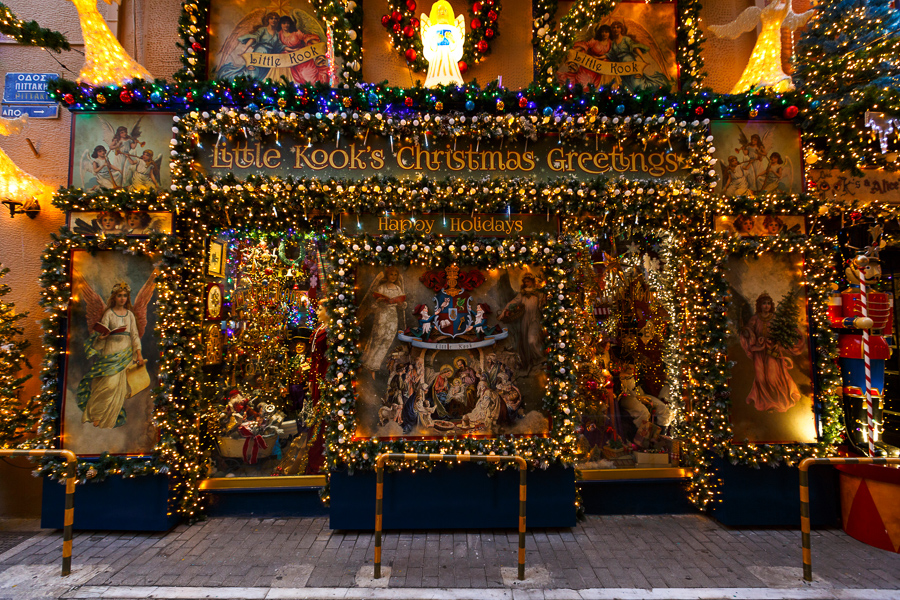 I discovered Little KooK on my most recent trip to Athens. Each holiday season it's decorated inside and outside the restaurant. When I was there it was decorated for Halloween.
Little KooK is mainly a dessert cafe, but the top attraction is the decorations. This is probably the most Instagrammable place in Athens besides the Acropolis!
6. Take a Street Art Tour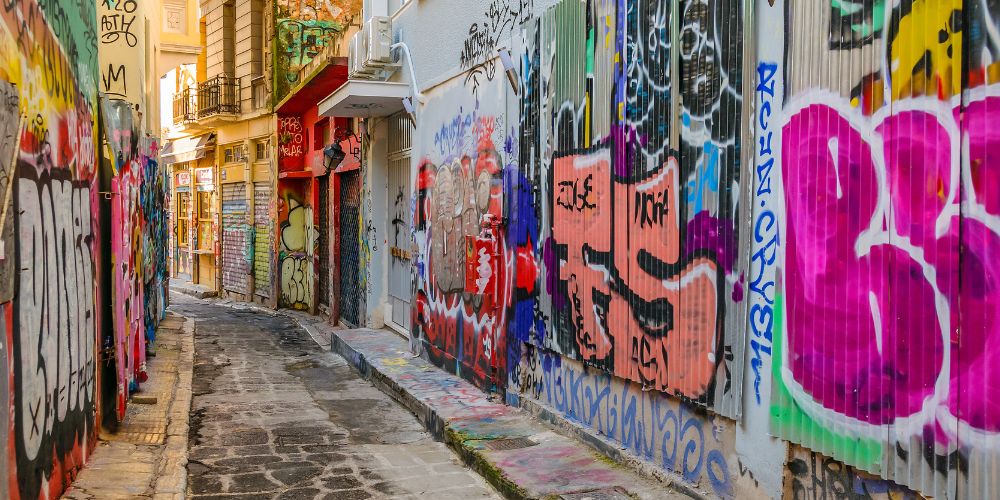 Street art is easy to find in Athens and ranges from classic graffiti art to modern street art.
While you can find much of it on your own in the Plaka area, this tour shows you around 5 cool neighborhoods that are lesser known to tourists.
This alternative tour is highly rated and a lot of fun. Plus, the time for the tour isn't strict — if everyone is having a good time and are eager to continue, you can keep exploring more street art and discovering hidden gems.
Have your camera or phone ready to take photos. Click here to learn more about this experience and to book.
7. Go Bar Hopping (Best Thing To Do in Athens at Night)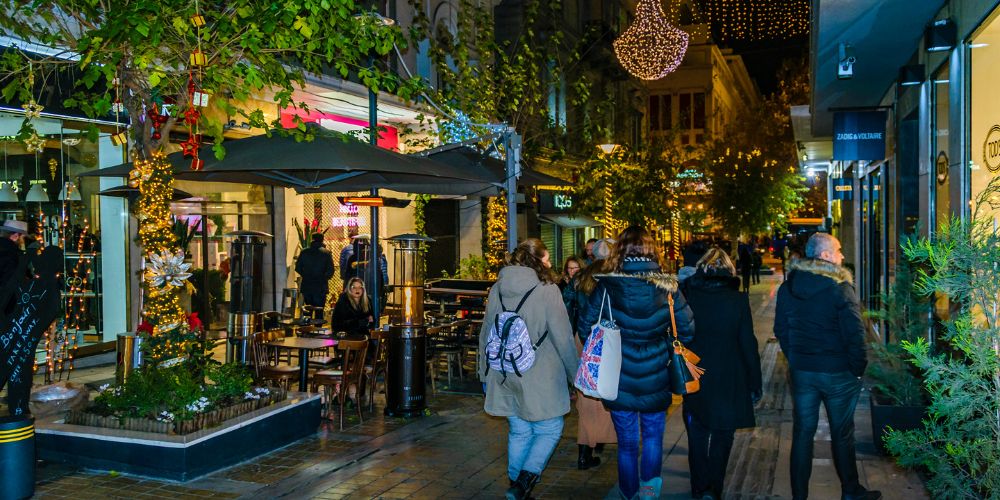 For such a fun city, it's no surprise that one of the best things to do in Athens at night is to go on a food and booze tour. With this fun, local experience, you'll explore the funky Psirri neighborhood, and visit 3 different rooftop bars there, while enjoying drinks, food, and great conversation with new friends.
A bar hopping tour is one of the funnest ways to enjoy Athens nightlife.
All of the tables are reserved ahead of time, so you won't have to wait in line at all. If you're looking for cool things to do in Athens at night, this is a good option. Find out more here.
☞ SEE ALSO: Top Things To Do in Zakynthos – The Ultimate Guide
8. Eat The Best Yogurtlu and Souvlaki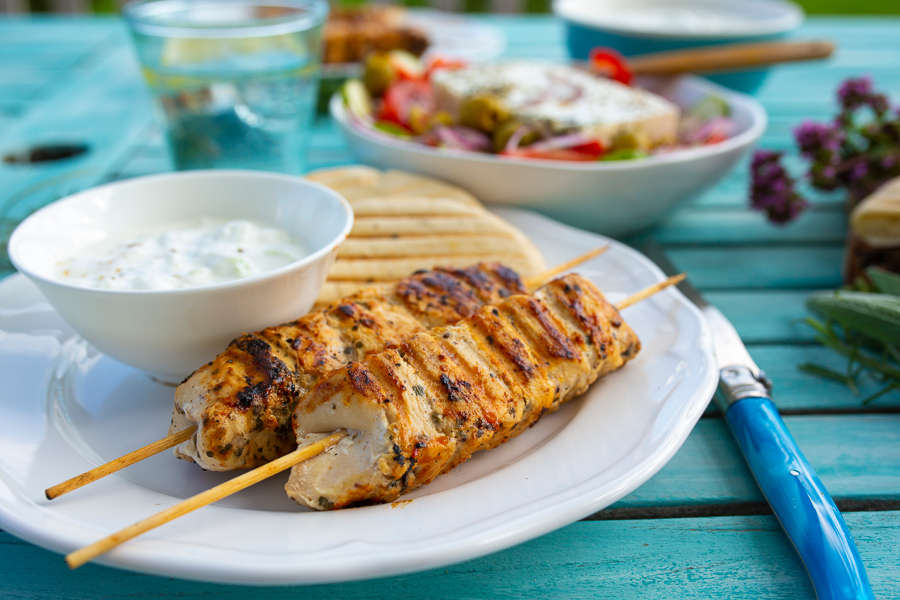 O Thanasis is one of the most popular places to eat in Plaka. It's so popular that even Greeks eat here. The best thing to eat is the Yogurtlu, which is a beef kebab covered in yogurt on a bed of pita bread.
The Yogurtlu is large enough to split with someone and it will only set you back around €10. The people at O Thanasis are friendly and not pushy. The souvlaki is also one of the best in town.
You can also get some delicious Souvlaki at many of a flea markets and market in town.
(Editor's Note: a Greek reader has advised us that Agrafa restaurant has the best souvlaki in Athens. Maybe try them both?!…)
9. Visit the Benaki Museum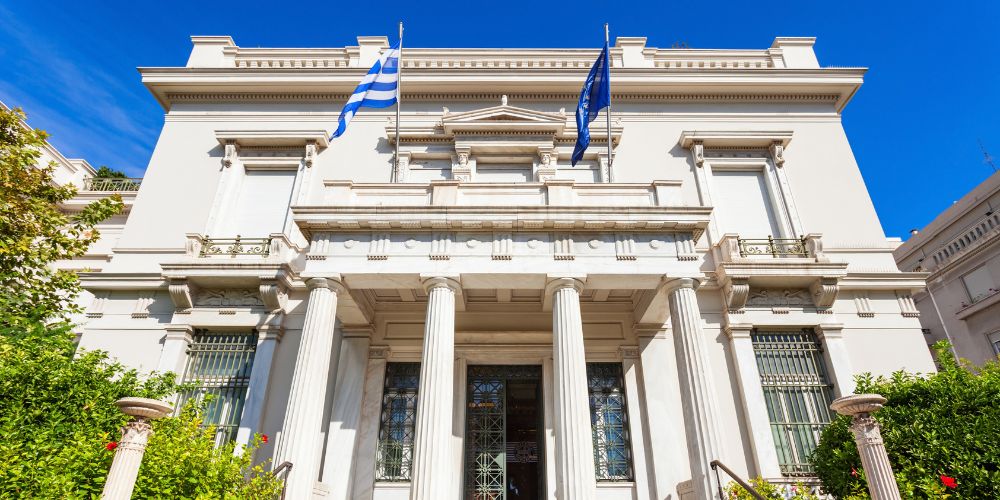 Visiting the Benaki Museum is one of the best cultural things to do in Athens.
The Benaki Museum is a national museum of Greek culture ranging from prehistory to the 20th century. The collection offers rooms from houses, large sculptures, and smaller items like swords and historic documents.
The museum is a short walk from Syntagma Square. It's located in a beautiful Neo-classic building and you can enjoy a coffee and the view from the cafe. Skip-the-line tickets to the museum can be purchased ahead of time, here.
☞ SEE ALSO: Things To Do in Corfu – A Guide for Travellers
10. Smash Things at Limba Rage Room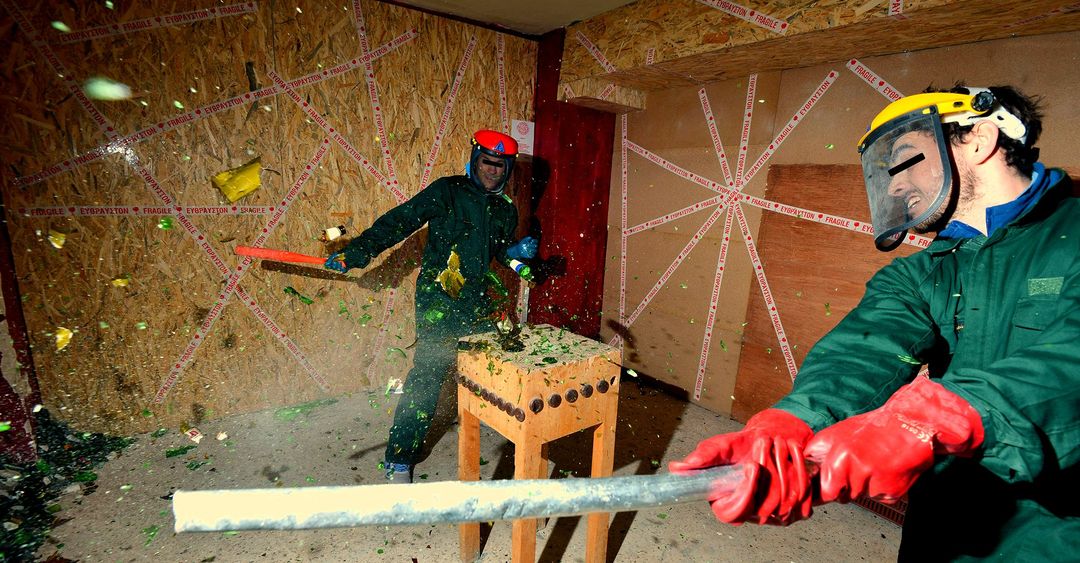 Feeling a little stressed out? Need to get some rage out? Limba Rage Room is the place to do just that.
You purchase a package (which can include plates, bottles, a tube TV and glasses), and you smash them! It's a great stress reliever and one of the most unique things to do in Athens.
There are a variety of packages for every budget. They range from €10 to €100. Don't worry, they give you protective gear to wear. It's located just down the street from Little KooK.
☞ SEE ALSO: 27 Things To Do in Ios – A Must-Visit Greek Island
11. Drink a Greek Coffee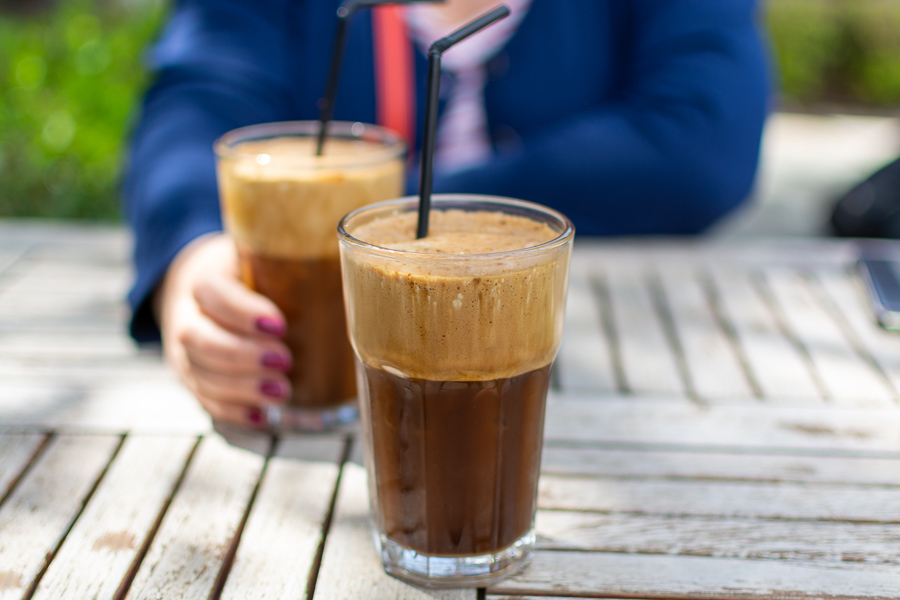 Sampling a freddo cappuccino is one of the must-do things in Athens. This is just one of three classic Greek coffees, there is also a frappe and a freddo espresso.
The frappe is not like a Starbucks frappe but instead is made with instant coffee, water, and sugar (if you choose).
The freddo cappuccino is espresso topped with frothy milk.
The freddo espresso is just swirled espresso over ice. All of these coffees pack a serious caffeine punch but since they are all served cold, it is great on a hot day in Athens.
Coffee culture in Greece is a very big deal. Not only do locals drink coffee (hot or cold) numerous times throughout the day, but as legend would have it, your fortune can be told by reading the dregs of coffee left at the bottom of your cup.
The next time you've finished drinking your coffee in Athens, make sure to ask someone to show you how to read your fortune.
12. Visit the Museum of Cycladic Art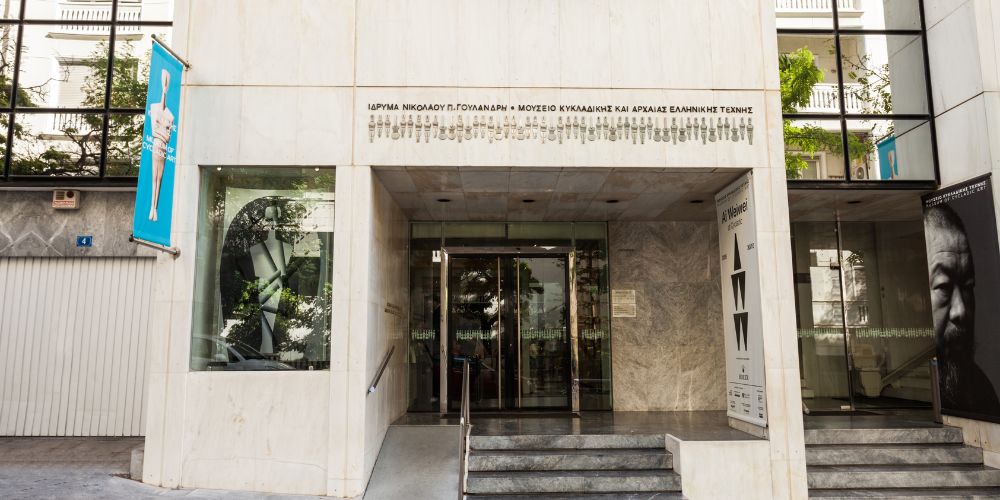 The Museum of Cycladic Art is home to one of the most complete private collections of Cycladic Art. This is especially great to see if you won't be visiting one of the Cycladic islands on your trip to Greece.
Most of the artifacts on display are marble pieces including bottles, plates, and standards, as well as other ancient Greek art. There are some metal objects as well. The pieces of marble are mostly white making them stunning in their simplicity.
This museum in Athens is open Μonday – Wednesday – Friday – Saturday from 10:00 to 17:00, Thursday from 10:00 to 20:00, Sunday from 11:00 to 17:00. The museum is closed on Tuesdays. The entrance fee is €7.
☞ SEE ALSO: The Ultimate Guide to Rhodes Greece
13. Shop in The Plaka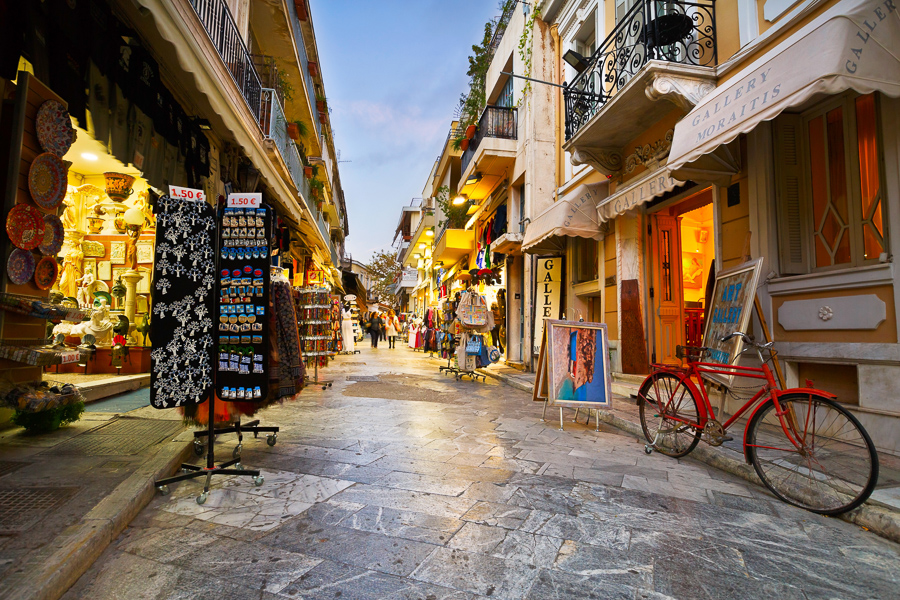 The Plaka is a neighborhood located below the Acropolis. Much of this area has been closed off to traffic, although delivery trucks still are allowed through and some streets are open.
The chain stores and more upscale shops are on Ermou Street — where you can find shops like Sephora and H&M.
Then there are tourist shops, a flea market, and lower-end shops, which are further down past Monastiraki Square. Here you can find souvenirs you might want to bring home for your friends and family. Plus, this is a great area for people-watching.
14. Watch the Changing of The Guard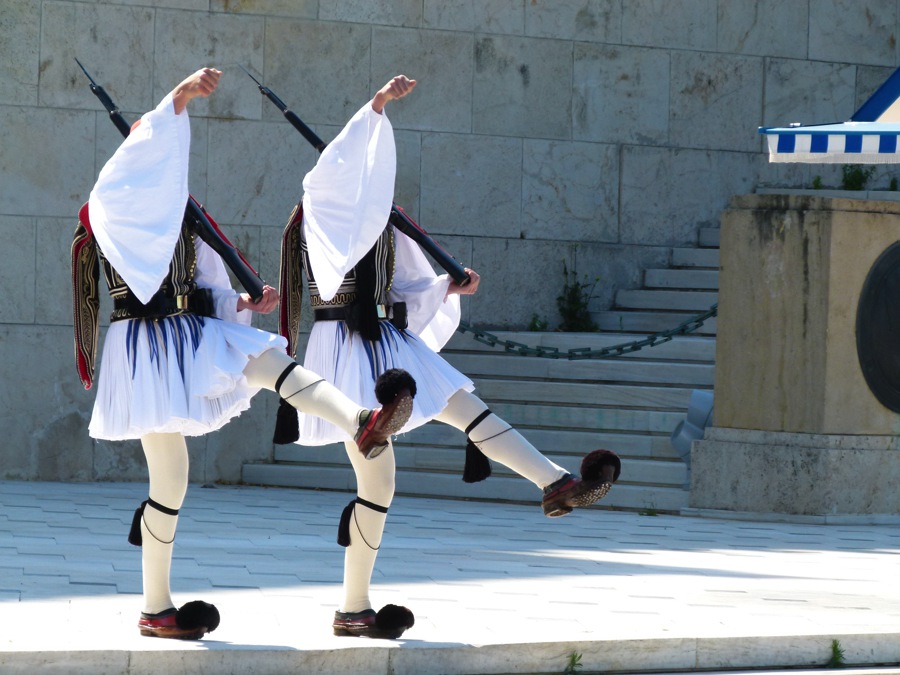 This is one of the best free things to do in Athens. To catch this weekly event, you must be in Athens on a Sunday. The Changing of the Guard takes place at the Parliament Building at Syntagma. It takes place at 11:00am and is free to watch.
While the guards do change hourly, on Sundays at 11:00 there are more guards than usual, they're dressed in the traditional Greek uniform and the ceremony is more complex.
Sundays are the best day to see the changing of the guards in Athens. And while they may look a little unusual, they are highly trained soldiers called the Evezone. This is one of the best free things to do in Athens.
15. Visit Monastiraki Square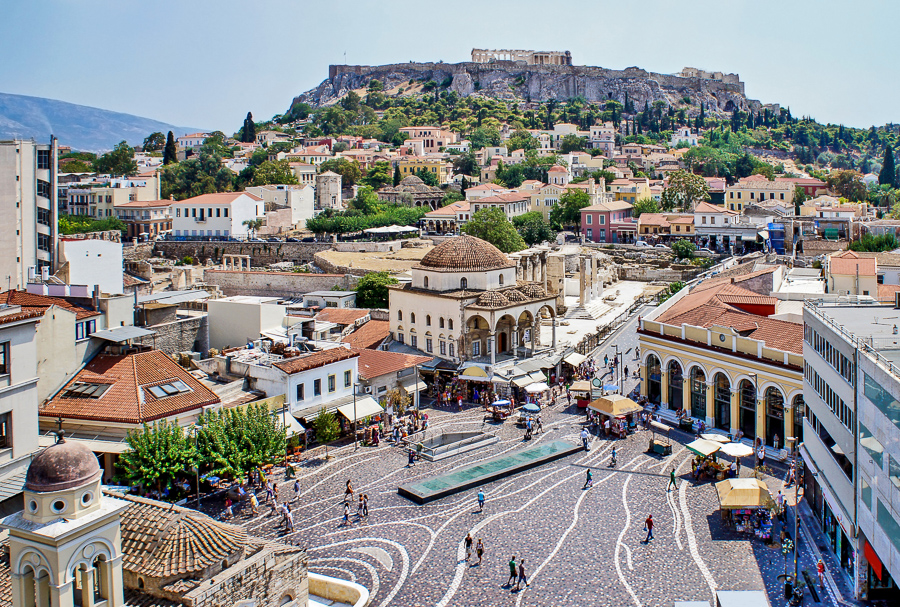 If you sit in Monastiraki Square long enough, I swear you will see everyone in Athens walk by. This is the place to watch tourists and locals interact.
It is also a historic site with a 9th-century church, a 19th-century mosque, and in the subway station are antiques found during the building of the first metro station.
This is one of the most bustling places in Athens and chilling out here is one of the best things to do. While you're here, check out the Monastiraki flea market.
16. Get Custom Made Greek Sandals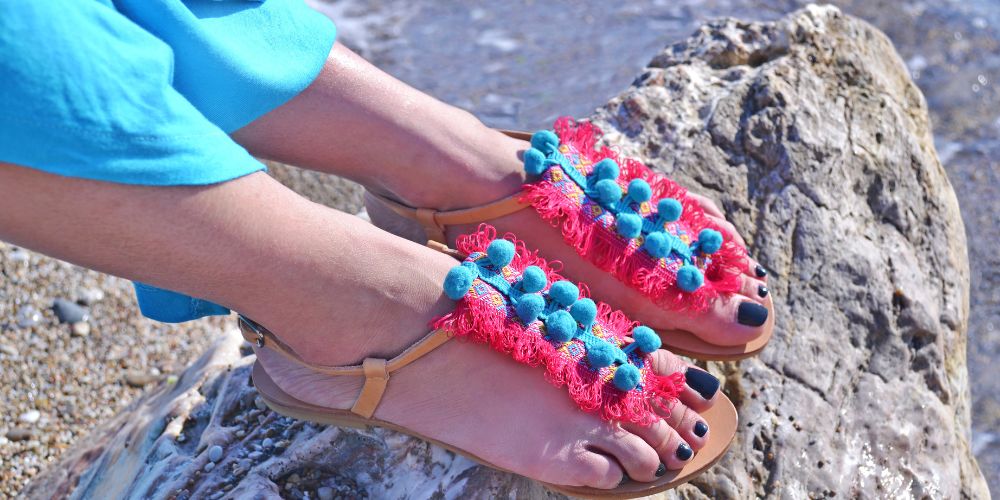 While you are shopping in the Plaka, be sure to stop at Pantelis Melissions The Poet Sandalmaker for a pair of custom-made Greek sandals. This shop has been around since 1920 and has been passed down from generation to generation.
You can get a classic pair in basic leather or get a fancy pair with decorations or metallics. The prices range from €40 to €50.
☞ SEE ALSO: Visiting the Meteora Monasteries – The Ultimate Guide
17. Eat Loukoumades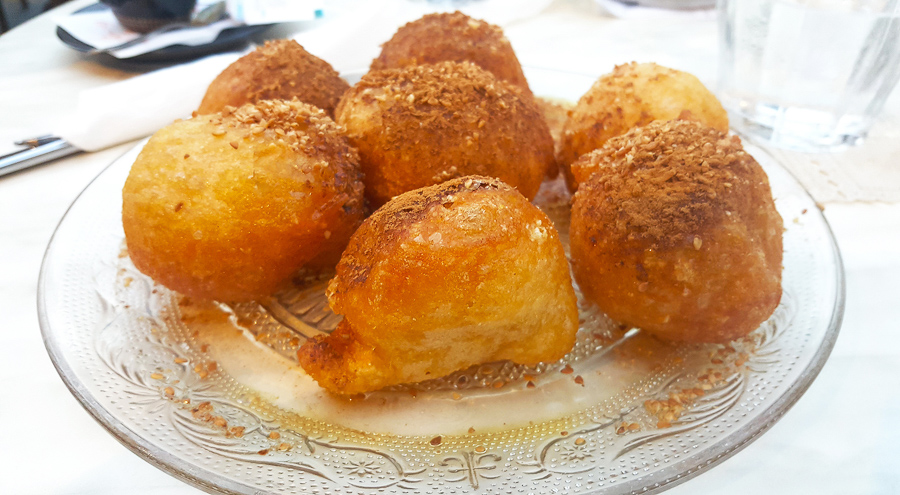 Loukoumades are Greek donuts. It's a small puff pastry that is soaked in honey and sprinkled with cinnamon. I had one with sesame seeds once too. They are delicious.
The best place in Athens to get loukoumades is at the aptly named Lukumades. It is not far from O Thanasis so after eating your kebab you can have a donut for dessert!
18. Watch the Sunset at Lycabettus Hill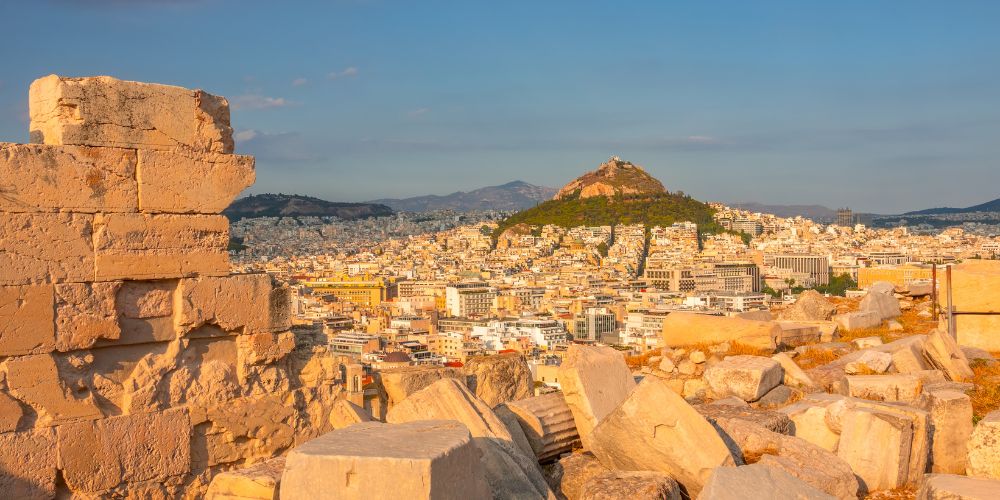 Watching the sunset from Lycabettus Hill is one of the best things to do in Athens. Not only is the sunset stunning, but you get amazing views of Athens from here. You can also see the Acropolis all lit up for the evening.
Before you head out to enjoy the Athens nightlife, consider climbing Lycabettus for a nice sunset and maybe even a picnic.
There is a funicular to take you up and down if you don't want to climb the hill. The cost for the funicular is €7.50 return or €5 for a one-way ticket.
☞ SEE ALSO: 21 Things To Do in Paros, Greece
19. Visit the National Archaeological Museum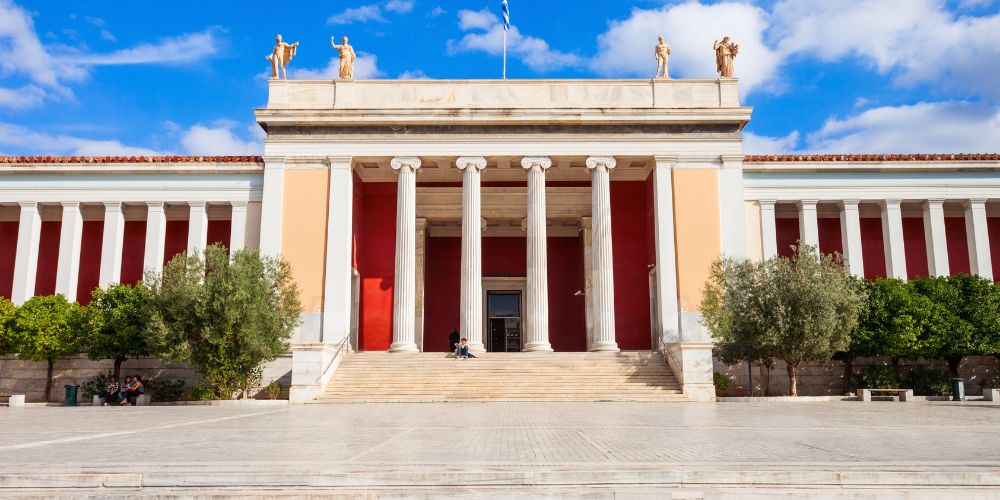 The National Archaeological Museum has many artifacts ranging from prehistory to late antiquity. The artifacts are from all over Greece and the ancient world itself. It also has an Egyptian collection.
The museum is north of the Acropolis. You can take the metro to the Victoria station and walk from there. The entrance fee is €10.
This is likely the best archeological museum in the city.
20. Join a Walking Food Tour (One of the Best Things To Do in Athens for Foodies)
Not all the tours in Athens are about history. For a fun, informative, and tasty tour, you won't want to miss this experience! It's one of the highest-rated tours in Athens.
Meet up with your guide and discover some incredible street food vendors and local markets, all while walking off the food and learning about Athens and Greece along the way. You'll eat your way through bakeries, cheese and meat shops, fish market, coffee shops, and many stores offering world-famous Greek yogurt, organic olive oil, honey and wine.
Included in the tour are many tasty Greek delicacies, so come hungry! If you're looking for non-touristy things to do in Athens, this is a great option — it's also one of the best value experiences in the city. Find out more and reserve your spot here on Get Your Guide, or here on Viator.
There is a multitude of walking tours to take in Athens. Since I love Greek food, I always look for good food and tours with a side of walking. Whether you're interested in wine, history, or food, it's always fun to meet up with a local and spend some time together while learning about the city, and the local lifestyle.
☞ SEE ALSO: Travel Guide to Kefalonia Greece
21. Take a Day Trip to Hydra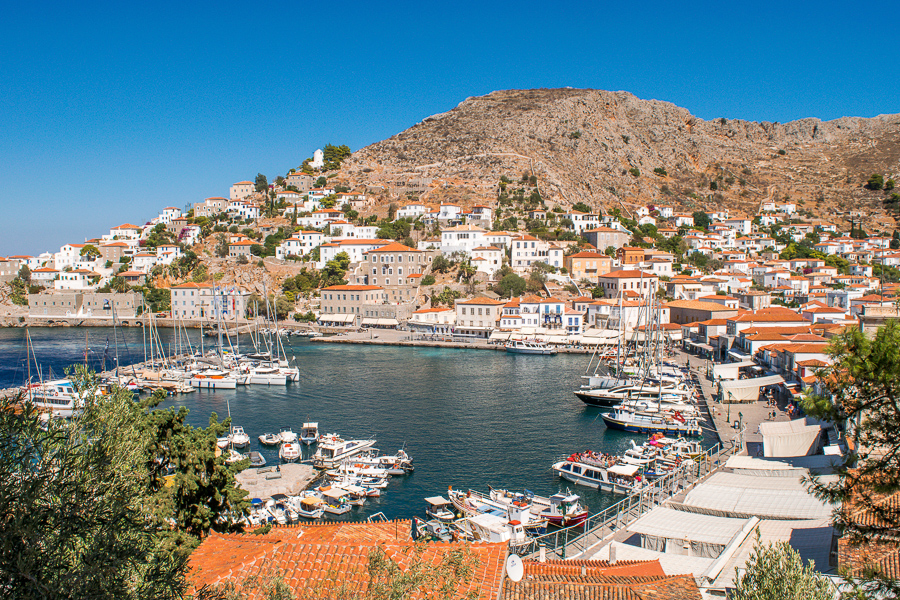 You can still visit a Greek island while on your trip to Athens!
Hydra is a small island that allows no cars. Most of the things to do are located right in the port including restaurants and shopping. There is even a swimming spot a five-minute walk away.
Hydra is about an hour's ferry ride away if you take the fast ferry. The cost is about €80 return. You catch the ferry at Piraeus port. Spend the day in Hydra and be back in Athens for dinner. Search the ferry schedule and latest prices here.
Another option is to join a full-day tour that takes you to Hydra, Poros, and Aegina islands aboard a luxury cruise ship. Click here to learn more.
22. Visit Parliament Building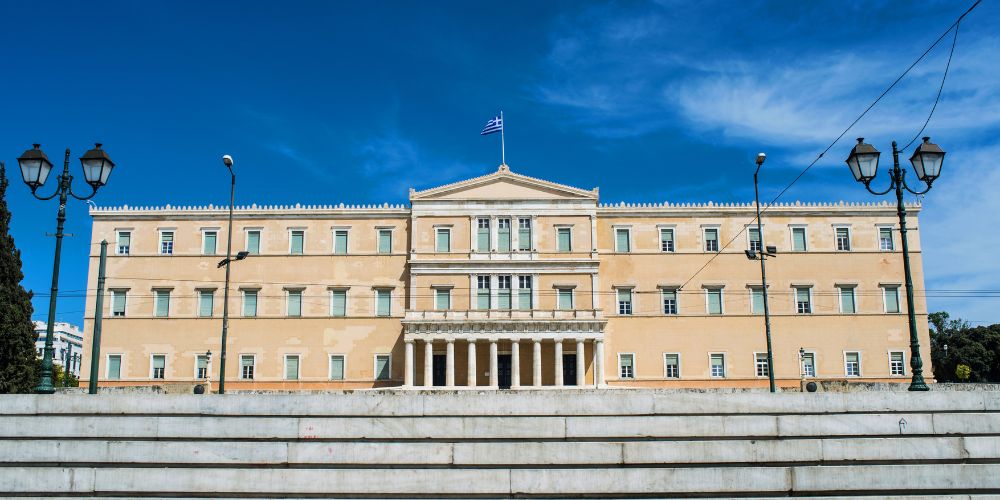 Even if you don't see the Changing of the Guard, the Parliament building is worth a visit. It was built between 1836 and 1842 and was home to the first modern King of Greece.
It became the Parliament building in 1935 after the monarchy was abolished in 1929. I suggest seeing it at night when it's beautifully lit.
☞ SEE ALSO: Visiting Chios Greece – A Guide for Travellers
23. Eat Gyros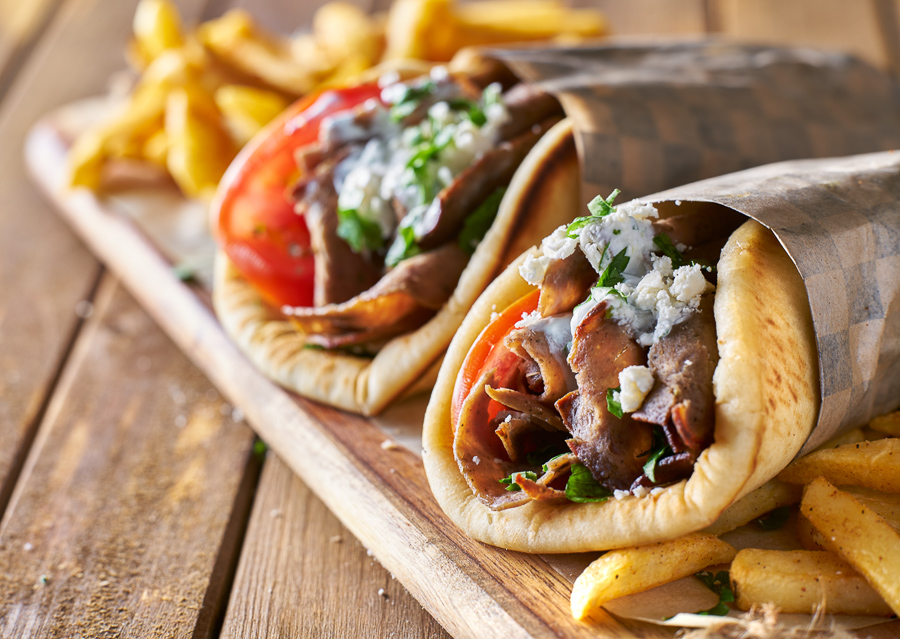 You cannot come to Athens and not have a classic gyro. They are available almost everywhere and you can have fun trying to find the best one. A search for your favorite gyro is one of the best things to do in Athens for foodies.
The gyro consists of chicken or lamb, french fries, onions, and tomatoes all wrapped up in soft pita bread. Sometimes you can order them open-faced on a plate. They are pretty big, so if you've done tons of walking this is the meal for you. Check out Kostas or Delicious Souvlaki for tasty gyros.
24. Take a Day Sailing Trip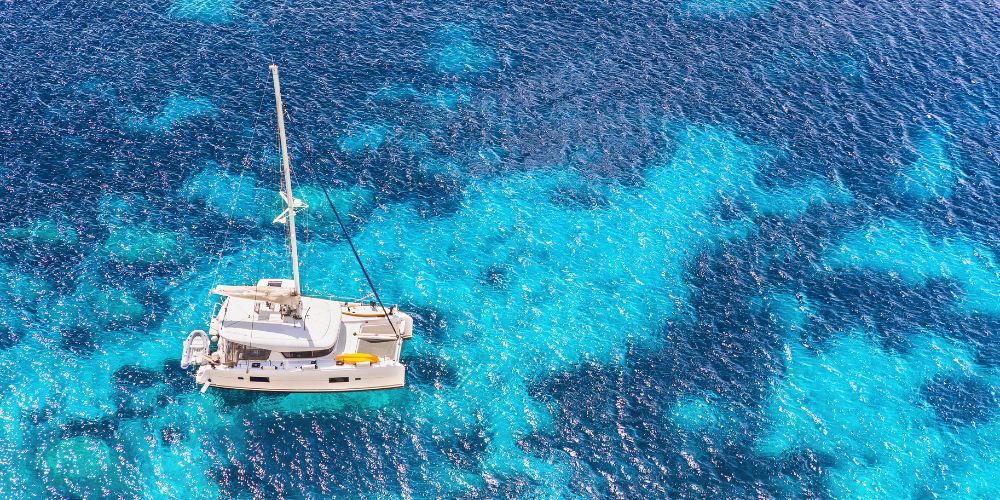 One of my favorite things to do in Greece is to sail to the Greek Islands. You can join a sailing trip that lasts all day, or take a half-day tour. You can even sail to some of the islands.
Most of these sails are on catamarans making it easier for the non-sailor to adjust their sea legs. This is one of the best ways to relax in Greece. Click here for a top-rated sailing trip (on an actual sailboat) that takes you to Agistri, Moni & Aegina.
Or, if you'd prefer a catamaran trip in Athens that includes food and drinks, click here for details.
There's no better way to explore many Greek Islands on a quick trip to Greece.
☞ SEE ALSO: Travel Guide to Lesvos Island
25. Visit the Temple of Poseidon 
The stunning ancient Temple of Poseidon sits at the Aegean Sea and was built in the 5th century. An inscription at the temple confirms that it was built for Poseidon.
You should try to be here early in the morning or for sunset. You can sometimes see several islands on a clear day from the temple.
Technically this is a day trip from Athens as it's 70kms south of the city. There is a bus from Athens from the Mavromateon Terminal and you can also get it from Syntagma Square. Look for the bus going to Sounio. The bus fare one-way is €6.90.
If you'd rather join a tour and not have to worry about transportation, check out this highly-rated half-day tour to Poseidon.
26. Stroll Through the Ancient Agora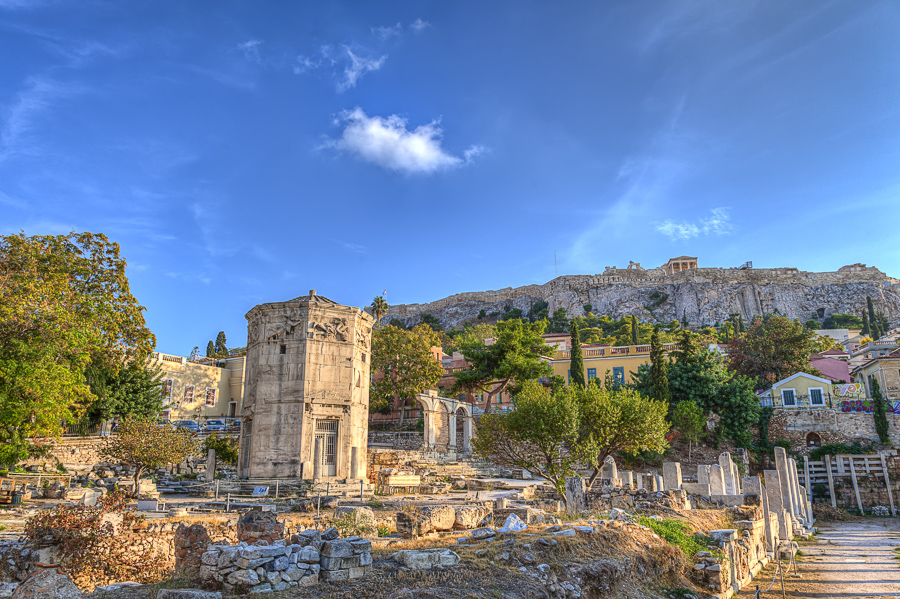 Ancient Agora is an ancient cemetery located right down the hill from the Acropolis. It was built as a marketplace after Athens became part of the Roman Empire in the 1st century.
When I was at the Roman Agora, it was very empty making a nice change from the crowds of the Acropolis. It's a nice place to explore. However, there is not much signage at the Ancient Agora so you may have to look things up after you go. The entrance fee is €6.
27. Explore the Athens Central Market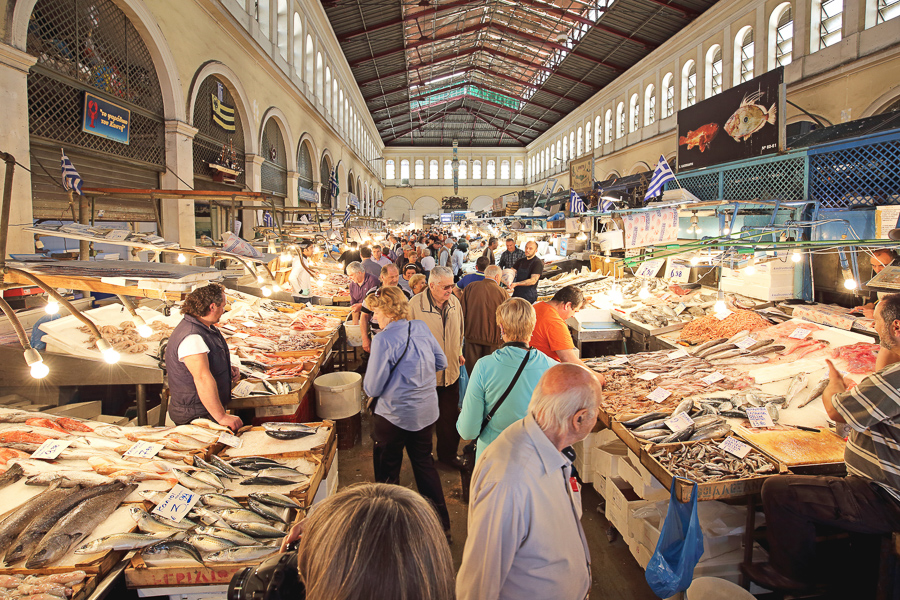 This is the classic outdoor market with shouting vendors and all the smells that come along with it. I discovered it when I stayed in a hotel right in the market. The fruits in Greece look and smell amazing so even if you don't buy anything it's still a great place to visit.
The other thing to note is that most of the vendors don't speak English, but you can point to items that you're interested in and use sign language (or a translation app).
There's also meat and fish if you are in self-catering accommodation. I loved this flea market because it felt like such an authentically Greek experience. Click here for a fun market tour in Athens.
If you don't want to eat at the market, there are also some good restaurants nearby.
28. Donate Your Time: Volunteer in Athens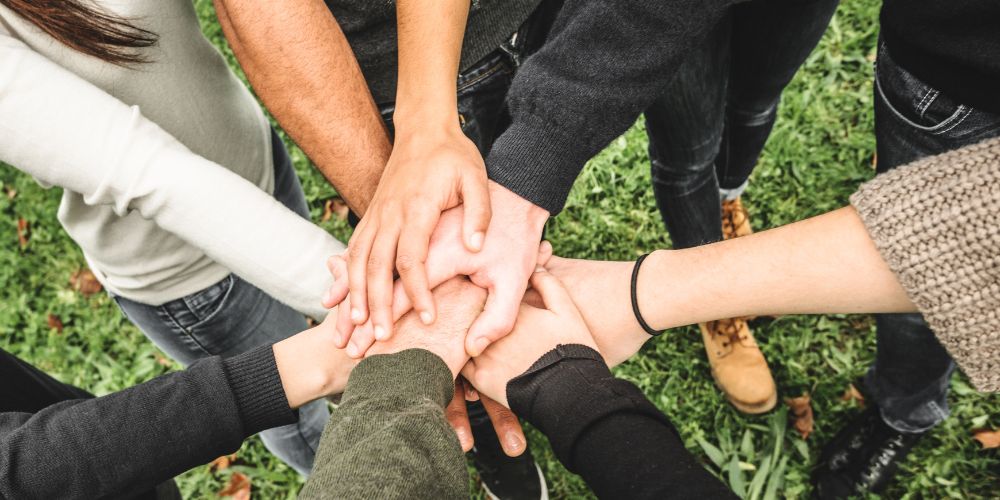 If you're an animal person, there are a few volunteer options for you to help out with abandoned and stray animals. Have a look at ZEIL, SGS or SCARS where you can assist with walking and caring for dogs and cats.
This may not be one of the more touristy things to do in Athens, but if you have some extra time, or if you would like to help out, it's definitely one of the more rewarding activities in the modern city anyway.
29. Visit the Panagia Kapnikarea Church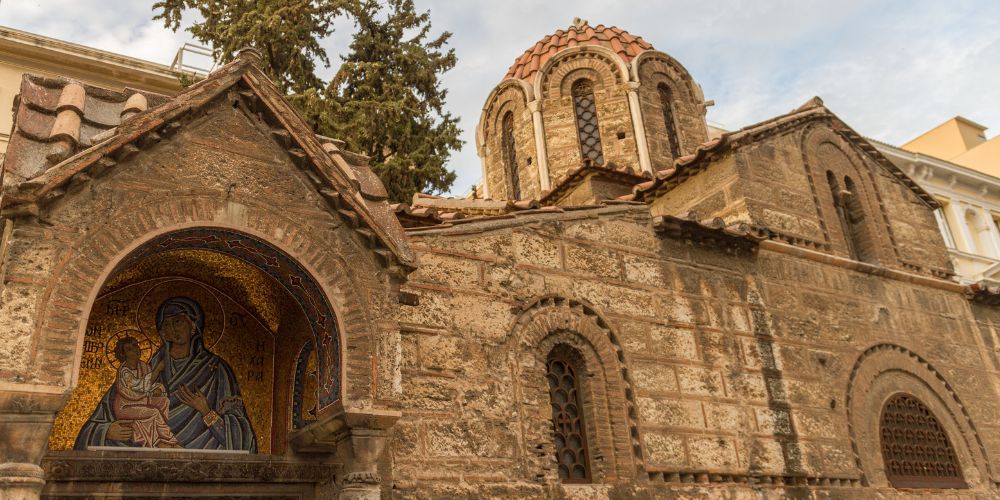 Built in the 11th century, this is one of the oldest churches in Athens. The interesting thing about this Greek Orthodox church is that it's surrounded by modern buildings! You can find it here on the map.
30. Join a Cooking Class with Rooftop Dinner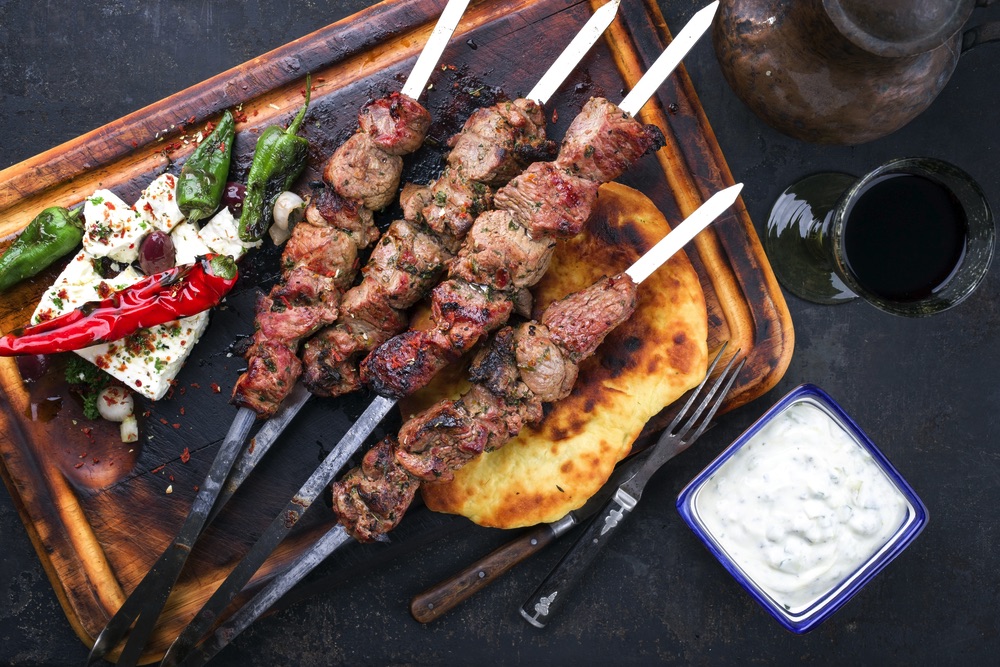 Learn how to make some traditional Greek food during this fun cooking class. You'll make (and eat), a starter, main dish, salad, dessert, and local dips. Plus, wine is included.
Chat with the chef and your new friends while dining on tasty food that you prepared, and enjoying the view from the rooftop of the Acropolis. Find out more about this highly-rated cooking experience in Athens here.
31. Get Lost in The Athens City Center

The City Center of Athens is lively, bustling, and a bit rough around the edges, but it's a fantastic place to get lost amongst the ancient sites.
By foot, you can easily explore the center by starting around the ancient sites of the Acropolis and Plaka, then walking to Monastiraki Square at the foot of the Acropolis, then continuing to Psirri district and Ermou street before finishing at Kolonaki.
Also, don't miss the Ancient Greek National Gardens and strolling down some of the lesser-known interesting streets in the city center.
32. Visit The Panathenaic Stadium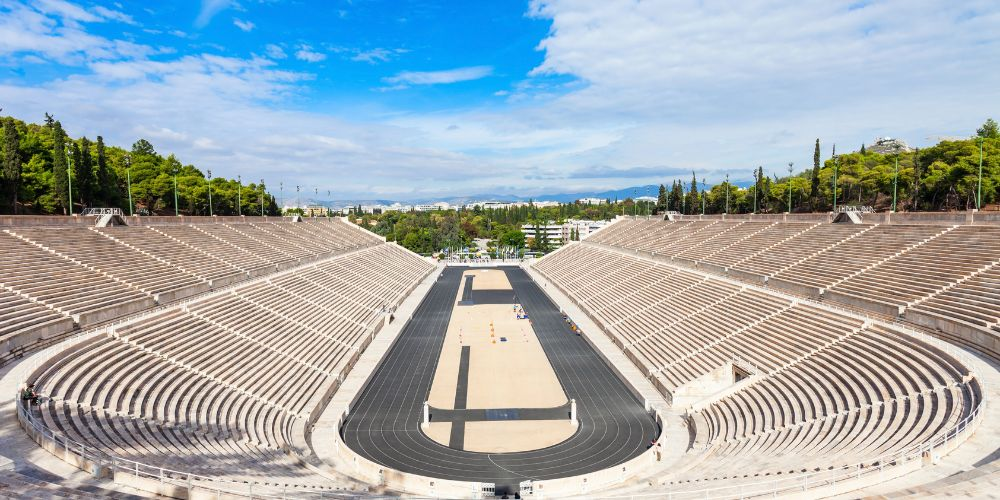 See the birthplace of the first modern Olympics at the Panathenaic Stadium. This is the original Olympic Stadium and is a fun place to explore.
There isn't a skip the line ticket, but GetYourGuide has some cool tours that include a visit here and the national museum.
FAQs About Athens
Here are answers to some commonly asked questions about visiting the city.
What Should I Avoid in Athens?
When it comes to areas of Athens, Omonia, Exarcheia, Vathi, and Kolokotroni Squares have high crime rates and should be avoided at night, if not altogether. Make sure to keep an eye on your purse and pockets when visiting Athens as well as there are pickpockets. 
Joining a walking tour with a local when you first arrive in Athens is a great way to get a rundown of the city and the do's and don'ts. 
Can you Do Athens in 3 Days?
Yes! You can definitely visit Athens on two day trips, a weekend, or in 3 days. You'll be able to cover all of the main highlights in just a couple of days, and on the third day, you can join a fun experience (cooking class, wine tasting), or take a day trip by ferry or bus.
Where to Stay in Athens
You'll want to stay central when visiting Athens, and aim to be within walking distance of the Acropolis, Plaka and Syntagma Square. Whether you choose a hotel or apartment is up to you — some people prefer hotels with a simple room, while others prefer apartments with a living area and a kitchen.
This apartment has excellent reviews and views of the Acropolis, while this apartment is in Plaka and also has incredible views plus lots of natural light. For hotels, the Electra Metropolis is a very popular option and it includes breakfast, a rooftop bar, and excellent views.
What's the best way of getting around Athens?
The best way to get around Athens is to use Google Maps. Google Maps can show you local bus and metro times, walking directions, and even has a feature to order rideshare like Uber and Lyft.
How much does it cost to enter the sites in Athens?
Entrance fees in Athens generally cost between €8-€10 for the most popular sites.
What is the best hotel with a rooftop pool in Athens?
Electra Hotel has the nicest rooftop pool in all of Athens with a great bar, stunning views, and plenty of areas to sit and relax.
What is the best thing to do in Athens on a rainy day?
The best thing to do in Athens on a rainy day is to visit one of the many museums, like The War Museum. Or check out one of the many Byzantine churches, eat at some of the great restaurants with an amazing view, or visit during the Summer months when rain is less likely.
Now You Know What To Do in Athens
As you can see there are so many things to do in Athens. You can even make a theme for each day you are there — exploring all the food options, seeing all the archaeology and ancient archaeological sites around, and aimlessly exploring and seeing what you can discover! I always love spending time in Athens, and I'm sure you will as well.
See Also: The Ultimate Guide To Travelling Greece & The Greek Islands
Like This Article? Pin it!