Chipping Norton is a charming market town in the Cotswolds area of outstanding natural beauty in southwest England. There are lots of wonderful things to do in Chipping Norton from exploring the ancient almshouses to the farmers' market, nature reserve, and the many fine pubs and restaurants.
Some of the top places to visit in Chipping Norton include the local museum, theatre, and nearby landmarks such as Blenheim Palace and the Rollright Stones. This quintessential English town is famed for the Chipping Norton set and is home to many politicians and celebrities.
This is one of my favorite Costwold towns thanks to the gorgeous architecture that gives way to the rolling Cotswold hills. I love to nose around the many second-hand and antique shops for a bargain before popping into one of the fine pubs or inns that call Chipping Norton home.
Best Things To Do in Chipping Norton
Below, you'll find a great selection of Chipping Norton attractions and day trips. From country walks to rustic pubs, local breweries, charming cottages, and stately homes, there's something for everyone in this picturesque English town.
1. Visit the Market Place
One of the best things to do in Chipping Norton is to check out the local farmers' market which runs every Wednesday and on the third Saturday of each month. Here, local farmers and traders bring a selection of locally farmed and made foods and crafts amongst many other interesting items.
Browse jars of jams, preserves, cooking sauces, cheeses, ciders, gins, and other specialties from around the Cotswolds. I love farmers' markets and always end up coming home with a few bits and bobs for my kitchen – the market at Chipping Norton is one of the best.
The market runs from 8:30 am until 1:30 pm so make sure to get there early to nab some of the best goodies.
Address: Market Street, Chipping Norton, Oxfordshire, OX7 5NH
2. Visit Jeremy Clarkson's Diddly Squat Farm
Former Top Gear host and contentious public figure Jeremy Clarkson is one of the Chipping Norton Set and has lived in the town for years. He recently set up his own "Diddly Squat" farm in the area which was made famous by the television series Clarkson's Farm.
There's a shop onsite where you can buy produce from the farm and it's proven hugely popular with visitors. There was an onsite restaurant that had to close in late 2022, but Clarkson and his fans hope the cafe will reopen soon so keep an eye out! There's also a beer trailer and bar being readied for summer 2023.
The farm shop is open Thursday to Sunday from 9:30 am to 4:30 pm. Here, you can pick up a range of interesting products from chili chutneys to Clarkson's Hawkstone beers, gins, hand-cooked crisps, and a range of souvenirs and gifts. The farm only opened after the pandemic and this is somewhere I'm looking forward to visiting when I'm next in the area.
Address: 5-10 Chipping Norton Road, Chadlington, Oxfordshire, OX7 3PE
3. See the Town Hall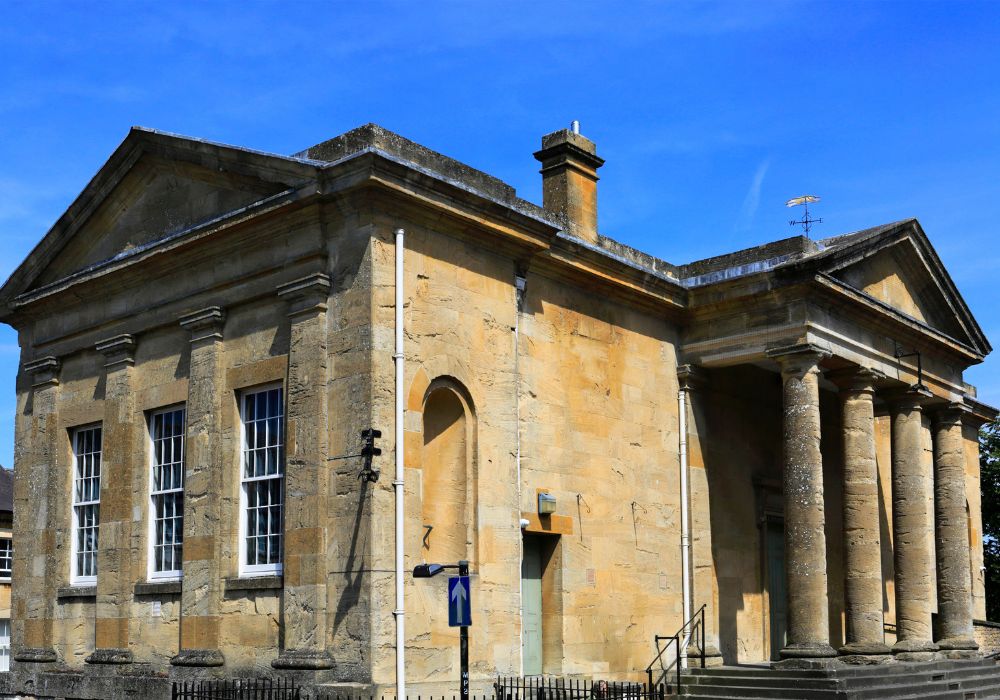 The neoclassical-looking Town Hall is one of the top places to visit in Chipping Norton as it houses the local tourist information center as well as local council offices. The building looks like it's been transplanted from ancient Rome rather than the quaint British countryside!
This Grade II listed building was built in 1842 and is now used for local events from art exhibitions and dance classes to weddings and dinners. It can even be hired for a special occasion with heavily subsidized rates. The town hall is one of the top landmarks in the town and is definitely worth seeing during your stay.
Address: Market Place, Chipping Norton, Oxfordshire, OX7 5NJ
4. Take a Dip in the Lido (Outdoor Swimming Pool)
One of the best things to do in Chipping Norton, particularly on a hot summer's day, is to hit the local Lido (traditional outdoor swimming pool). Unlike the lido in my hometown, the one here is heated and bills itself as "an oasis of calm in the Oxfordshire Cotswolds". It's one of my favorite places to cool off.
This is one of the best things to do in Chipping Norton for families and groups of friends looking to escape the summer heat. The 25-meter pool is surrounded by a large, tree-lined lawn and has an onsite cafe serving hot and cold drinks, as well as some light refreshments.
There are different sessions throughout the week from adult and lane swims to family sessions, workshops, and yoga classes. Prices start from £7.50 per adult session, £3.50 for children, and discounts are offered for families. You can check the timetables and book a session online.
Address: Fox CIose, Chipping Norton, Oxfordshire, OX7 5BZ
5. See Bliss Tweed Mill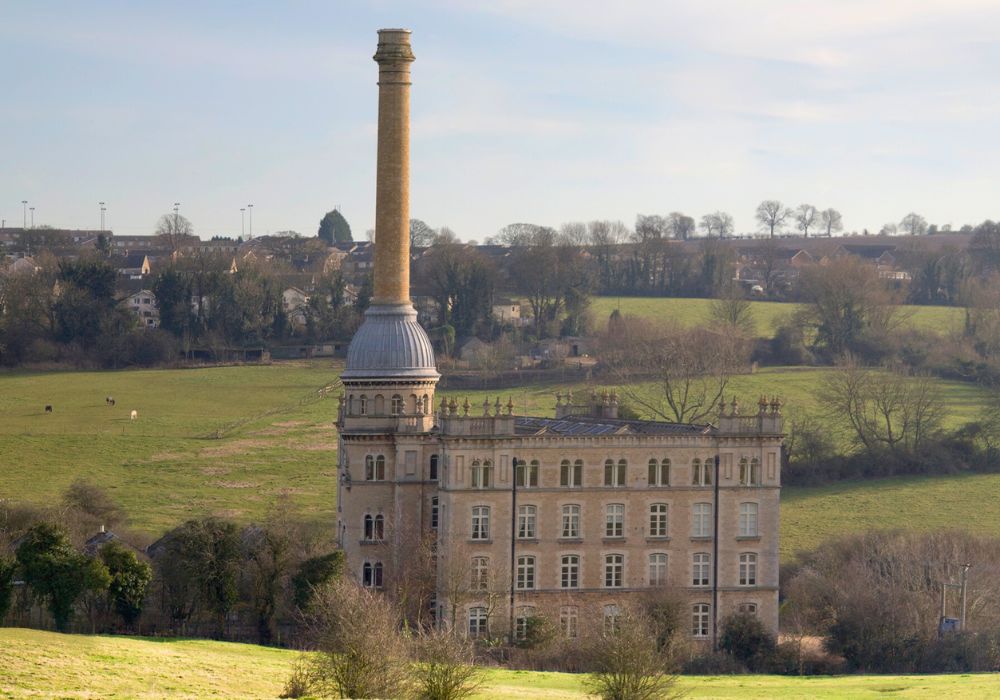 Chipping Norton has long been associated with the wool trade and the large Bliss Tweed Mill on the edge of town is a testament to this. It was built in 1897 and famed for its tall chimney, which unfortunately rather resembles an upturned toilet brush (no, really).
Bliss Tweed was built for local wool manufacturer William Bliss by the architect George Woodhouse. The building uses local limestone and looks more like a grand country mansion than a mill (except for the toilet-brush chimney of course).
The mill was turned into residential apartments in 1987 but it's still worth visiting to look at the interesting architecture and stunning countryside surroundings.
Address: Station Road, Chipping Norton, Oxfordshire, OX7 5HX
6. Take a Walk at the Glyme Valley Nature Reserve
The Glyme Valley Nature Reserve is situated in the picturesque valley of the Glyme River, just one mile east of Chipping Norton. It's the only remaining limestone grassland in the area and is the perfect place for long, country walks (bring the doggo), picnics, and getting out for some much-needed fresh air.
The reserve is open year-round and you don't need a ticket to enter; making it one of the best free things to do in Chipping Norton. The parkland is untouched by chemicals or modern farming methods and represents a unique habitat for local birdlife. Spot Bullfinches, yellowhammers, and bee orchids among other species.
Address: Chipping Norton, Oxfordshire, OX7 5QQ
7. See the Almshouses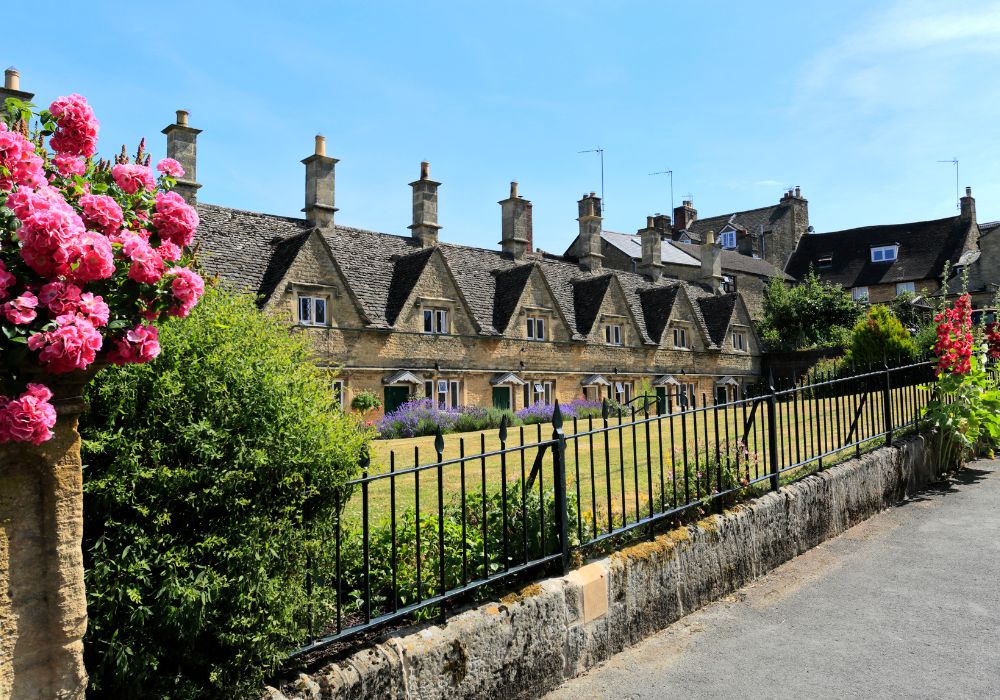 The Almshouses are a row of eight cute, conjoined cottages built in 1640 by a local benefactor named Henry Cornish. The cottages were built for eight deserving widows and are still run by the local charity as housing. The Almshouses are one of the top places to see in Chipping Norton and are a great opportunity for the perfect Insta pic.
You can't go inside the houses as they're still residential homes, but having a look and taking pictures is fine so long as you're respectful and realize that people still live there. The houses are located on Church Street behind St Mary's Church which is also well worth a quick visit for its 15th Century medieval architecture.
Address: Church Street, Chipping Norton, Oxfordshire, OX7 5NU
8. See a Show at the Chipping Norton Theatre
If you're looking for something to do in Chipping Norton at night then take in a show at the Chippy Theater and Arthouse Cinema. With everything from pantomimes (oh, no she didn't…) to Shakespeare plays, movie nights, comedies, and workshops, this is a great option for a little light entertainment.
The theater is open daily throughout the year and you can check the website to find current listings and to book tickets.
Address: 2 Spring Street, Chipping Norton, Oxfordshire, OX7 5NL
9. Visit the Hook Norton Brewery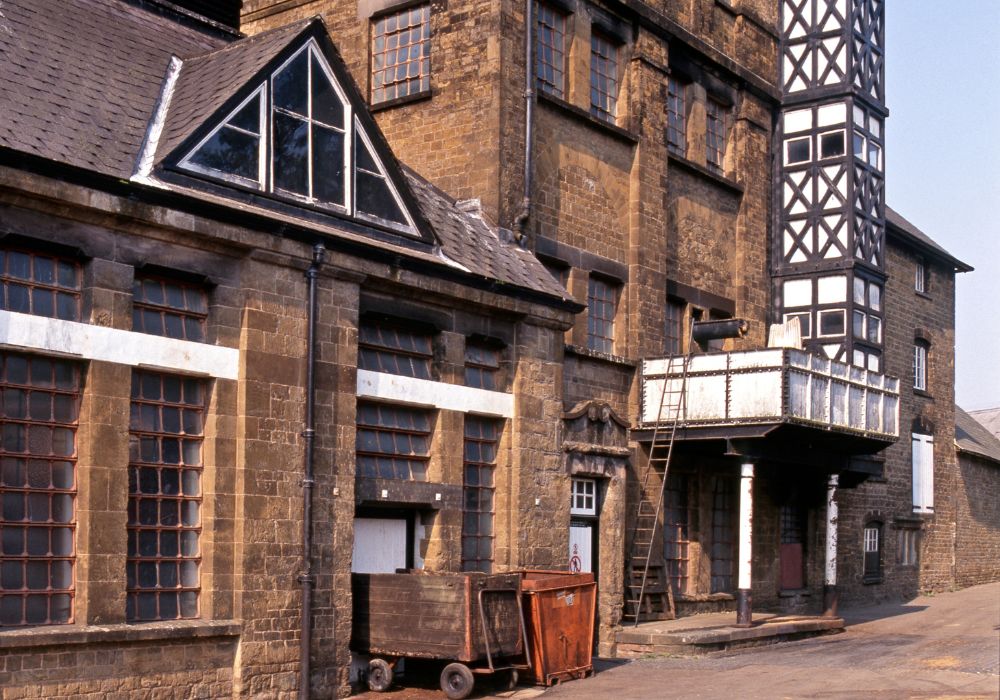 One of the best places to visit near Chipping Norton is the Hook Norton Brewery which makes some of my favorite ales (check out the awesome Off the Hook IPA). The brewery is located in the small town of Hook Norton 5 miles (8 km) from town and is well worth a visit.
Browse the beers on sale in the onsite shop or take a brewery tour and learn how these fine folks turn grain and hop into the golden elixir that we know and love. There's also a restaurant (the Malthouse Kitchen) that serves up full English breakfasts, fish and chips, burgers, and of course beers and ciders.
Sampling these local specialty ales and ciders is definitely one of the best things to do around Chipping Norton and somewhere I love to go to stock up on craft beers to take with me when visiting friends in the Westcountry.
Address: Brewery Lane, Hook Norton, Oxfordshire, OX15 5NY
10. Take a Hot Air Balloon Ride Over the Town
If you're looking for something a little out of the ordinary to do then taking a hot air balloon over the gorgeous Cotswolds is an excellent option. This is one of the best things to do in Chipping Norton for couples and is the best way to see the sunset over this picturesque corner of Britain.
If, unlike me, you're not afraid of heights, then this is the most unique way to see Chippy and the surrounding Cotswolds countryside. Virgin Balloon Flights offer champagne flights over the Cotswolds with launch sites in Shipston on Stour, Cheltenham, and Oxford.
Prices start from £129 per person and this once-in-a-lifetime experience lasts up to four hours. Tickets are exchangeable and can be booked online up to a year and a half in advance. Visit the website for more info and to book your flight today.
11. Visit Chastleton House
Chastleton House is a Jacobean country mansion located in nearby Moreton in Marsh 8 miles (11 km) from Chipping Norton. The house was completed in 1612 and was built by wealthy wool merchant Walter Jones. Chastleton is renowned for its remarkable state of preservation, with many of its original furnishings and decorative features still intact.
The interior of the house is adorned with intricate wood carvings, ornate plasterwork, and impressive collections of books, paintings, and antiques. You can explore the grand hall, the intricate plasterwork in the long gallery, and the beautiful gardens and grounds surrounding the mansion.
The house is open Wednesday to Sunday from 1 pm to 5 pm. Tickets cost £12 for adults and £6 for children and include entrance to the house and gardens.
Address: Chastleton, Moreton in Marsh. Oxfordshire, GL56 0LU
12. Explore the Chipping Norton Museum
The local museum is one of the top things to do in Chipping Norton if you want to learn a little about the town's history and association with the wool trade, and later tourism. The museum is located across the street from the town hall and contains a wealth of photographs and exhibits charting the history of the town.
Entrance costs just $1.50 and the museum is open Monday to Saturday from 2 pm to 4 pm.
Address: 4 High Street, Westgate, Chipping Norton, Oxfordshire, OX7 5AD
13. Hike the Cotswold Way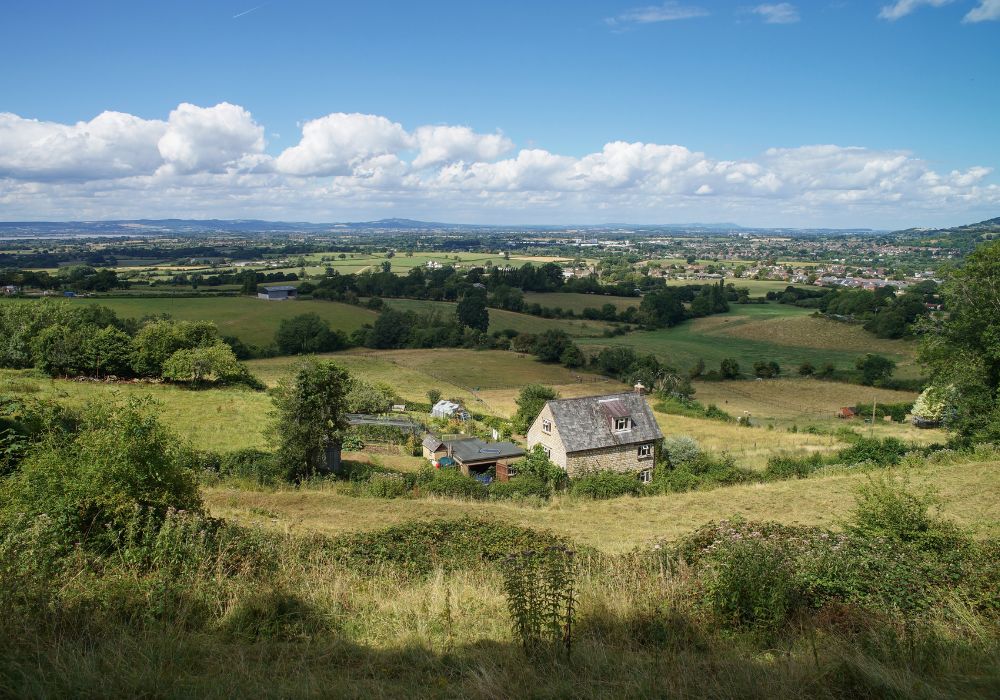 The Cotswolds Way is a 102-mile (164 km) trail that runs through the heart of the Cotswolds area of outstanding natural beauty. The route starts in Chipping Campden 17 miles (27 km) from Chipping Norton and ends in Bath, passing through some of the most picturesque countrysides in England.
Although the full trail is a little ambitious for a short trip, it's perfect for a day hike. There are many circular walks that can be completed easily, and some of these also take in rustic country pubs like the excellent Snowshill Arms.
14. Visit the Rollright Stones
The Rollright Stones form an ancient stone circle located in the Oxfordshire countryside 4 miles (6.5km) from Chipping Norton and date back to the Neolithic and Bronze Age periods.
The circle consists of three main groups of stones; the King's Men, a standing circle of around 77 stones; the Whispering Knights, a group of four stones thought to be the remains of a burial chamber; and the King Stone, a solitary standing stone located outside the circle.
I visited the Rollright Stones on my last visit to Stroud and it really is a truly impressive site that rivals the stone circle at Avebury. The circle is set within woodland, overlooking hilly pastures and valleys with stunning views over the Cotswold countryside. After visiting we went to The Gate Hangs High pub for Sunday lunch and I highly recommend you do the same.
Address: Rollright Road, Little Rollright, Chipping Norton, Oxfordshire, OX7 5QB
15. Visit Blenheim Palace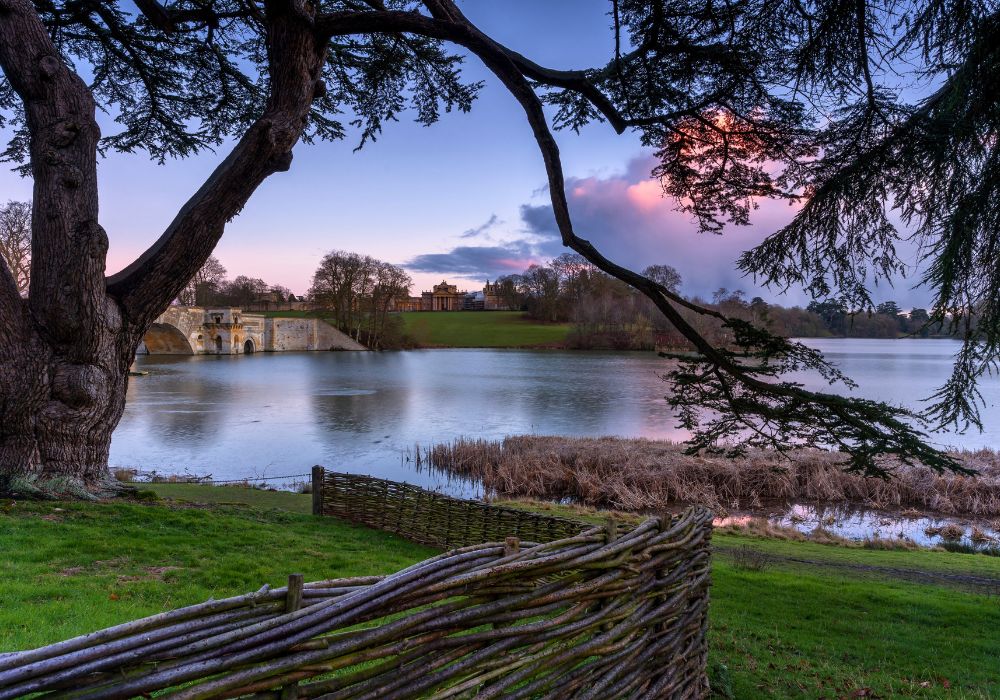 Blenheim Palace is a grand country mansion that was built in the early 18th century. The palace is a UNESCO World Heritage Site and is considered one of England's finest examples of Baroque architecture. The Palace is the ancestral home and birthplace of war-time prime minister Sir Winston Churchill.
Visiting Blenheim is one of the best things to do near Chipping Norton and is a must for history lovers like myself. Visitors can explore the house and surrounding gardens, and there are plenty of events hosted at the palace throughout the year (check the website to see what's going on during your stay).
The palace is open daily from 10 am until 4:45 pm. Tickets cost £22.50 for adults and £11.50 for children (the ticket is then valid for a whole year). Facilities include a number of cafes and restaurants and a shop to browse making it a great day out for the whole family.
Address: Woodstock, Oxfordshire, OX20 1PP
Quick Travel Itineraries For Chipping Norton
Below, you'll find a few itineraries to help you get the most out of your visit while sightseeing in Chipping Norton. Whether you have just one day to spend or a week to explore, these itineraries include all the top Chipping Norton attractions to take the pressure off planning your trip.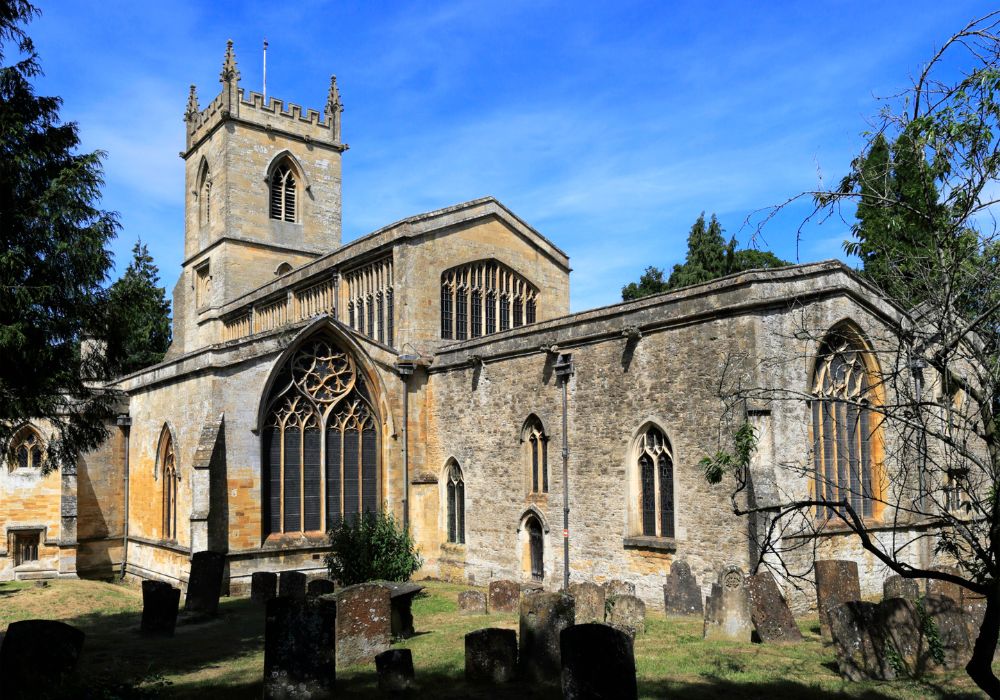 1 Day in Chipping Norton Itinerary
With just one day you'll want to include the top things to see in Chipping Norton. Start off at the historic Almshouses in the north end of town and then make your way down Market Street stopping at any of the many boutique and independent shops along the way that spark your interest.
If it's a Wednesday or the third Saturday of the month be sure to stop by the farmers' market and grab yourself some local Cotswold specialties from meats and cheeses to locally made ciders, gins, and other treats. Pop into the Kings Arms for a bite to eat before exploring St Mary's Church and the local museum.
2-3 Days in Chipping Norton Itinerary
With two to three days in the town, follow the above itinerary for your first day and take a walk in the peaceful Chipping Norton Nature Reserve where you can spot local birds and wildlife. Pay a visit to the historic Bliss Tweed Mill which was an important employer in the town during its heyday of the woolen trade.
Be sure to explore the town's many cute coffee shops like the Rustic Bean (they do a great brunch as well as the best coffee in town). Take in a show at the Chipping Norton Theatre and find a nice pub for the evening like The Blue Boar or The Fox.
1 Week in Chipping Norton Itinerary
With a week in Chipping Norton, you can add in some day trips to nearby attractions like the stunning Rollright Stones; the neolithic stone circle similar to a small version of Stonehenge. Visit nearby Blenheim Palace, a UNESCO World Heritage site and the birthplace and Ancestral home of Sir Winston Churchill.
Where to Stay in Chipping Norton
These are a few of the best neighborhoods in Chipping Norton for tourists:
The Fox – Best for First-Time Visitors
One of my favorite places to stay in small towns and villages is the local pub or inn and The Fox, which is located right on the marketplace, is an excellent option for first-timers in Chippy. The rooms are individually themed and come with a flat-screen TV, en-suite bathroom, and complimentary toiletries. Click here to find out more.
Cotswold Chapel – Best for Families
The charming Cotswold Chapel Apartment has two kingsize bedrooms and sleeps up to five people with the addition of a sofabed in the living room. This is an excellent option for families and groups of friends, and the property is located in the heart of the town with all conveniences for your stay on its doorstep. Click here to book now.
Cotswold Hotel and Spa – Best for Couples
If you're looking for a little luxury and pampering when visiting Chippy then look no further than the Cotswold Hotel and Spa, located just two miles from the town. Rooms come with an en-suite bathroom, a flat-screen TV and tea and coffee-making facilities, and a balcony or terrace. A full English breakfast is included in the price. Click here to learn more.
Best Restaurants in Chipping Norton
Don't miss these great places to eat in Chipping Norton: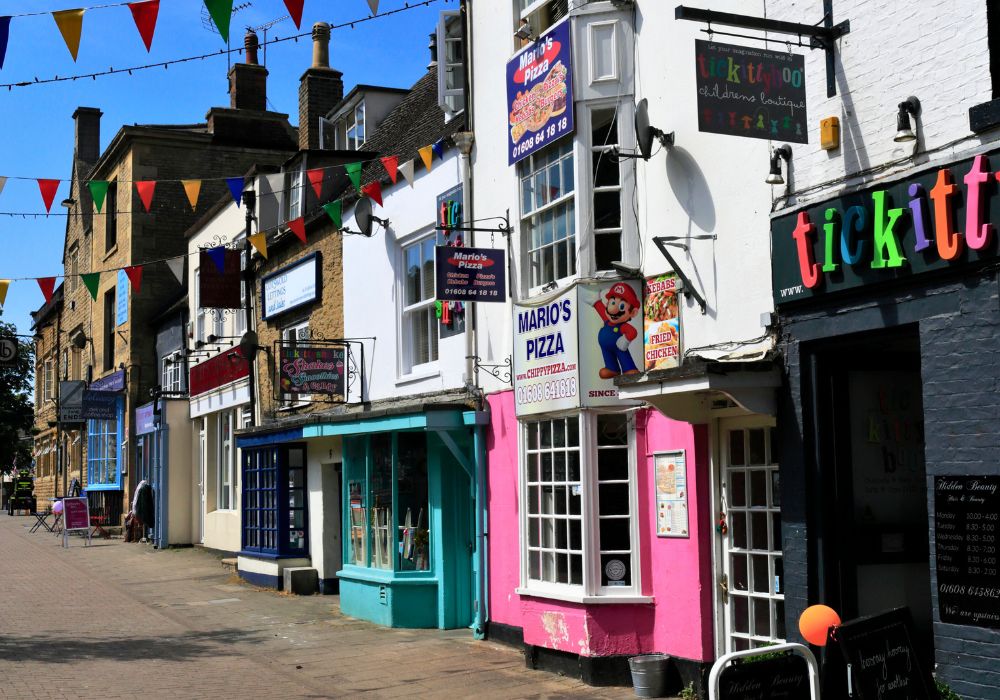 Bitter and Twisted: The Bitter and Twisted is a family-run bar and kitchen in the heart of the town serves up modern classics with a twist and has an excellent beer and wine menu. From pasta and burgers to ciabatta sandwiches and cooked breakfasts, this is one of my top places for an evening meal in Chippy. Click here for directions.
Whistlers Restaurant: Whistlers Restaurant is an independent bar and restaurant also offers live entertainment in the evenings from live bands to stand-up comedy making a visit one of the best things to do in Chipping Norton at night. Try the six-course tasting menu for just £70 (plus £30 for the wine flight) or choose from the á la carte. Click here for directions.
The Kingham Plough: The Kingham Plough is a gorgeous country pub is located just outside Chipping Norton in the village of Kingham and offers up contemporary British cuisine using local and seasonal produce. From fish and chips to tiger prawns and garlic aioli, you can indulge in pub classics or something a little more adventurous here. Click here for directions.
Thai Shire: Just because you're in the heart of the beautiful Cotswolds doesn't mean you can't enjoy cuisine from around the world, and this excellent Thai joint proves it. Thai curry is one of my favorite dishes (red or green) and this is the place to come for that authentic taste of Southeast Asia. Click here for directions.
The Old Mill Cafe and Bistro: This quaint little cafe and bistro with outside seating is an excellent place to pop into for breakfast, brunch, or a light lunch. From sandwiches and homemade cakes to a full English (highly recommended) this is one of my favorite eateries in the town. Click here for directions.
Getting to Chipping Norton
The closest international airport to Chipping Norton is Birmingham Airport which is an hour's drive away. It's best to hire a car if you want to explore the Cotswolds as public transport in this rural area can be somewhat unreliable and lacking.
From London, it's a two-hour drive along the M40. There aren't any direct trains from the capital, however, the journey can be done in a little over an hour by taking the train from London Paddington to Kingham and then changing for Chipping Norton.
As it's a small town, all the major attractions in Chipping Norton are within walking distance. However, to visit some of the nearby landmarks like the Rollright Stones and Blenheim Palace it's best to have your own transport or hire a car as public transportation isn't great in the rural Cotswolds.
Things To Do in Chipping Norton: FAQs
Here are some answers to commonly asked questions about visiting Chipping Norton:
What is Chipping Norton known for?
Chipping Norton is known for its weekly farmers market, historic ties to the wool trade, historic buildings like the Almshouses, and as the home of the rich and famous including former Prime Minister David Cameron and celebrities like Jeremy Clarkson.
When is the best time to visit Chipping Norton?
Spring through fall is the best time to visit Chipping Norton to make the most of the beautiful surrounding countryside (and to take a dip in the town's outdoor swimming pool). Winter can also be pleasant in the town with rustic pubs serving warming food next to roaring fires.
Is Chipping Norton worth visiting?
Chipping Norton is definitely worth a visit as it's one of the most picturesque market towns in the country. With so many things to do from exploring the charming buildings to dining at the many pubs and restaurants, this is one of the top tourist destinations in the Cotswolds.
How many days should I spend in Chipping Norton?
A long weekend (two to three days) is the perfect amount of time to see all the tourist attractions in Chipping Norton. However, if you want to explore some of the nearby attractions like the Rollright Stones or go hiking along the Cotswold Way then a week is better.
Is Chipping Norton safe?
Chipping Norton is very safe considering it's where former prime ministers and other celebrities chose to live. It's a great destination for families as you don't have to worry about safety. That being said, the usual traveler precautions should be taken, as with visiting anywhere you're unfamiliar with when traveling.
What is the most popular thing to do in Chipping Norton?
Some of the most popular things to do in Chipping Norton include visiting the old Almshouses, shopping at the boutique shops and farmers market, and exploring the nearby countryside and nature reserve.
What is the best beach in Chipping Norton?
There aren't any beaches in Chipping Norton as it is inland. However, swimming is possible between April and October at the local Lido (outdoor swimming pool).
What foods should I try in Chipping Norton?
When in the Cotswolds and Westcountry some of the top foods to try include the local cheeses, cream teas, and of course, some cider.
In Closing
Now you know what to do in Chipping Norton, one of the most picturesque old market towns in England. From the picture-perfect Almshouses to Bliss Tweed Mill, Chastleton House, and a huge range of interesting shops, cafes, and restaurants, this town should be high on your list of places to visit in the Cotswolds.
With some of the prettiest countryside right on its doorstep, Chipping Norton is the perfect place for hikers and lovers of the outdoors. With miles of trails and the odd country pub, the town makes an excellent base for exploring this beautiful corner of England.
Like This Article? Pin It!